What type of enterprise did you initiate when you were at Iowa State?
Some students are already checking that accomplishment off their list, as Iowa State University quickly escalates its reputation as a hotbed of innovation and entrepreneurship.
In the College of Liberal Arts and Sciences, innovation is at the core of everything we do. It's salient in LAS research, student learning and the college's distinctive delivery of the arts, humanities and sciences. Now, entrepreneurship is being infused into a bold, new student experience: the College of Liberal Arts and Sciences Dean's Innovation and Entrepreneurship (I+E) Academy.
Today's LAS students can start working on an innovative and/or entrepreneurial idea right now, as part of their Iowa State adventure.
The first cohort of the two-year I+E Academy begins this fall with a new course, Innovation and Entrepreneurship II (LAS 345X). Students will engage in a combination of modules, peer-to-peer learning and also group and interactive learning experiences throughout the fall and spring semesters. They will explore an entrepreneurial mindset while identifying and assessing risks and benefits, developing strategic communication, fostering leadership, engaging teams and promoting ideas.
During the second year, students will be matched with a professional mentor in their designated area of interest. Collaborating with their mentor and cohort peers, they will spend the year transforming their idea into an actionable plan, whether it is a product, a service, a process or social change.
"We've seen LAS students' passion for entrepreneurship grow over the last few years during college pitch competitions," said Kent Kerby, assistant dean for LAS. "We know there are great ideas out there, and now students have an incubator for those ideas."
Innovating positive dialogue

Cameron Stocker ('21 statistics), who placed second in a recent innovative idea pitch competition, was inspired to make a change as he watched people's behavior on social media grow more and more antagonistic.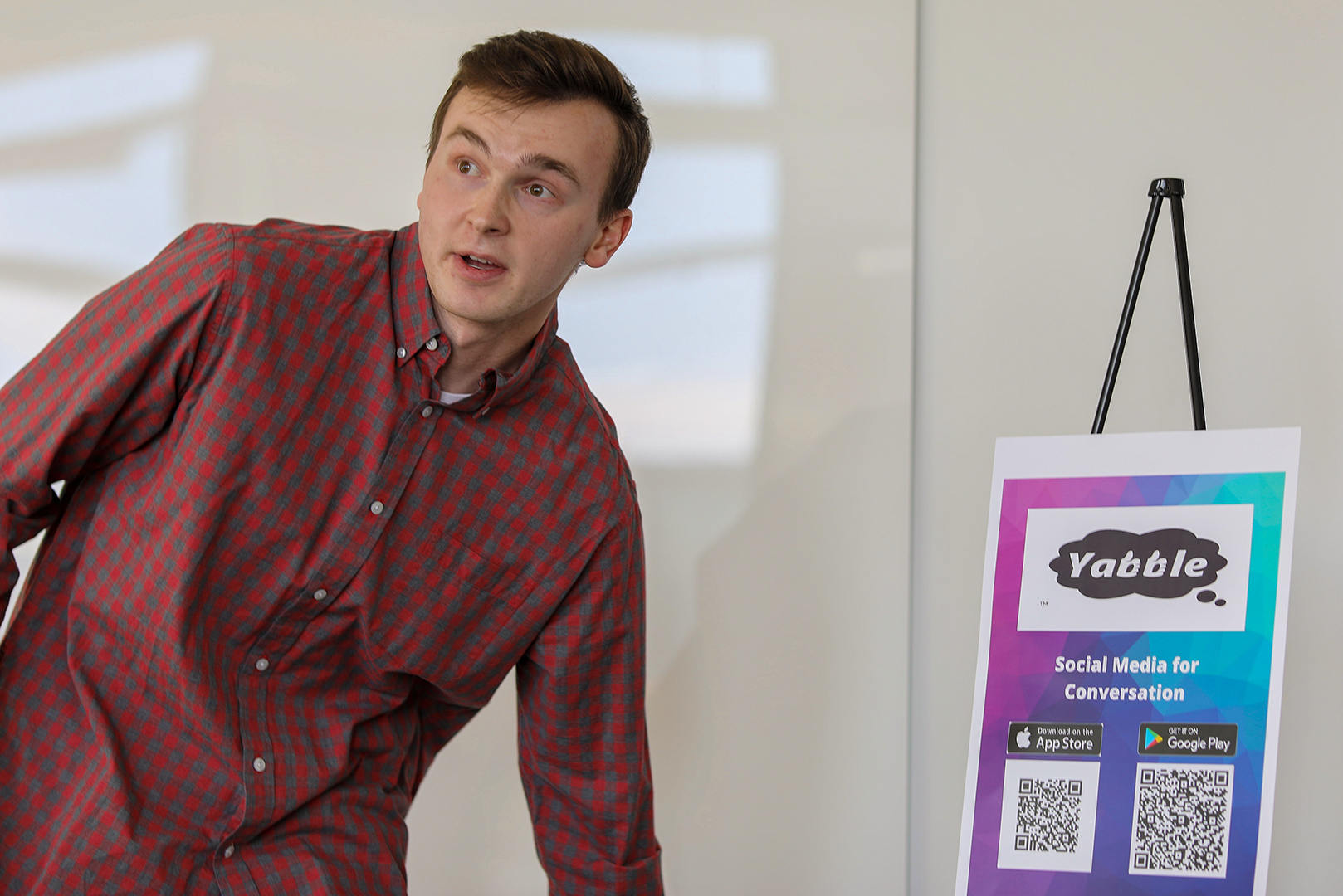 "I was tired of seeing how toxic and hurtful people could be when they were having a discussion on social media, specifically political discussion. And as time went on, I started to realize I wasn't alone in this frustration," said Stocker. "So instead of just sitting around and waiting for someone to come up with a solution, I decided I would try to take on this problem myself."
In just three months, Stocker and his roommate, Jordan Cowen ('21 computer engineering, mathematics), created the app "Yabble," which launched in January. Users engage in conversations within pre-determined categories like entertainment, daily habits, sports and the current most-frequented category—hypothetical. Users give feedback on the quality of conversations, and are rewarded for positive, quality interactions with others.
To date, there have been over 3,300 posts on the app, nearly 1,000 downloads and Yabble boasts a rating of 4.7 out of 5. But it's the number zero that makes Stocker proud.
"That's the total number of times we've had a bug that has crashed the entire app," he said. "Which I am very happy about, considering the whole thing was developed in three months by my roommate and I, while having zero prior experience and no formal guidance."
Alumni can help students succeed

Stocker is one of many LAS students who are ready to change the world with their big ideas. LAS students have pitched ideas ranging from depression and abuse screening in elementary schools to an open-source platform for automated task solutions. The I+E Academy will help students move from concept to realization, and provide them with a network of peers and professionals who can help them achieve their goals.
A key component of the academy will be matching students with a mentor who works in the student's area of interest.
"Whether enacting change within an organization or implementing ideas as their own boss, students will emerge with the skills and mindset that will allow them to excel in any setting," said Kerby. "This is a great collaborative opportunity for alumni to help our students make a direct impact in the world."
If you are interested in becoming a mentor for this program, let us know via: LASinnovates@iastate.edu. We're gathering contacts for the new program director, who will join the college team later in the spring.
Editor's note: Check Robyn Goldy's message in this issue for another opportunity to mentor LAS students!