When Thu Tran ('21 economics) visited Iowa State University as a high school senior, he heard something on his campus tour that convinced him he just had to be a Cyclone.
"The student tour guide pointed out that Iowa State is classified as an R1 research institution and that less than 150 schools in the country have that designation," Tran recalled. "There was a heavy emphasis on undergraduate research, which was something I wanted to do."
Today, Tran is a recipient of the LAS Dean's High Impact Award for Undergraduate Research, and like many social science researchers, he uses census data to explore important questions about our communities. Tran's research examines how federal statistics, released to inform opinion, are also used by nonprofits to influence opinion.
Making sense of the world
Tran's introduction to research began through Iowa State's first-year Honors Program. He was paired with faculty mentor Peter Orazem, a University Professor, professor of economics and amateur stand-up comedian.
"I was so nervous. Then I walked into his office, and Dr. Orazem started cracking jokes," Tran said. "I thought, 'This guy is pretty funny.' I thought all economists were stoic and straight-faced."
Orazem initially connected Tran to research through a bank case study competition. Tran worked on the project with peers during Orazem's Saturday Breakfast Club, a weekly meeting-of-the-minds for student researchers.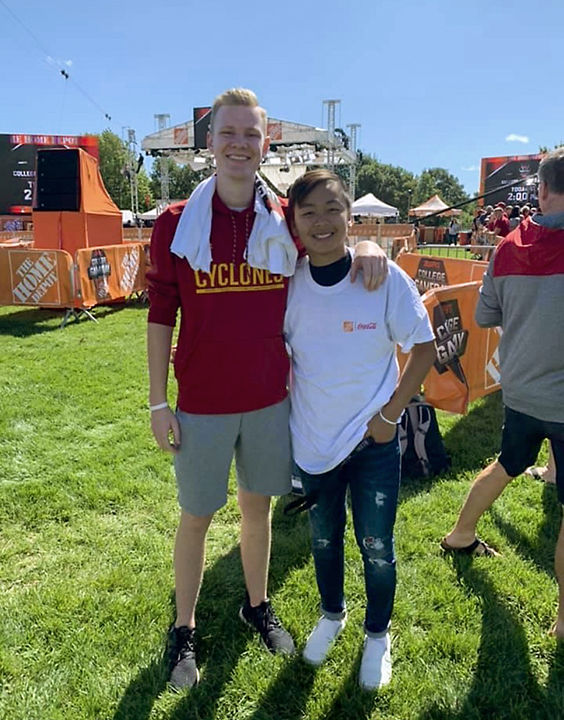 "The one-word description of Thu is 'enthusiastic,'" Orazem said. "He was willing to show up on Saturday mornings to discuss how to set up the analysis and how to test hypotheses using available census data. He worked on the problem all summer, thanks to an LAS undergraduate research grant, and he had a paper ready to submit by that September."
"I'm fascinated by how we can do all these models to predict a certain outcome," Tran said of economics research. "Diving into the data is super cool. It makes the world make a little more sense. It's complex and not every model is going to capture the full scope of what's happening. Every model has its limitations, but I like that economists are able to predict. It's like looking into the future based on the past."
Informing vs. influencing
Looking into the future based on the past is something the census can help us do, in everything from congressional representation to budget allocation.
Tran's research looks at how publicly produced data, such as federal poverty statistics and the American Community Survey, both administered by the U.S. Census Bureau, are shared by nonprofits and policy organizations to influence public opinion. He focused on specific case studies in the areas of household income, day care expenditures, living wage and food insecurity.
"I'm fascinated by how we can do all these models to predict a certain outcome. It makes the world make a little more sense."
For example, do low local household incomes necessarily imply low local family incomes? In land grant counties like Story County, where there are larger populations of single young adults ages 18 to 24, household incomes can be misleading, Tran points out.
"Counties with larger shares of young, single adults will seem poorer than they are," Tran explained in his research. "Because this bias is known, it is simple to remove the bias by comparing cities on family income or by focusing on households aged over 25 years."
This type of flaw is widely known to academic researchers through peer review, but it's a bias that nonprofits or other organizations may neglect to account for when working to build a case for their cause.
"While nonprofits mean well, they are driven by specific motives," Tran said. "Our research tries to show the bias in that and point out their shortcomings."
Tran's research stresses the importance of using accurate information to allocate resources so community needs can be met in the most effective ways.
Prepared and published
Tran's paper, titled "When numbers lie: Using data to influence rather than inform opinions and resource allocation," has been accepted by the Journal of Regional Analysis and Policy.
"I never thought I would get to be a first author on a paper this early in my undergraduate career," Tran said. "I want to become a lawyer so this experience has really helped my writing in many areas, and I've learned how to think critically."
Tran's paper was also accepted at three undergraduate research conferences. Those conferences were canceled due to the spread of the novel coronavirus, but Tran will still have a chance to present his research next year.
"I never thought I would get to be a first author on a paper this early in my undergraduate career."
"I had heard college professors didn't care so much if you succeeded or not, but I've found the opposite to be true," he said. "They genuinely care about providing opportunities to you. Dr. Orazem has taught me so much through our research paper. I've been more prepared as a researcher and it has made my classes a lot easier."