Now hiring mathematicians!
Those words rarely, if ever, pop up in job listings. However, mathematicians are in high demand—under names like financial analyst, actuary, data analyst or systems engineer.
This simple semantics quandary could be the biggest challenge of a college graduate's career—translating their degree into marketable skills and knowledge. According to Amy Slagell, associate dean in the College of Liberal Arts and Sciences (LAS), it's also one of the hardest to overcome.
"Surveys and best practices indicate students need support in communicating their skills, negotiating a salary and building a better resume," Slagell said. "While we knew the breadth and depth requirements of our liberal arts and sciences degree programs prepare students for a lifetime of evolving career opportunities, we have learned that students may struggle to translate what they have been learning in terms that resonate with employers."
Thanks to an anonymous donor, the college invested additional resources to ensure every LAS student is working toward career readiness while they're working toward their degree from Iowa State.
Beyond the basics
Taren Crow, director of LAS Career Services, remembers arriving in 2011 to work in a one-room office with one other half-time staff member. The program had a strong foundation of services like job listings, personalized advice and resume feedback.
But Crow recognized the need to attract a diverse employer pool that would reflect the unique needs and skill sets of this broad array of LAS majors—from computational and life sciences—to humanities, journalism and the social sciences.
In 2013, Crow partnered with the College of Human Sciences to provide opportunities for students whose career trajectories weren't always satisfied by the existing career fairs on campus. A new People to People Career Fair attracted a wealth of nonprofit and government employers, in addition to graduate and professional schools with health science and law programs.
The September 2019 fair attracted 120 organizations, more than tripling the inaugural goal of 40.
Career Services continued to expand its portfolio of services and programs, including 24/7 access to online career resources, virtual interview practice sessions, major-specific and career-path strategies, and CyHire, the university's tool for internship and job searches.
"It's our responsibility to prepare students not only through course materials but with extras, too," said Kent Kerby, assistant dean in the College of Liberal Arts and Sciences.
The next step for LAS was more of a leap.
In 2017, Iowa State University announced that a $160 million anonymous gift would establish Transforming LAS (TLAS)—an endowment fund to benefit LAS. Beate Schmittmann, dean of the college, promptly earmarked a portion of the initial endowment revenues to bolster career services.
"When we prepare our students for success in their careers, we prepare them to succeed in life," Schmittmann said. "We were thrilled to have such a unique opportunity to invest in that success at a level previously out of our reach."
Room to grow
As telephone and web-based interviews increased, so did the need for quiet space.
"Students would try to conduct phone interviews in an empty classroom or at the end of a hallway, only to be interrupted by students in the next scheduled class or a skateboard rolling by," Crow said.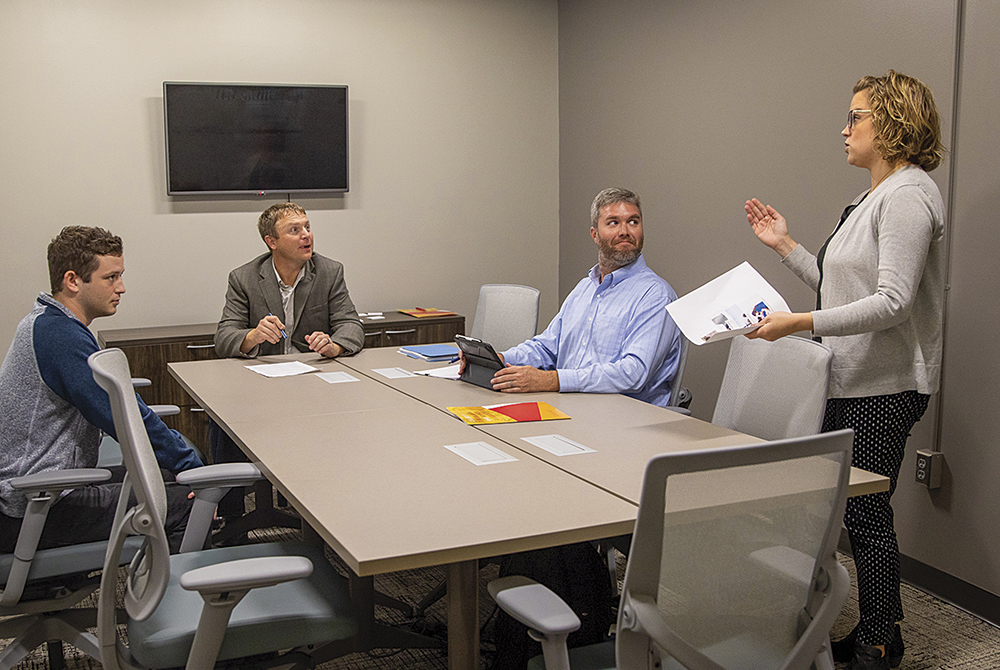 Renovations completed just two months ago provide the team with a bright new office space, connected to a reception area where students can check out resources as they wait for one-on-one sessions or interviews.
A new conference room provides flexible space for workshops, trainings or large-group interviews. Smaller rooms furnish ideal spaces for mock and real interviews. Employers can reserve these rooms for several hours, offering multiple students a convenient opportunity to interview for their first internship or dream job.
"When we prepare our students for success in their careers, we prepare them to succeed in life."
"The addition of interview rooms has already strengthened our relationships with employers," Crow said. "It's a tangible amenity, demonstrating that we value those relationships. We know that on-campus interviews are one of the best ways to connect employers with LAS students. It is beneficial to the employers, our career services staff, and most importantly, our students!"
Another significant investment is LAS 203X, a new one-credit professional career preparation course. Offered both online and in a traditional classroom setting, the course provides tips and tricks on resume and cover letter writing as well as job and internship search strategies. Preparation for career fairs, networking, interviewing and salary negotiation are taught, as are pointers on proper professional etiquette.
During the course, students participate in a professional strengths assessment which helps identify their key talents. During the process, students learn how to communicate the skills and knowledge that they've gained, both inside and outside of the classroom, to prospective employers.
Kernels of wisdom
From the soft gray walls to fresh, warm popcorn made every Thursday, Crow and her team prime students for success by creating a comfortable environment.
"Finding a job can feel so intimidating," Crow said. "We provide a relaxing, calm space where students can build the confidence they need to get a great internship or job."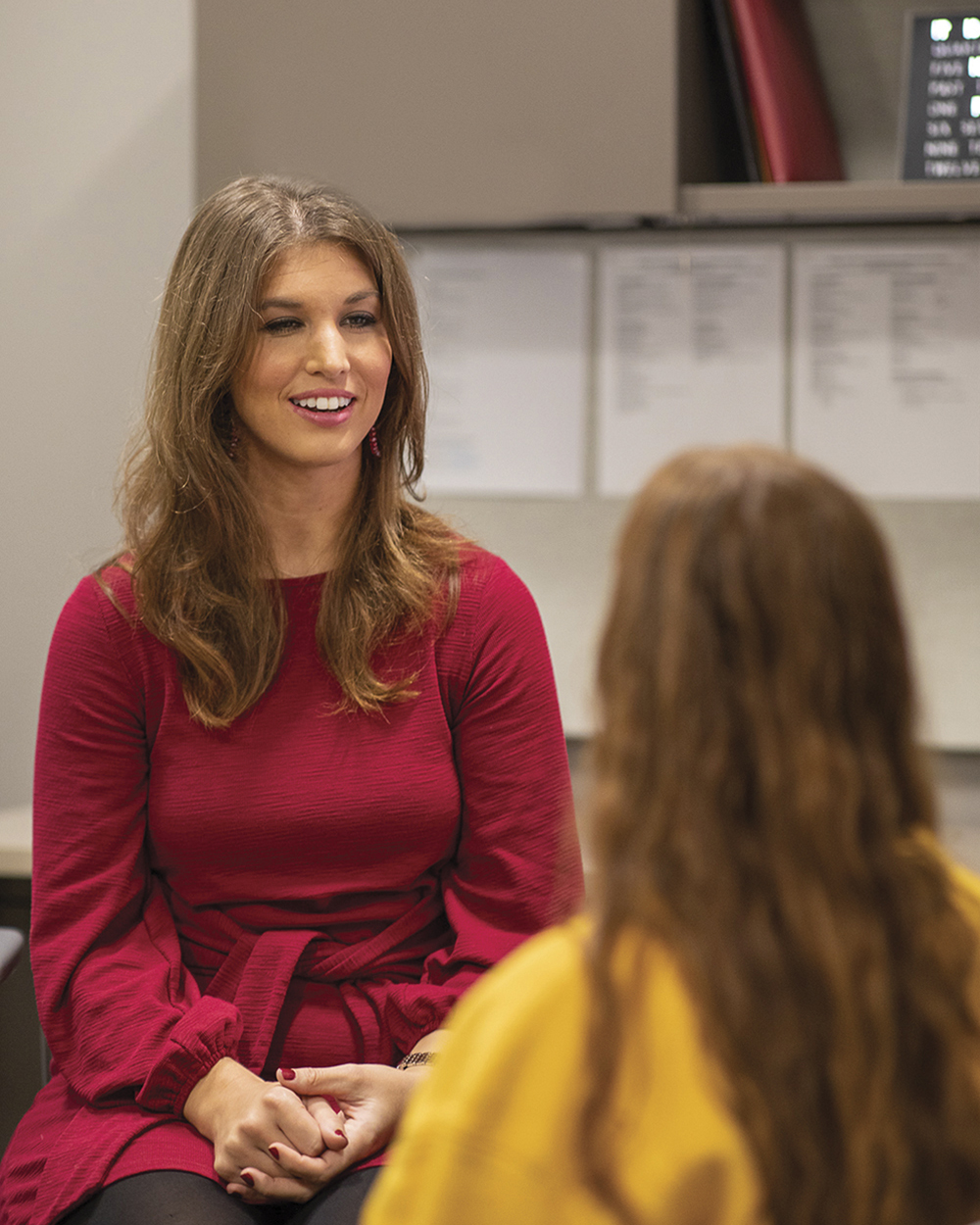 Francesca Giugno ('19 communications studies, psychology) has taken advantage of nearly every program and opportunity that LAS Career Services offers. She encourages other students to do the same.
"Taren has helped me in a multitude of areas while making serious topics and learning enjoyable," Giugno said. "She truly cares about students and has a knack for providing us with resources that are specific to our needs. I always leave the office feeling more confident in my abilities."