Dillon Jensen seemed destined for a career in computer science when he was only a high school freshman. He recalls stopping by the local Barnes & Noble store in Prior Lake, Minnesota, with his mom, who purchased some "really thick books" to satisfy his curiosity of computer programming.
"I don't know why, but I was interested in it," said Jensen ('21 computer science), now a 20-year-old junior at Iowa State. "I like a challenge."
Jensen devoured those thick books.
Before long, his desire to learn computer programming morphed into a yearning to make money using his newly acquired tech skills, so he began creating apps for Android and iPhone platforms. And while he admits those apps didn't lead to a cash windfall, it didn't matter. The entrepreneurial bug had bitten Jensen, and he was hooked.
Path to Iowa State
Jensen was certain his future career would center around computer science and entrepreneurship, but where to attend college was more of a question mark. He applied to two colleges—San Diego State University and Iowa State University. One location was warm and sunny all year long, the other not so much. But with equally strong computer science programs, he opted to stick close to home and follow his older brother, Cole ('20 mechanical engineering), to Iowa State.
"Iowa State has a solid STEM program as a whole," Jensen said. "Good program, good scholarships and affordable. It was a good fit."
If at first you don't succeed …
Iowa State is where Jensen's entrepreneurial aspirations took root, alongside Cole, who shares his younger brother's innovative spirit. Together, the two have dabbled in a few business ventures while at the university, including developing an Android and iPhone app that provided online support for a vintage board game, a social media platform for cars, an emergency roadside light and a Shopify online store. For various reasons, nothing panned out for the pair. But those temporary setbacks sharpened their entrepreneurial skills and gave them confidence to continue brainstorming new ideas.
A new idea brewing
In late 2018, Jensen began to think about a project he had undertaken a few years earlier for his family's neighbor, Michael Koppelman, the owner of Badger Hill Brewing, a craft brewery in Shakopee, Minnesota.
Koppelman knew Jensen had a bright future in computer programming and asked him to devise a way to collect and document data from the brewing process and make it easily accessible to his staff in real time. The project appealed to Jensen because it tapped into a cutting-edge concept at the time called the "internet of things," or IoT. The internet of things is a network of connected objects, such as a mobile phone, smart television or a piece of manufacturing equipment, that are able to collect, store and exchange data.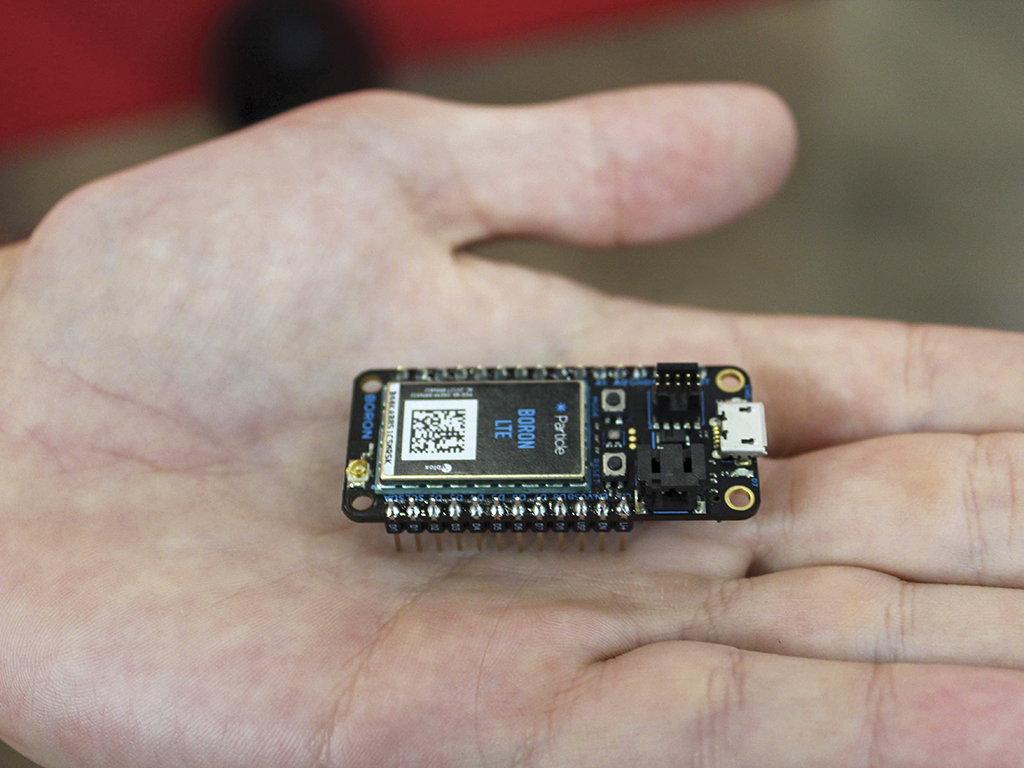 Jensen started phase one of the Badger Hill Brewing project right after graduating from high school, when he reprogrammed existing microcontroller devices, essentially tiny computers, and connected them to Koppelman's brewing equipment. He began the project's second phase after his freshman year at Iowa State, when he set up databases on cloud platforms to house the information collected from the microdevices. He also created a dashboard to give brewery employees access to the stored data from the cloud which allowed them to monitor the brewing process through a variety of diagrams and charts in real time. What they see can help them make crucial decisions about their products, such as how to adjust ingredients or temperatures.
"Dillon has shown an incredible aptitude for actualizing the potential of the internet of things and the cloud to bring capabilities to small companies like mine," Koppelman said. "We can make better beer if we have better information, and it's all very doable and affordable thanks to smart, young entrepreneurs like Dillon."
Introducing … Jensen Applied Sciences
Inspired by the Badger Hill Brewing project, Jensen was convinced that a company devoted to developing technology solutions for an array of businesses and industries was the startup idea he had been seeking. Cole agreed that the concept had substantial merit.
In January 2019, the brothers officially co-founded Jensen Applied Sciences (JAS).
Time to spread the word
With JAS up and running, Jensen began to compete in numerous pitch-off contests sponsored by Iowa State. Last February, he participated in the College of Liberal Arts and Sciences Pitch Competition, where he garnered first place and was selected to compete in the ISU Innovation Pitch Competition in March, organized by the ISU Pappajohn Center for Entrepreneurship. In August, Jensen was one of 150 presenters in Iowa State's pitch-off competition held during the Iowa State Fair, where he earned an honorable mention and $1,000. He has also pitched at 1 Million Cups in Ames, a weekly event that gives local entrepreneurs a chance to share their latest innovations.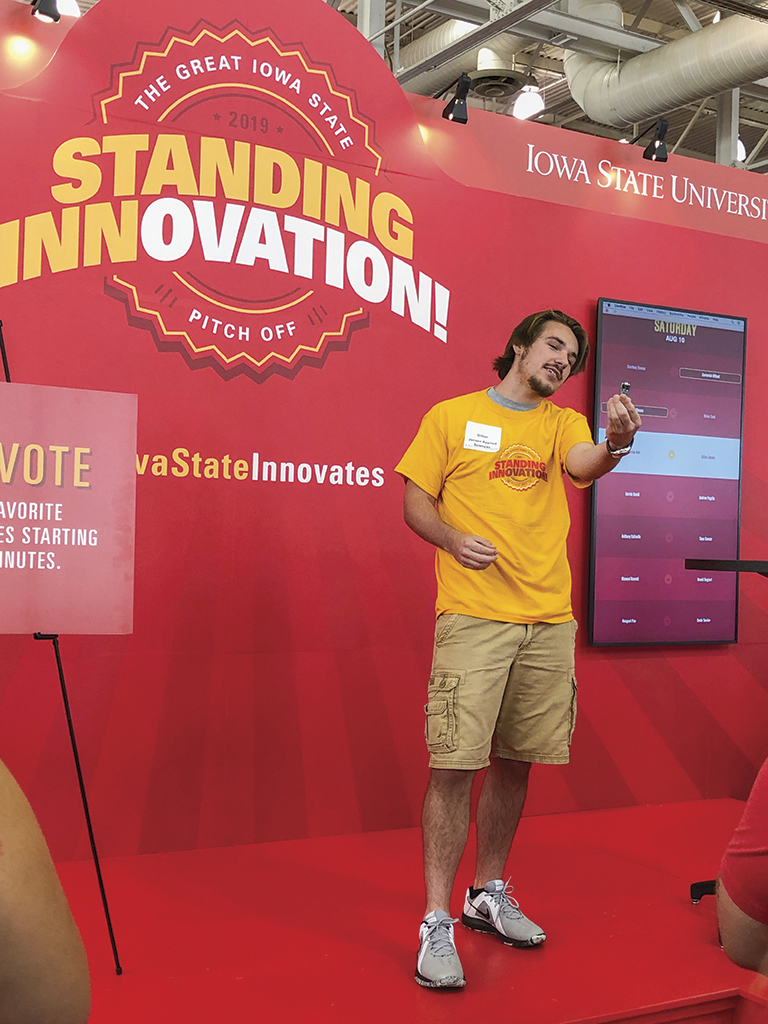 "There's a great network of people at Iowa State," Jensen said. "Everyone can either help, or they know who can help. The process [of developing a business] is sped up immensely by making other people aware of what you're doing."
CYstarters offers support, guidance
Another great entrepreneurial opportunity is CYstarters, an 11-week summer accelerator for Iowa State students and recent graduates who want to nurture and grow their business idea. The program is offered through the ISU Pappajohn Center for Entrepreneurship. Jensen was sponsored by LAS to participate in CYstarters this past summer. Diana Wright, who coordinates the program, is impressed with Jensen's confidence, and has no doubt that he is destined for success.
"Not many students know where they will land, especially when they discover entrepreneurship at Iowa State University," Wright said. "Dillon is different. He seems to know what he can accomplish, and he's comfortable in the driver's seat toward a successful entrepreneurial road ahead."
A new direction
CYstarters helped Jensen hone JAS' strengths and direction. What he discovered, with the help of numerous university and industry mentors, is that custom jobs—like the Badger Hill Brewing project—are difficult to reproduce and sustain, at least at this stage in the company's young life.
"What we did at Badger Hill initially was very custom, and it wasn't something we could replicate easily in another brewery," Jensen said. "When we started validating this business model, we realized that custom work was not on the table in most cases."
Therefore, JAS has recently shown an incredible capacity to adapt and innovate by changing course and creating a fleet of "plug and play" devices equipped with some of the standard technology Jensen created for Badger Hill Brewing, including fermentation and pH monitors. Breweries can order the devices and JAS will ship them to their locations, complete with instructions on how to set them up and track the data. The devices can be adapted for other industries, too.
"Not many students know where they will land, especially when they discover entrepreneurship at Iowa State University. Dillon is different. He seems to know what he can accomplish, and he's comfortable in the driver's seat toward a successful entrepreneurial road ahead."
The best in the Midwest
Jensen envisions JAS creating custom solutions for businesses and he plans to steer the company in that direction. Eventually, he wants JAS to be the dominant technology solutions provider for companies in the Midwest, no matter the business, no matter the size.
"If you're a company that needs anything related to the internet of things or cloud solutions, you're going to think of JAS, whether that's plug and play devices or custom work for a Fortune 500 company. We want to do it all," Jensen said. "Of course, that's very ambitious when it's just two guys, so we need to grow a little bit."
Time management is key
Right now, the Jensen brothers each devote about 20 hours per week to JAS, in addition to their academic obligations. Jensen has little time for anything else, outside of Iowa State's Entrepreneur Club, but that's OK with him. In fact, he'd like to allocate more time to JAS.
"I want to make crazy amounts of progress, which is hard to do. Hopefully, Cole and I can each start to work up to 25 to 30 hours each week on JAS," Jensen said.
Jensen predicts that JAS will soon grow beyond him and his brother, at least on a project-by-project basis. But for now, all the creating, programming, marketing, selling and shipping falls squarely on their shoulders.
"We'd like to get to the stage where people start coming to us for work. We're definitely not there yet, so we have to reach out to people. We're trying to find and track down work on our own. It's sustainable for now, but in the future, we want people to come to us," Jensen said.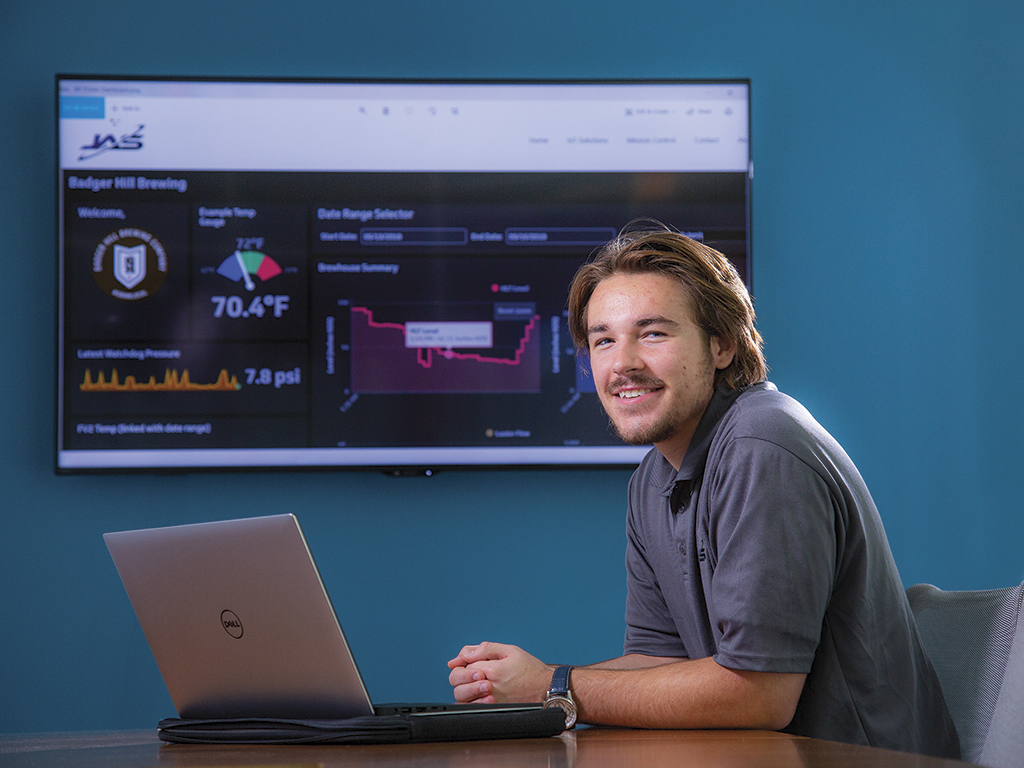 A bright future
Jensen has two years left at Iowa State, but he knows exactly what he's doing after graduation in 2021.
"I love JAS, so I just want to keep doing that. I love technology and the internet of things, so everything I'm going to be doing in the next five to 10 years will be exclusively that," he said.
As quickly as JAS changed its initial direction, Jensen admits it's hard to predict what the company's focus will be in the next decade. He's confident, however, that JAS will be a top contender in the Midwest's internet of things arena.
"There are technology companies that are huge now that will be gone, or they will be taking huge hits because of people like me in the next five to 10 years," Jensen said. "They will get too comfortable and continue what they're doing. I'm trying to disrupt something like that, and I think I can."