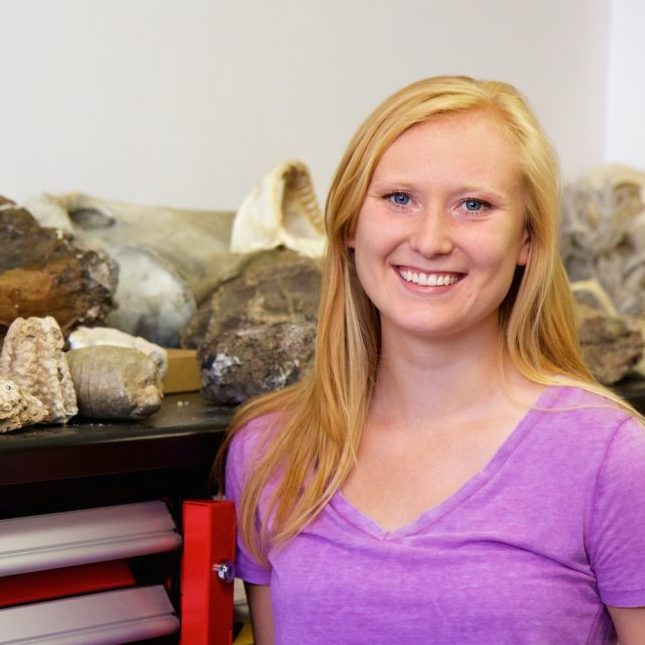 Brittany Grosskopf came to Iowa State University ready to take her next step in life. She wanted to get involved as much as she could, so she took advantage of the resources the College of Liberal Arts and Sciences offered to add experience and adventure to her college story.
Since stepping foot on campus as a freshman, Grosskopf, (geology and environmental studies, '16), has participated in student clubs, mastered her major and traveled across the ocean multiple times with fellow Iowa State students.
"For me, a lot of it was fitting in and feeling like I belonged here," said Grosskopf about why she chose her major. "The geology department is small which complements a large university."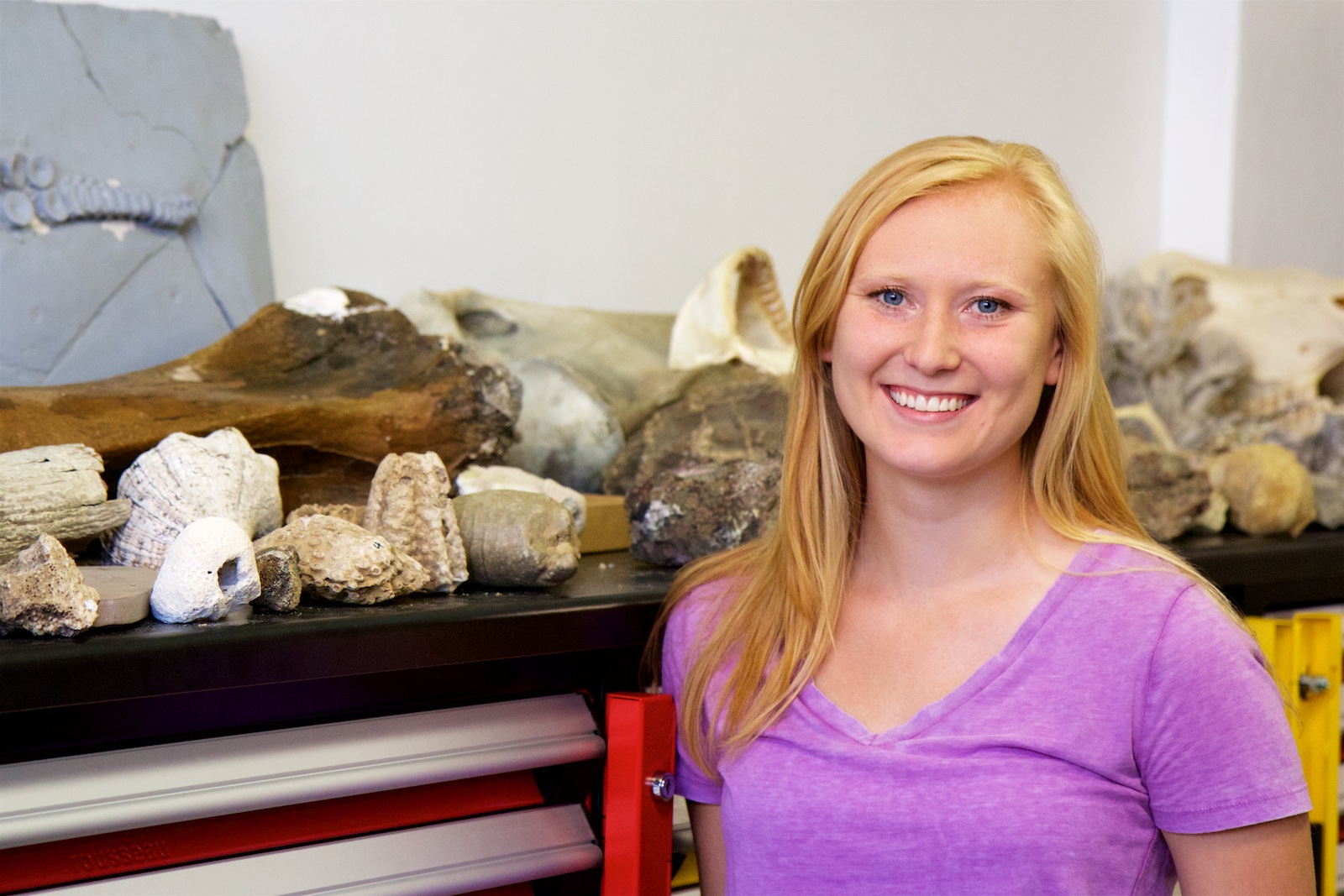 Her dream career is to combine working in the field and in the lab, conducting isotopic research to better understand species and past environments in order to ensure a better future environment. Grosskopf will graduate this December and is ready to pursue that dream.
A passion for geology
When Grosskopf was president of the Geology Club, she handled logistics and planned events. She learned to be more organized and how to network with professors, and perfected her public speaking. She loved the social aspect of the Geology Club because meetings were not always serious. Sometimes, members got together to have movie and homework nights. The camping trip the club takes at the end of each spring semester was a chance for club members to enjoy spending time together while studying geology at places like Ledges State Park in Boone, Iowa.
Although busy with the Geology Club and classes, Grosskopf took on more. She joined Tau Beta, a band sorority, became a member of the Greek community by joining Phi Beta Chi, and mentored peers in the Department of Geological and Atmospheric Sciences. This summer, she cleaned display cases and put up posters to help geology department staff prepare for fall classes.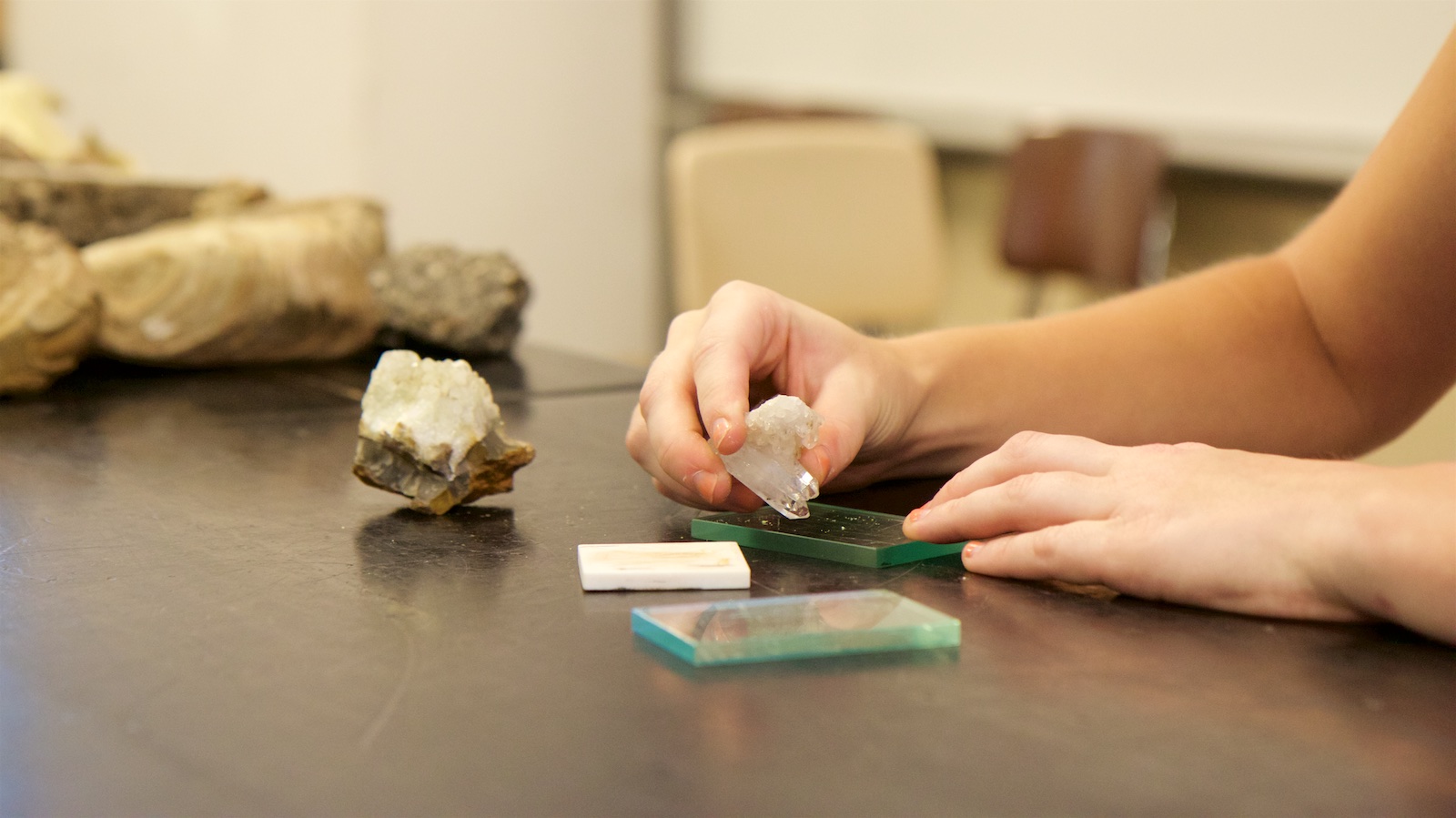 "We needed someone to actually put up the cool things they've done and seen. That's where I come in," Grosskopf said.
Going global
Grosskopf got her taste for global adventure during a study abroad trip in 2015. Over Spring Break, she and other ISU students embarked on a service trip to Belize, on what ISU calls a "Study Abroad Short." She said the experience was perfect for her because it balanced volunteering and exploring the country.
"I wanted to explore abroad, but do it for a rewarding reason, and that's why Belize seemed like a good fit for me," she said.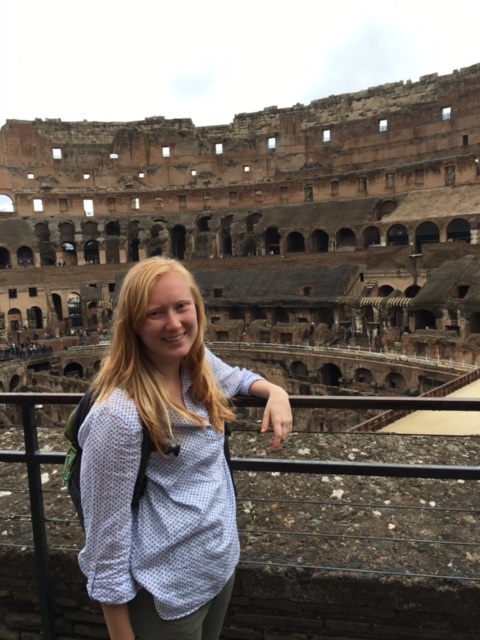 While in Belize, students worked at the same school the entire week. They painted, re-sided, put together furniture and mixed concrete to build stairs. Her stay was unique because she lived with a family in the village they volunteered in instead of rooming with other students. The opportunity to live with a family and become totally immersed in a culture is a valuable experience LAS offers.
"Being able to be surrounded by a family and their culture was eye opening," Grosskopf said. "Eating their foods and trying something new literally every day was fun."
"Being able to be surrounded by a family and their culture was eye opening," Grosskopf said. "Eating their foods and trying something new literally every day was fun."
She learned how to work on a team with classmates she never met before. Together, students took part in cave swimming, kayaking and touring the Mayan ruins, but she said living in a different culture impacted her most.
Grosskopf's overseas adventures continued in Rome. This summer, she participated in a History Global Seminar, a course taught by ISU professors in another country. Students lived in apartments in an area similar to student housing and explored different historical sites every day. As a geology student, she had to study a little extra about the history of the city, but said she found the content fascinating.
"I did not go a day without a brand new learning experience," Grosskopf said. "Taking a trip with mostly history majors opened my eyes to the way other students see the world."
She liked that the 16 students on the trip were all able to share knowledge and learn from each other because of their varied interests. And, she said, her professors were able to give more accurate information than any tour guide could because of their strong academic background.
"I did not go a day without a brand new learning experience," Grosskopf said. "Taking a trip with mostly history majors opened my eyes to the way other students see the world."
Grosskopf, a member of the Iowa State Marching Band's Color Guard, rounded out her summer with another amazing experience overseas. In June, she participated in the band's trip to Normandy to perform for the D-Day landing anniversary. She said Europeans were not used to the flair of a college marching band, but enjoyed ISU's performance.
Graduating as a global citizen
In the College of Liberal Arts and Sciences, offering plenty of adventurous experiences is a priority to grow confident leaders and global citizens. Through taking advantage of LAS' opportunities, Grosskopf has shaped herself into a smart, world-traveling graduate who is ready to take on her first job.
"Brittany is one of those students who has wholeheartedly embraced what Iowa State has to offer in terms of undergraduate research opportunities, leadership roles, study abroad experiences and participation in iconic campus activities like Marching Band," said Jane Dawson, a senior lecturer in the Department of Geological and Atmospheric Sciences. "I've had the privilege of watching her increase her understanding of how the Earth works and grow as a geologist through her classes and field and research experiences. I'm proud of her, not just as a geologist, but as the well-rounded global citizen she's become."
"In order to understand what's going on in the world you have to experience it for yourself," Grosskopf said. "We were so ridiculously different. It was nice to see how the other students do things and to work with them even when we think so differently."
The adventure continues
In addition to numerous study abroad and on-campus opportunities, the College of Liberal Arts and Sciences makes it a priority to ensure students are prepared for their dream job by helping them earn meaningful internships. Meet a few more students who have been enjoying their summer interning at places they once only dreamed of working:
Lissandra Villa: Journalism and Political Science, '16
Current internship: Journalist for TIME magazine's Washington, D.C. bureau
Type of work: Covering politics.
Typical Day: Writing, reporting, conducting research, spending time on Capitol Hill.
Work environment: Collaborative.
How she got there: Through connections to a journalist she met while on the campaign trail at Iowa State.
Most surprising aspect of her job: The range of stories she is able to work on.
Benefits of internship: "I want to cover politics, so this is my dream job, in internship form."
Past internships/opportunities: Interned at The Des Moines Register, The Cedar Rapids Gazette and will soon intern at NPR. She also worked for on-campus publications, including Veritas, a political magazine for which she was the founder and editor-in-chief.
Sam Schulte: Biochemistry, '17
Currently internship: Amgen Scholar at California Institute of Technology (Caltech)
Type of work: Developing a machine learning algorithm to predict how well a given membrane protein can be produced in yeast.
Typical Day: Writing code, discussing with grad students, searching scientific literature for new insights and attending lab or grant meetings.
Work environment: A mix of solo and collaborative work.
How he got there: Reaching out to a professor at Caltech and applying to be an Amgen Scholar.
Most surprising aspect of his job: The difference in scientific approach between big pharmaceutical companies and academic research.
Benefits of internship: "I hope to earn an M.D./Ph.D. joint degree and study how computational methods can enhance our ability to solve biomedical problems. My research at Caltech has helped further my knowledge in that field."
Past internships/opportunities: Borlaug-Ruan International Intern at the International Maize and Wheat Improvement Center (in Mexico), a Wallace-Carver Fellow for the U.S. Department of Agriculture and a Research and Development Intern at Kemin Industries in Des Moines.
Jacqueline Rapp: Mathematics, '19
Current internship:CDC (child development center) intern in Oahu, Hawaii on the Joint Pearl Harbor Hickam Military Base with the program Camp Adventure
Type of work: Working in a preschool classroom leading circle time, singing songs, doing art and playing outside.
Typical Day: Eating, teaching, doing art and learning with children — all revolving around helping their community.
Work environment: Friendly, energetic and loud!
How she got there: Applied to the Camp Adventure program after hearing about it at Iowa State.
Most surprising aspect of her job: How much the children mean to her.
Benefits of internship: "I plan on becoming a high school math teacher and so I think this experience with children, while they are much younger than high schoolers, will help teach me about patience and understanding."
Rhiannon Michelson: Advertising and International Studies, '16
Current internship: Marketing Manager at Tikly.co, an online ticketing platform based in Des Moines, Iowa
Type of work: Analyzing market trends of competitors, recommending development strategies, creating advertisements, writing press releases and creating social media content.
Typical Day: Coffee, followed by a variety of creative tasks.
Work environment: "Chill and laid back."
How she got there: Tikly's founder, Emma Peterson spoke about entrepreneurship in her media management class. Michelson introduced herself after the presentation and was hired soon after.
Most surprising aspect of her job: Meeting her boss' fiancé, who was performing at one of the concerts.
Benefits of internship? "I'll know the wants of a company better so that I get a job as an account manager for an ad agency, I will understand the other side more when the company comes to us as a client."
Past internships/opportunities: In France she studied international and intercultural communication at SKEMA Business School and had two internships. She was a team manager/translator of a marketing group for the French wine connoisseur, Isabelle Forêt, and worked as a public relations and marketing assistant with an independent media production company at the Cannes Film Festival.