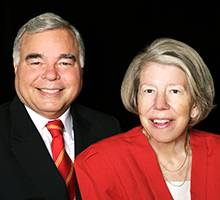 While Tom (BS Geology, '68; MS '71) was technically the one who studied geology at Iowa State, both he and his wife Evonne (Textiles & Clothing, '68) are recognized as geological pioneers. Together, they helped develop the oil and gas industry's most intuitive and cost-effective software.
Tom began his career as a data processing geophysicist at Chevron Geophysical but left that position in 1980. He received a doctorate in geophysics from the University of Houston in 1981. In 1984, the Smiths founded Seismic Micro Technology, where they developed the KINGDOM software for seismic interpretation and mapmaking that continues to be used today in more than 80 countries worldwide. It was the first PC-based geophysical software ever created, initiating a global renaissance in oil and gas exploration.
The Smiths sold their company in 2007, just a year after Evonne was named a finalist for the Ernst & Young Houston/Gulf Coast Area Entrepreneur of the Year Award for her pioneering leadership as Seismic Micro Technology's chief financial officer. In 2008, they started Geophysical Insights, another software-development company that offers some next-generation software, consulting, and training.
In addition to the Smiths' preeminent professional contributions, they have also been loyal friends to Iowa State University. They established the Smith Family Foundation Chair in the Department of Geological and Atmospheric Sciences and provide leadership support for the Carl F. Vondra Geology Field Station. Their gifts have made a remarkable impact on faculty hiring, equipment upgrades, and enhancements to the geology field camp experience for Iowa State students.
Among Tom's honors are the Society of Exploration Geophysicists' 2000 Enterprise Award of the Year, the Iowa State University Department of Geological and Atmospheric Sciences' 1996 Distinguished Alumnus Lecturer Award, and the Iowa State University College of Liberal Arts and Sciences' 2002 Citation of Merit. He is active on the Iowa State University Foundation Board of Governors and the College of Liberal Arts and Sciences Dean's Advisory Council. Together, the Smiths participate in a number of professional organizations, including the Society of Exploration Geophysicists, American Association of Petroleum Geologists, American Geophysical Union, and the Seismological Society of America.
Tom and Evonne are Order of the Knoll William M. Beardshear Society members and ISU Alumni Association life members. They reside in Austin, Texas, and have a son, Kyle. They continue to develop resource tools for energy companies.