Thanks to the dedication of two Iowa State history professors, what started as a scholarly exchange of ideas between colleagues turned into what one student called "the best course I have taken at Iowa State."
Several years ago, Jeremy Best, associate professor of history, began thinking about specific global events in the mid-19th century that seemed to echo each other. It was a period when people of varied racial and ethnic backgrounds around the world experienced moments of emancipation, he said, from the emancipation of enslaved people in the United States and of serfs in Russia to the recognition of equal rights for Jewish people in Europe.
"I thought, 'What a great thing it could be to teach something that connects these parallel histories because there are these patterns that I saw,'" Best said.
Best studies race, religion, and culture in 19th- and 20th-century Germany and is a Holocaust scholar. He began floating some of his ideas to Brian Behnken, associate professor of history, who researches African American and Mexican American communities in the 20th-century United States, focusing on civil rights activism and comparative race relations.
The colleagues started an ongoing conversation about connections in their areas of expertise – for example, the similar patterns of racist stereotyping and false allegations that led to violence against Mexican-origin people in the Southwest and antisemitic violence against Jewish people in Europe.
As the two traded ideas back and forth about their research, they discussed expanding their conversation to the classroom. What if they taught a class on the history of racial violence? Quickly, their vision grew into an experiential learning course that would connect students with museums and public scholars around the country and specifically in Washington, D.C.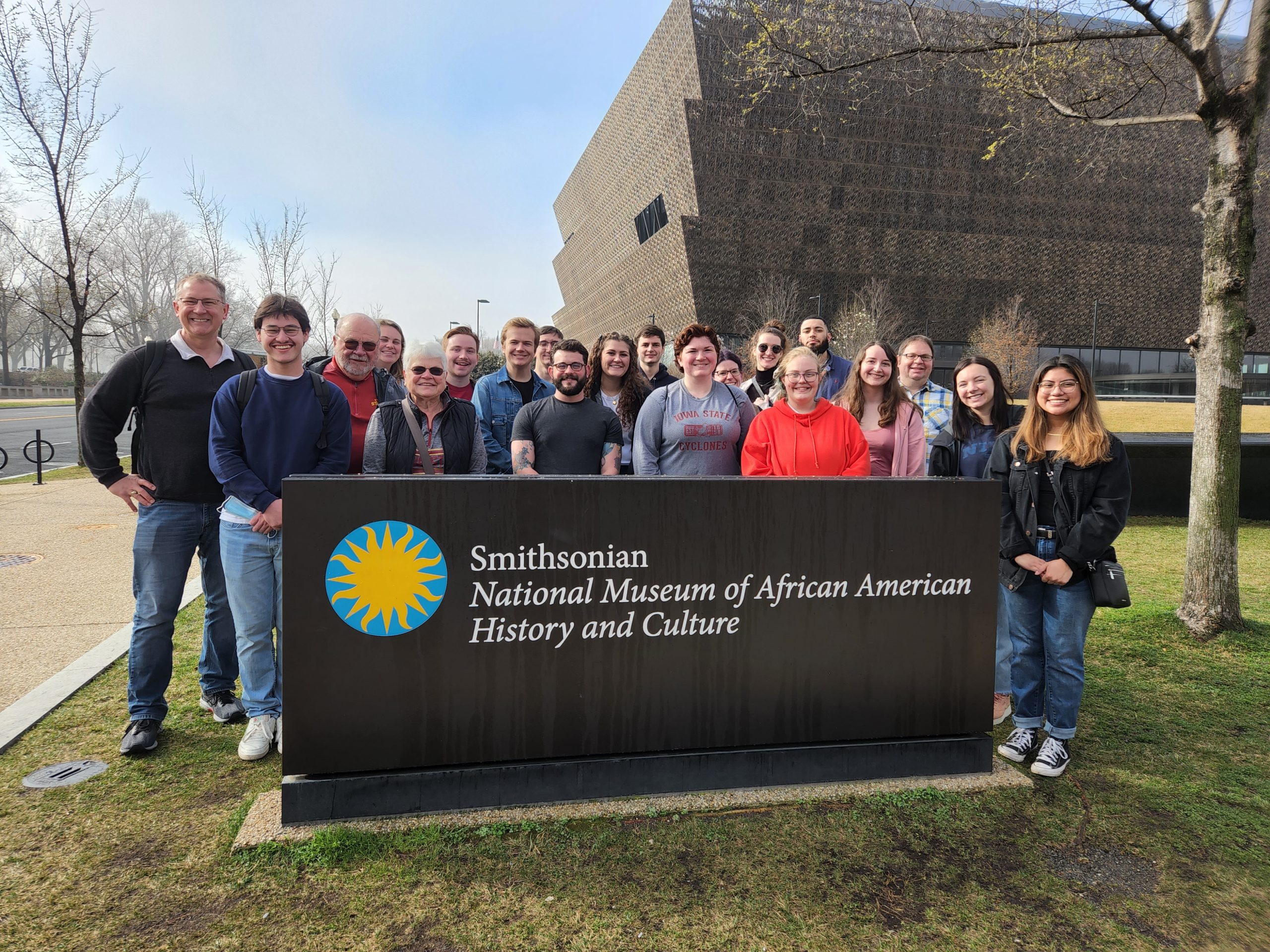 With an intensive, innovative approach to instruction – supported by Iowa State's Miller Faculty Fellowship, the College of Liberal Arts and Sciences, and alumni donors – Behnken and Best created a dynamic opportunity for students to learn about difficult but important history inside and outside the classroom.
High-impact learning
First offered last spring as an elective course, HIST 469X, History of Racial Violence in Europe and the United States, 1865-1945, drew students from anthropology, criminal justice, English, history, mathematics, marketing, political science, statistics, and women's and gender studies.
"We thought this course could be a thing that could change students' whole experience of Iowa State and be the thing that 20 years from now they remember."
Comparing the experiences of Black, Latino, Native, and Asian peoples in the United States with experiences of Jewish people, the Romani, and people of African descent in Europe, the course helped students examine ways in which individual and state-sponsored racial violence and genocide have shaped modern global history and the experiences of marginalized communities. Topics ranged from ways racism has been codified in law to eugenics to sociological generational trauma.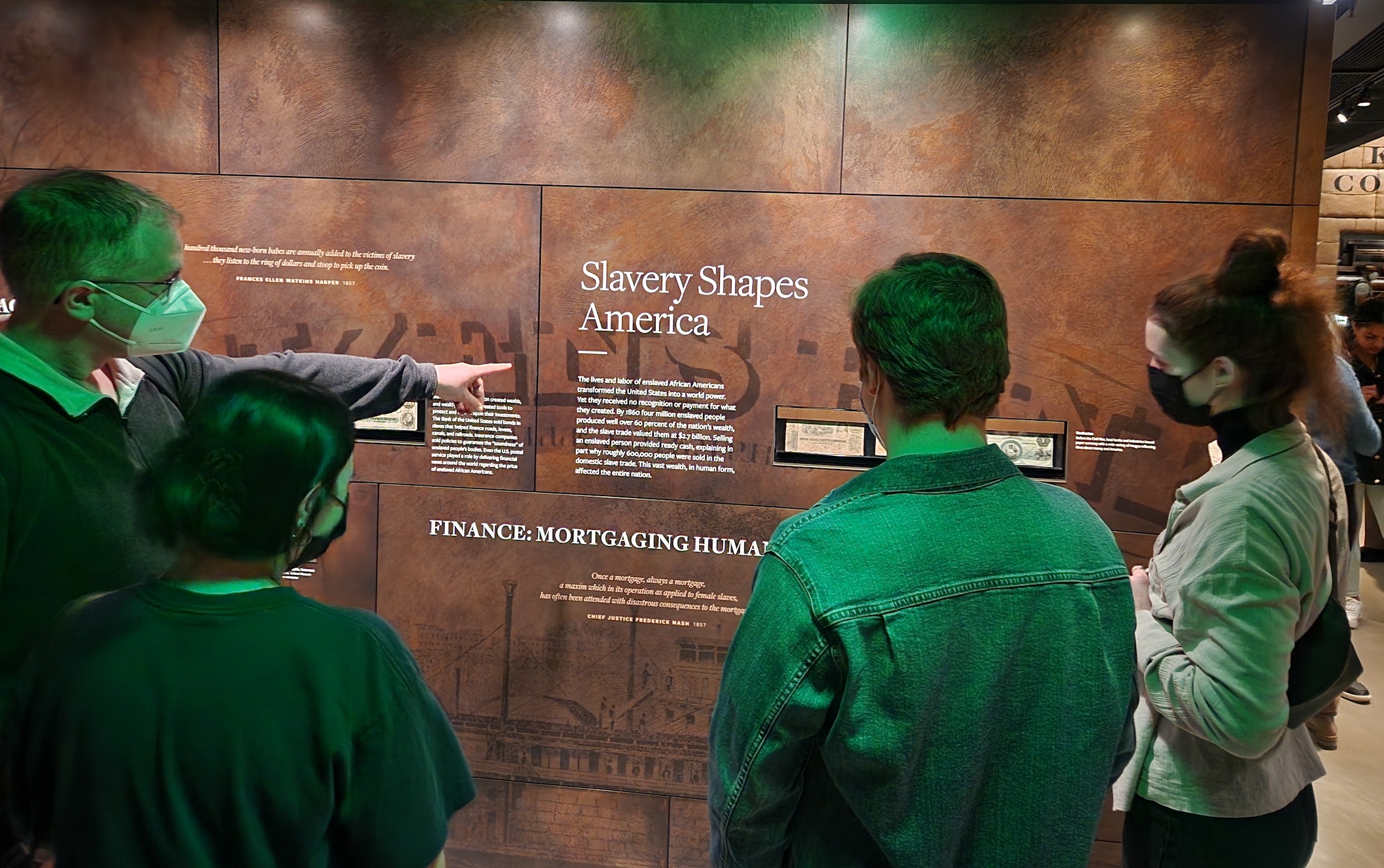 Lily Fiihr ('24 political science) said the course helped shift her thinking from focusing on how a single event affects people to a broader scale of how it relates to other historical or modern-day events.
"Dr. Behnken and Dr. Best created a classroom environment unlike one I have ever been in before, bringing their passion for the topics with them as they taught us," Fiihr said. "In every class, I couldn't keep up with the number of things I wanted to write down."
Andrew Vanderbilt ('23 marketing, history) said he expanded his knowledge on how racial violence impacts individuals and societies, and how it is reflected on and represented in memorials, scholarship, community initiatives, and national remembrance.
"By looking through the lens of various racial, ethnic and religious groups that have experienced racial violence from the Middle Ages to the present day – while highlighting Jim Crow-era segregation and the Holocaust – I was able to understand how violence is used to maintain control over individuals and the disastrous effects of intolerance," Vanderbilt said.
Connecting with local, regional museums and scholars
As part of their experiential learning, students participated in virtual visits with public museums and scholars locally and regionally to explore how museums are structured, how they tell stories and narratives, and how local and regional museums interface with national and international institutions.
During a virtual visit to the Iowa Jewish Historical Society (IJHS), students talked to the society's director, viewed museum artifacts, and learned about the challenges of documenting contemporary events. They also learned about Jewish life in Iowa and Iowans with connections to the Holocaust.
"The personalization of people throughout history had a large impact on my learning about the Holocaust."
Another virtual visit to the Illinois Holocaust Museum and Education Center in Skokie, Illinois – a community with a high density of Holocaust survivors – gave students an opportunity to speak with the museum's director of education and learn about the museum's history of confronting antisemitism.
Students also had virtual class sessions with two faculty members from other universities – Brent Campney, professor of history at University of Texas Rio Grande Valley and an expert on racial violence against Black people in the Midwest, and Andrea Burns, associate professor of history at Appalachian State University and an expert on African American history museums and historic sites.
"The two virtual museum visits, as well as the virtual visits from the two African American history scholars, really allowed us to magnify the high-impact practices we developed for this course," Behnken said. "This gave students additional content-area knowledge and a real-world sense of how museums do their work and how publicly engaged scholars like Campney and Burns do their work."
History up close in the nation's capital
During their spring break trip to Washington, D.C., the class visited the United States Holocaust Memorial Museum and the National Museum of African American History and Culture. They also participated in two walking tours – a tour with the Capital Jewish Museum of local Jewish history and memorials and a tour with Justice Walks of U-Street, a historically Black neighborhood where the class explored the topics of Black arts, civil rights activism, and gentrification.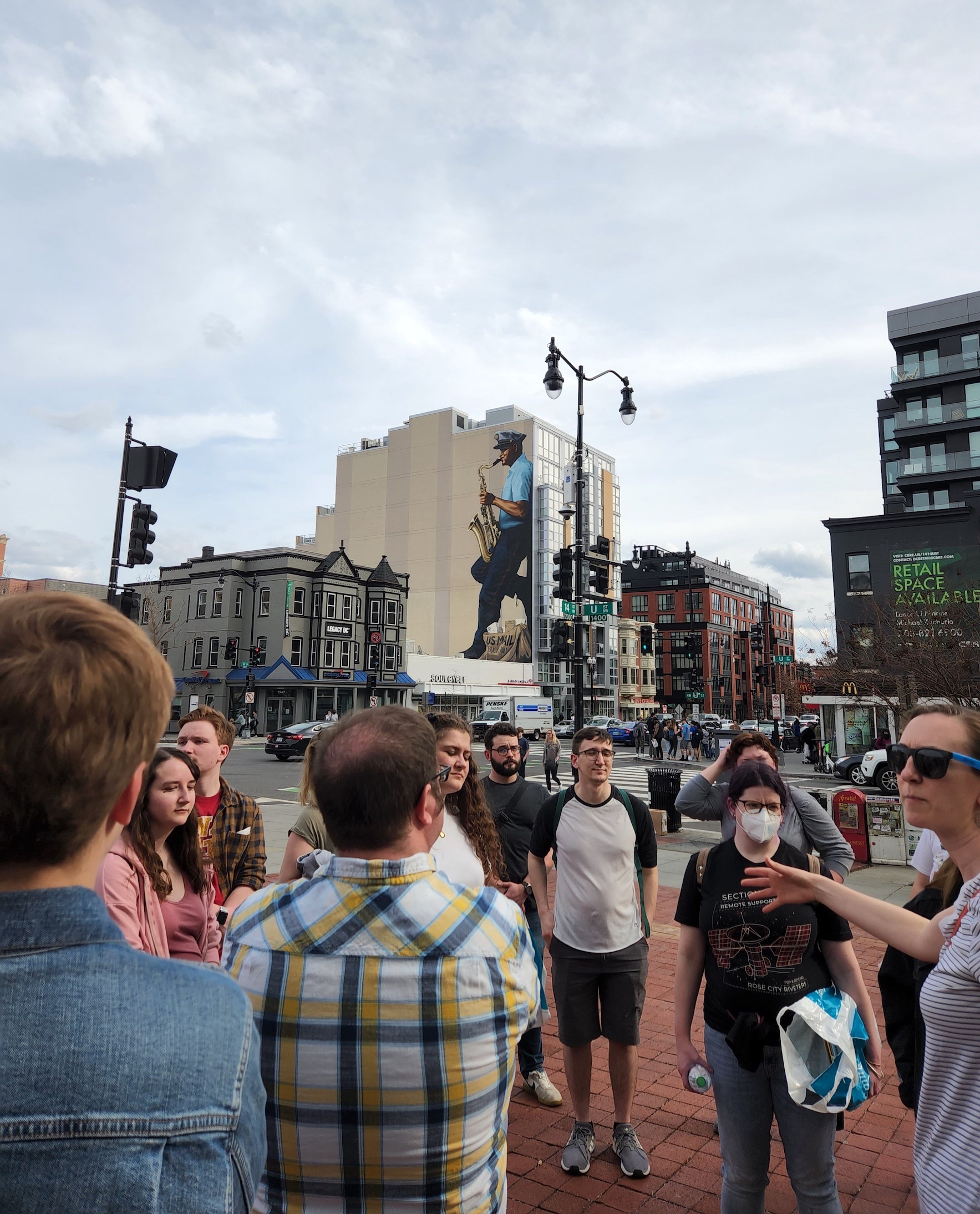 "One thing that had a large impact on me was the Holocaust Memorial Museum," Fiihr said. "Throughout my time in school, we talked about the Holocaust numerous times, largely focusing on the scale of this horrific time in history. The Memorial Museum personalized these large-scale numbers in a way I had not previously experienced, allowing us to read individual stories and see how families were torn apart and often never reconnected. The personalization of people throughout history had a large impact on my learning about the Holocaust."
Trent Schmidt-Rundell ('22 history) said he appreciated the opportunity to also see several smaller memorials, such as the Victims of Communism Memorial and the Holodomor Memorial.
"One of the memorials that I thought was fascinating – in a solemn sense – was the Holodomor Memorial that represented the famine-genocide created by the USSR in Ukraine," he said. "It was incredibly relevant at the time my class was in D.C., which made the Ukrainian-Russian conflict all the more real."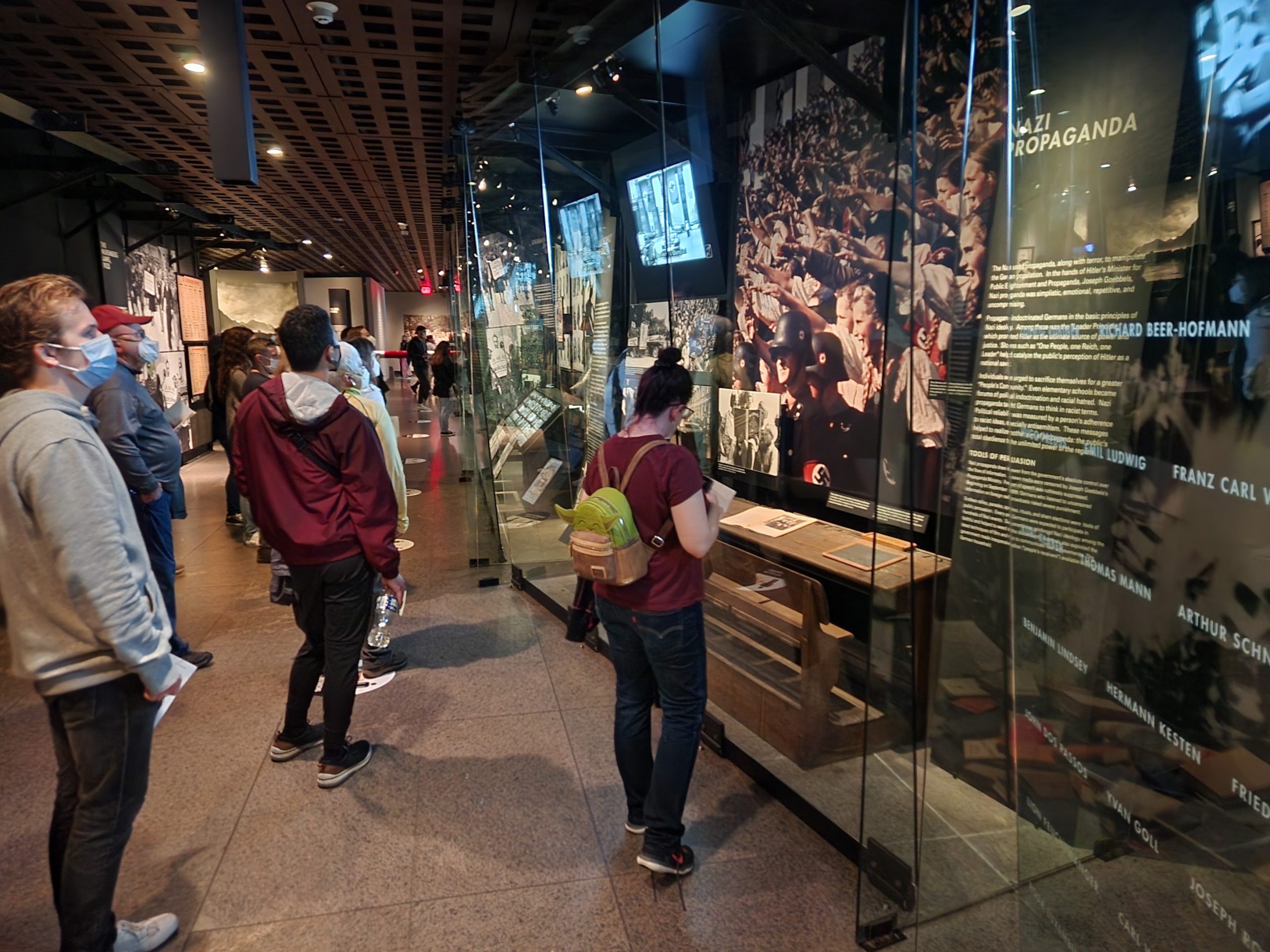 Vanderbilt said visiting those memorials, and the Japanese American Memorial to Patriotism During WWII, helped him understand better how history can be memorialized and presented both positively and negatively.
"As we toured each memorial, we had a class discussion on the importance of memorialization and why each memorial was purposely designed as they stand today," he said.
The class also enjoyed dinners at an African American soul food restaurant and a kosher restaurant, where a kosher supervisor shared the history of kosher food and its meaning.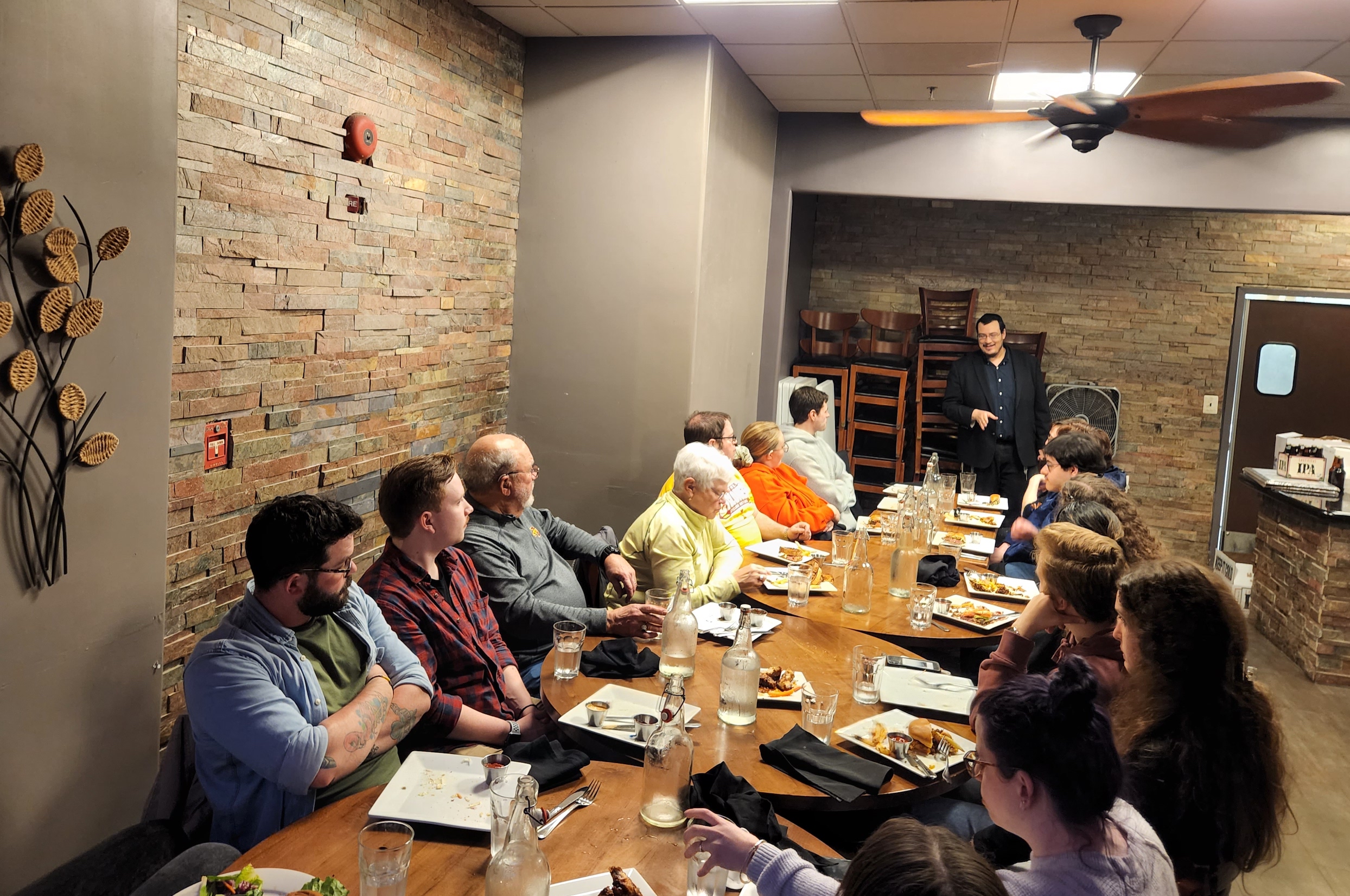 For Behnken and Best, the trip's highlight was seeing how engaged students were, from asking follow-up questions during metro rides to prompting their peers to share what they learned that day over dinner.
"This has easily been one of the best experiences I've had as a professor," Best said. "Our students grew in a lot of ways. We saw them grow and learn and reflect. We thought this course could be a thing that could change students' whole experience of Iowa State and be the thing that 20 years from now they remember. I wanted it to have an impact where they are reflecting beyond the classroom."
Generous alumni support
Along with scholarship funding from the College of Liberal Arts and Sciences, the course received generous scholarship support from LAS alumni Lou Ann and Kent Sandburg. As a result, every student who applied for a travel scholarship for the D.C. trip received full funding.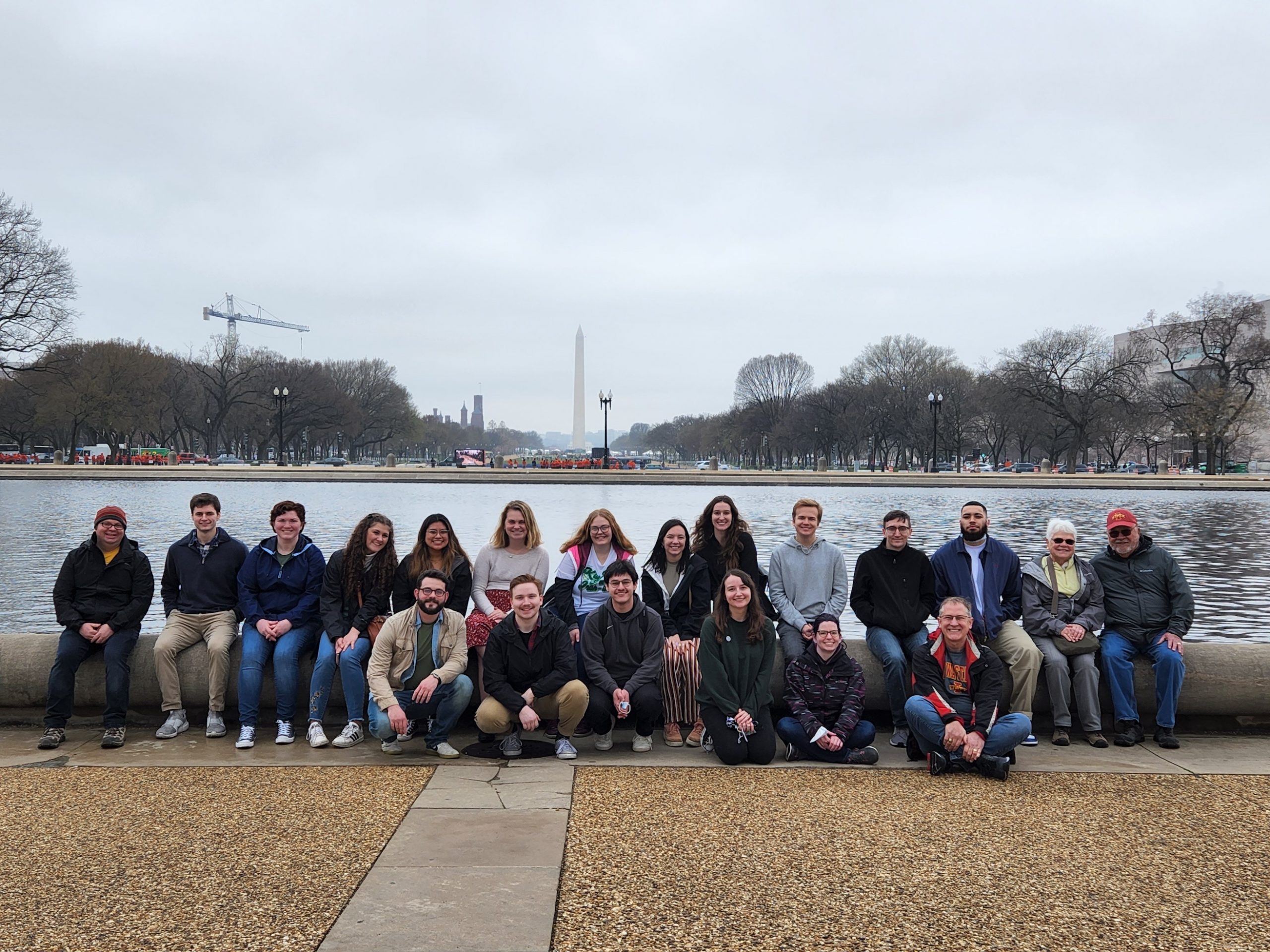 "Kent and I feel that understanding our country's history is important to understanding who we are as a country today," said Lou Ann Sandburg ('70 English). "The premise of this class caught our imagination, so we met with Brian and Jeremy to learn more about it. After that, it was an easy decision to support the experience. We loved supporting this class. Best investment we ever made."
The Sandburgs traveled with the students on the trip as alumni guests, though students did not know about their support.
"I think Lou Ann and I were the real benefactors of this tour," said Kent Sandburg ('70 mathematics). "It was eye-opening to see the excitement of the students about our history on racial injustice. As we toured, Jeremy and Brian asked the class some very thought-provoking questions. Their answers blew us away! The students were very engaged."
The affection between the alumni and students was mutual, said Behnken, noting that several students gave the Sandburgs hugs at the end of the trip.
A lasting impact
Jacqueline Cruz ('23 political science), who wants to work in an area of social issues or human rights, said the course will be valuable for her professional goals.
"Every day, I was educating myself on race, gender, class, power, and how all these topics connect with each other," she said. "I hope to enter a career field where I can use the knowledge I gathered to create a new system that benefits all people no matter their gender, race, sex, or class."
Vanderbilt said he hopes the course will be offered to future Iowa State students.
"This was hands down the best course I have taken at Iowa State," Vanderbilt said. "Through this course, I met some of my best friends and created lifelong memories that I will forever cherish. The energy that Dr. Behnken and Dr. Best brought to each class period was distinguishable, and one could truly tell that everyone belonged and felt excited to be in class learning."