As published in Arts Midwest World Fest and republished with permission. This story is written by Ella Schulte ('24 journalism and mass communication) with photos by Grant Tetmeyer ('22 performing arts, journalism and mass communication).
Before Iowa State University's Lyrica choir turned their attention to rehearsing for an upcoming concert, they first had to film a rock video. On a chilly spring day, recital hall 140 sat vacant within Iowa State's Simon Estes Music Hall, apart from 30 pairs of headphones waiting to be picked up and put on with excitement.
Since Dr. Jennifer Rogers became the choir's new director in August 2020, Lyrica has taken a new direction. Despite the pandemic's multiple, tumultuous implications, Rodgers has ensured that her students continue exploring and embracing musical traditions far different from what they are used to. As a part of this new and exciting mission to spread awareness for creativity everywhere, the treble-voiced ensemble came together wiith Israel's Hadar Maoz on behalf of Arts Midwest World Fest.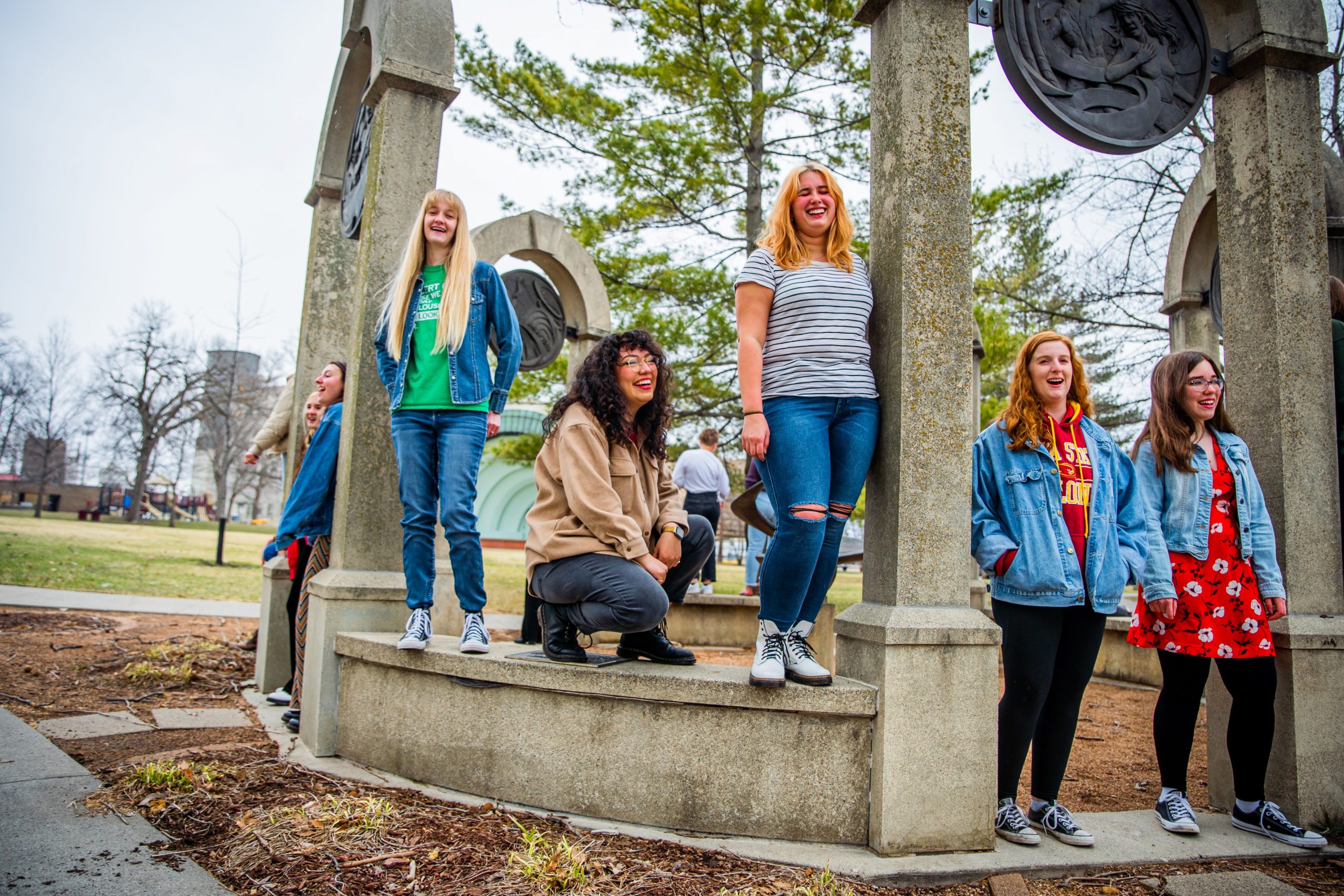 World Fest has been bringing international musicians to communities across the Midwest since 2003. From week-long residencies to workshops and events, fostering a sense of community spanning various countries is important to Arts Midwest's mission. This year, the non-profit organization partnered with Stephens Auditorium at Iowa State, where connections first blossomed.
In addition to being a performer, singer, musician, and instrumentalist, Hadar Maoz aims to convey the importance of spreading peace in all that she does. Since the release of her first album in 2009, the singer/songwriter has traveled to new heights, literally and figuratively. From touring internationally to tapping into her cultural roots, Maoz's edgy take on the music industry is electric and eclectic. Her new single, "One Spirit," is centered around the Age of Aquarius. This period destines an increase of peace and harmony – a message that Maoz hopes to amplify through her music.
"It's a very important song for me," Maoz said.
The Israeli rock star promised herself that she would create and later release a song with an accompanying video in celebration of humanity understanding the power of coming together as one, and on Jan. 8, "One Spirit" was released.
"I want the people to feel the connection between their hearts and the harmony that I try to create with my music," Maoz said. "And a deep love to each other and to all people from all kinds … from all races, from all colors."
In collaboration with Arts Midwest, Maoz has met with the Lyrica choir on various occasions via Zoom, despite the time difference, to rehearse the choir's involvement in the single's arrangement and music video collaboration.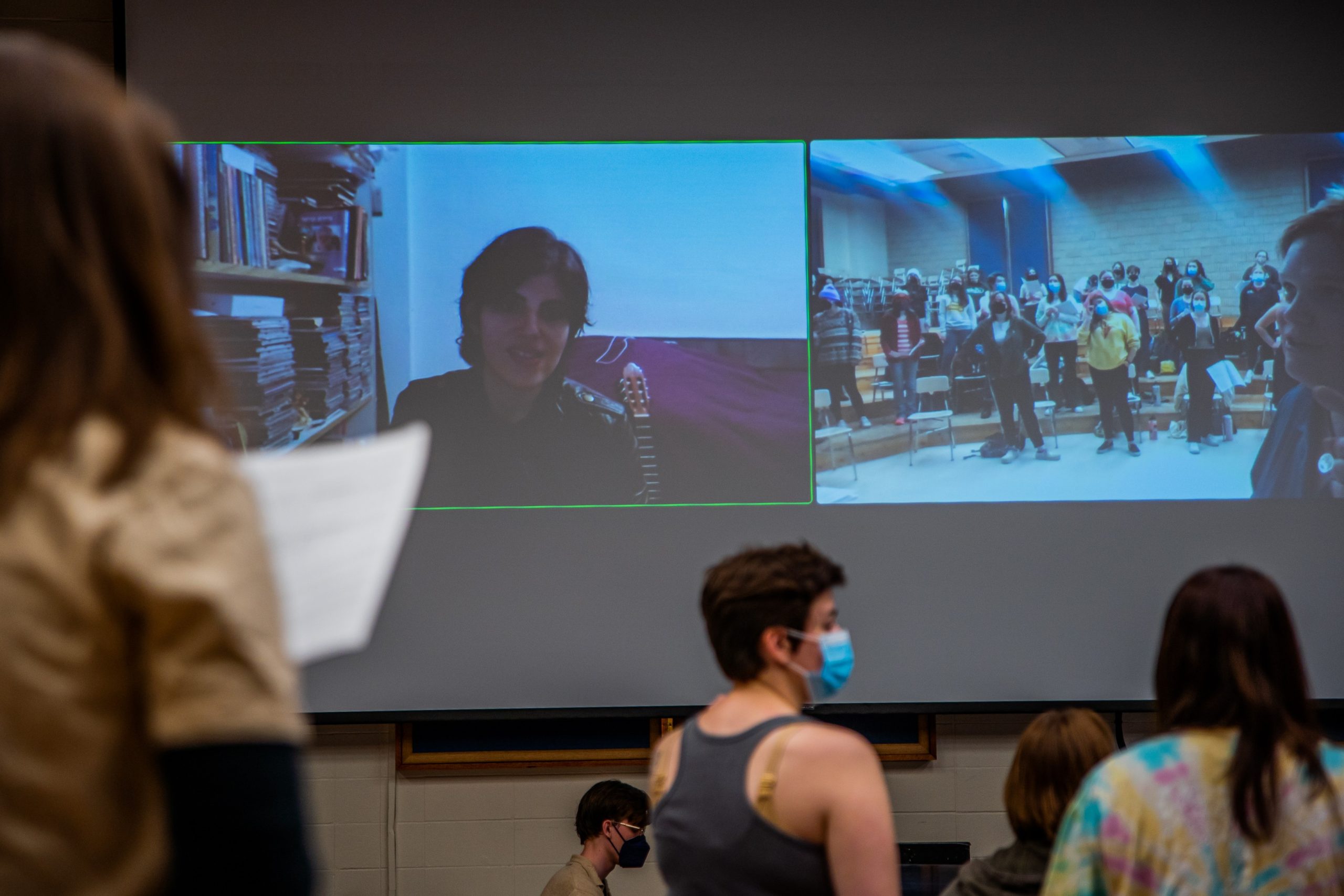 "It's just been kind of incredible to be able to span that difference with technology," said freshman choir member Anna Campbell.
At first, Zoom was not the only challenge, as the pronunciation of the piece presented itself as difficult. However, learning directly from Maoz aided in lifting the language barrier for the university's ensemble.
"Even if I'm just listening to her beautiful video through Spotify or something, I can actually sing along with it," Campbell said. "And that's really cool."
Campbell feels that the single's message is not too complicated yet conveys a sense of powerful and uplifting energy.
"I really like the idea of just all being one spirit. Like, it's not about different religions; it's not diving into that. It's just saying, 'hey, we're all human, we're all connected,'" Campbell said.
At rehearsals held each Monday, Wednesday, and Friday, members became familiar with the piece's qualities, such as the brassy timbre that includes trills, the act of quickly alternating two notes. Bending her students' ears with music and sounds unfamiliar to them in terms of tonality was one of Rodgers' driving forces.
"In choir, sometimes we get stuck into a very choral, traditional music style," Lyrica sophomore Valentine Chenus said. "It is so exciting to branch out into other styles of music."
The ensemble had to first let go of creating a taller sound through the elongation of their vowels to do so correctly.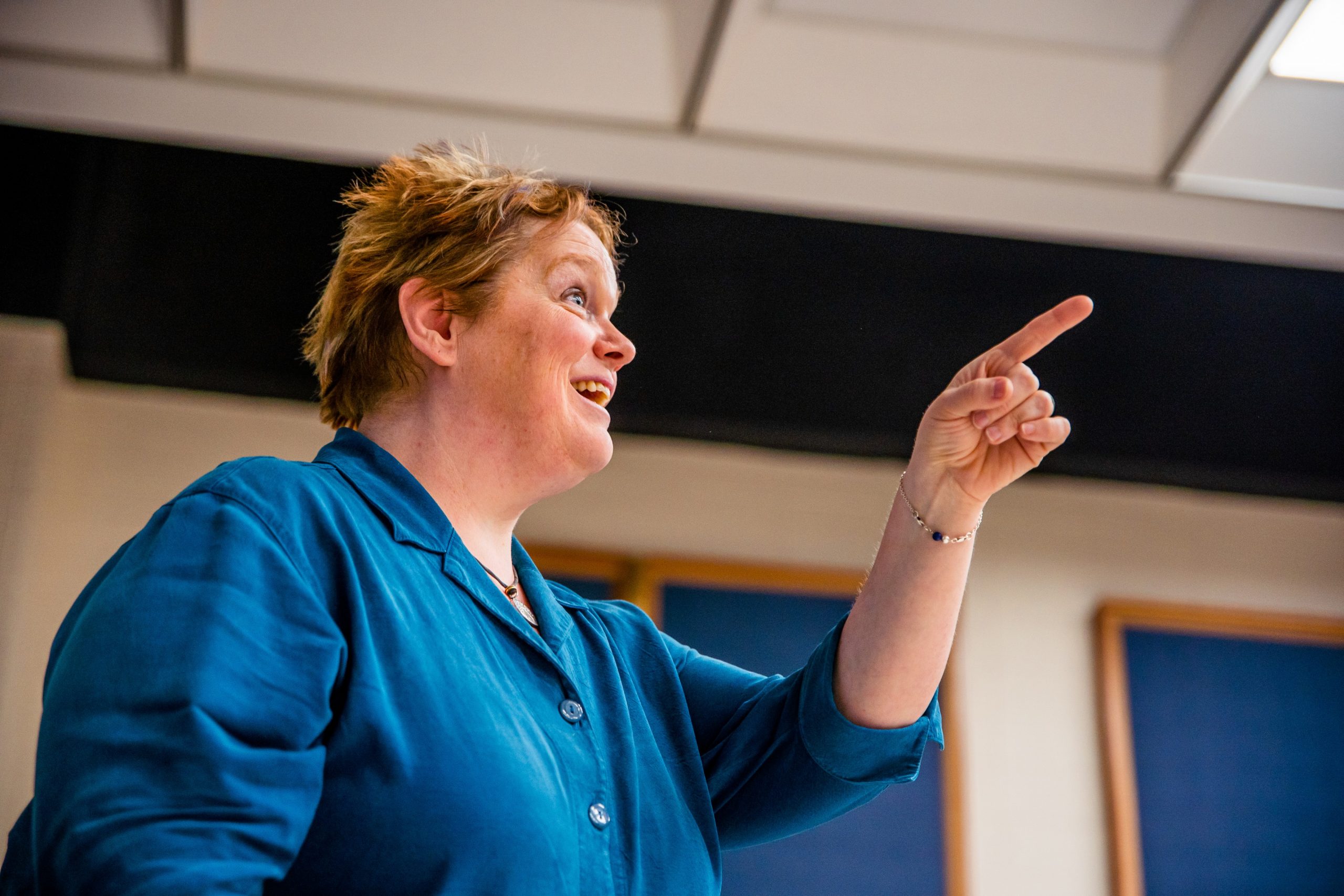 "These things, if you do them healthily, they're not going to hurt you," Rodgers said during a rehearsal.
From a bit of growling and glottal stops to impersonating the sheer sound of a snare and bass drum, understanding and matching Maoz's sound was pivotal to the success of the music video recordings. Shortly after the single's release, Lyrica first gained access to the hook.
"It's exactly what I was looking for. The timbre that she (Maoz) uses, the call, the brassy timbre was something that I had introduced to Lyrica in other ways," Rodgers said. "And this asks them to use it in a big way."
By giving the ensemble a chance to embody this sense of freedom, Rodgers capitalized on the importance of being open to new experiences.
"I want them to get into their bodies and out of their heads and try something that's unfamiliar," Rodgers said. "So that little passage that she (Maoz) calls a hook is a way for us to 'hook' into all these things that we are about."
Thanks to the ensemble's willingness to try new things from day one, the "One Spirit" hook acted as a gateway for the choir to explore new and differing sounds. "They've always opened their mouths and let something come out," Rodgers said. "And you can tell that they're unsure about it, that they're shy about it, but they have formed a community where it feels safe enough for them to try it."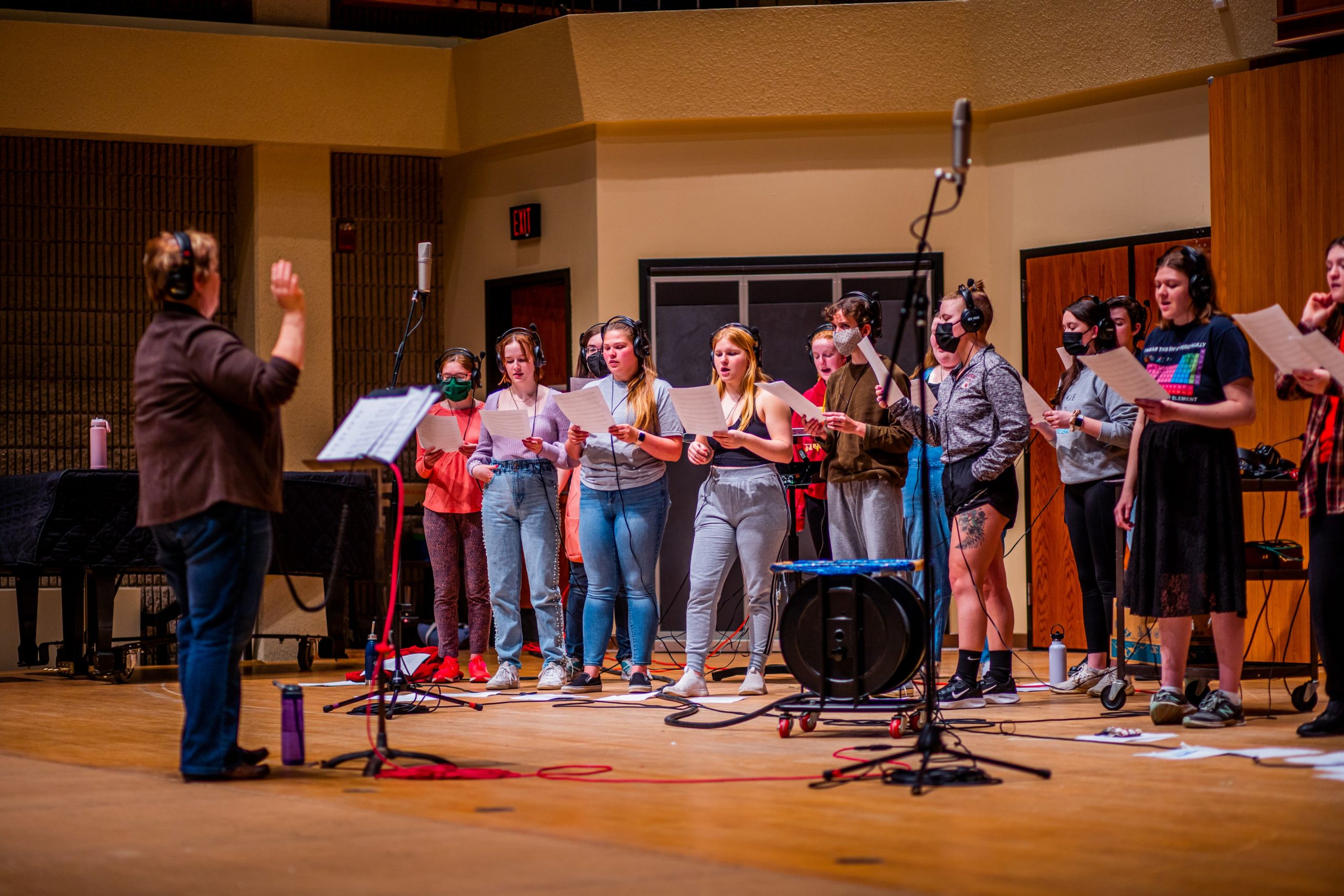 Their hard work and dedication did not go unnoticed. "Even though we are a little bit of a lower-commitment choir, everyone comes with a positive attitude and is so ready and willing to work," Chenus said. "… I find them so amazing and so exciting to work with. I am super, super thankful."
This connection also extends past Rodgers and her students.
"I like them so much; they're so sweet, and the teacher, Dr. Jennifer, she's amazing," Maoz said. "When I see her and how she explains to the student, I tell to myself, 'Wow, I wish that I was younger, I wish that I could have a teacher like that in Israel.'"
Although thousands of miles apart, Maoz feels connected to Lyrica at heart. "I felt like they are there in my studio," Maoz said. "I don't feel that they're in the U.S."
This same feeling is felt within the walls of Iowa State's Simon Estes Music Hall. Rogers said, "It would be great to have her here in person, but her energy comes through the screen."
From both visual and audio standpoints, before the final recording session, the choir had embodied the star's infectious energy.
"You can tell that she cares about what she's doing," junior Elizabeth Semple said.
Regardless of the distance or differences in miles or barriers, the ensemble consists of individuals passionate about "One Spirit's" overarching message of peace and unity.
"It's been fun to learn the music and the language and get a breakdown of what it means to Hadar," Semple said. "It's really fun to get to be a part of this experience with her and to have the opportunity to go out of our comfort zone and work with someone that is so fun."
Aside from pushing herself to try something new with this piece, Semple has learned the importance behind the song's meaning, which she believes to be centered around the belief that humans can possess unique styles of life and ideals while still living in unity.
"I hope that once this song is fully released and there's some media behind it, it could maybe start a discussion," Semple said. "It really is a very good song with a lot of very good points in it."
Before Maoz released the piece, a segment of film was captured at a demonstration event nearly two years ago in Ukraine in hopes of being used as potential video footage. Although one could argue it is pure coincidence, others might say it is fate.
"I finished work on my video clip in the end of December, not knowing there's going to be, after three months, a war in Ukraine," Maoz said.
Regardless of what the future holds, it will consist of Maoz, Rodgers, and the ensemble spreading the value of peace.
"I feel like music can really bring people together because it's really emotional," Campbell said. "It doesn't have to have words, doesn't have to have words in a language you understand, but we can all feel the same emotions, and that can tie us together."
Together, Lyrica, Rodgers, and Maoz ensure that "One Spirit" embodies all that is said, understood and left unspoken.
"So, I hope everything starts to be a little more together, and less divided," Semple said. "Especially right now."
Arts Midwest World Fest is partnered with Stephens Auditorium at Iowa State University to deliver programming in Ames, Iowa for the 2019-2022 cycle.
A program of Arts Midwest, the 2019–2022 Arts Midwest World Fest cycle is generously supported by the National Endowment for the Arts, 3M Foundation, the Kaufman Family Fund for Israeli Cultural Exchange, and Music Port.
Watch Lyrica and Maoz perform "One Spirit" on YouTube.