There are individuals in this world who emphatically boast and bluster about their accomplishments. Then there are others, like Madeline Farringer ('21 biochemistry), who quietly, modestly initiate positive change with little to no fanfare.
That's what she prefers.
Farringer, born and raised in Freeport, Illinois, will graduate from Iowa State this spring with a bachelor's degree in biochemistry and a minor in emerging global diseases.
"Honestly, I am really lucky that I fell into biochem because there is so much I didn't know about it, but it is a great starting point for my future plans," Farringer said.
She picked up the emerging global diseases minor because of a desire to conduct medical research. Plus, it offers a social perspective on how those diseases impact society as a whole.
"It takes a great combination of microbiology courses and sociology courses to understand what is causing diseases, and then what the greater effect of that disease is on the world," Farringer said.
Dismantling malaria
Farringer is a standout undergraduate researcher, delving into the intricacies of the human malaria parasite Plasmodium falciparum. Malaria is one of the world's most severe and widespread public health problems. According to the World Health Organization's 2019 World Malaria Report, the disease caused 405,000 deaths worldwide in 2018. Today, nearly half of the global population is at risk for contracting malaria.
For the past two-and-a-half years, Farringer has worked alongside Joshua Beck, assistant professor of biomedical sciences, developing genetic tools to manipulate and better understand the malaria parasite. These genetic tools can "knockdown" or remove specific proteins from the parasitic cell to see how it reacts. Farringer's primary objective is to adapt a protein regulation system from plants to attack the proteins in the malaria parasite. The knockdown strategy, called the auxin inducible degradation system, repurposes a plant growth hormone to destroy specific parasite proteins. And while it may sound like a complicated biochemical process, which it is, the final outcome is quite simple: progress toward successful treatments and vaccines for malaria.
"I have a great love for the scientific community and while many people outside of research may think the only big discoveries in science are the drug and vaccine discoveries, the tools and prior research needed to get to that point are immense," Farringer said. "If I can contribute to a system that allows researchers to work more efficiently and cheaper than before, I think that is a huge win."
Leader in the lab
Beck immediately recognized Farringer's research talent when she was a freshman. He was impressed with her astute scientific comprehension and readiness for Ph.D.-level study.
"She hit the ground running in my lab and quickly learned to genetically manipulate the malaria parasites we study, a technically difficult feat that takes months," Beck said. "Madeline has been successful right from the start, demonstrating a natural ability in the lab."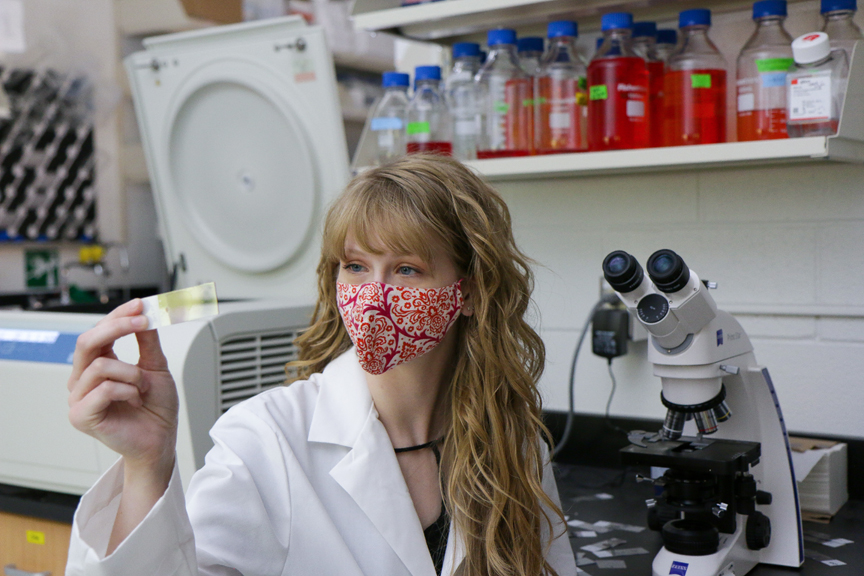 Farringer's experience in Beck's lab has solidified her penchant for research, and prepared her for future groundbreaking work that could someday lead to new treatments for malaria.
"My research has had a lot of unexpected twists and turns over the years, but it has all helped me tremendously, not only as a researcher but as a person," she said. "I have learned the technical side of research while also being given the rare opportunity to work independently as an undergraduate and learn some of the critical thinking and problem-solving required for graduate students."
True to her unselfish nature, Farringer counts mentoring new undergraduate researchers in Beck's lab as one of her greatest accomplishments.
"What I'm really proud of is training new undergraduates in the lab. Labs are all about learning from other researchers around you and it feels great that, after spending the last two-and-a-half years learning the lab and different techniques, I can teach another undergraduate those same techniques and continue the cycle," she said.
Highest honors
Farringer would never brag about her research achievements, but plenty of others have taken notice. Last spring, Farringer received the prestigious 2020 Goldwater Scholarship, the premier undergraduate scholarship in mathematics, natural sciences and engineering in the United States. She also was named a 2020-21 Stupka Scholar by Iowa State's Roy J. Carver Department of Biochemistry, Biophysics and Molecular Biology (BBMB), the highest honor an undergraduate can receive from the department. Honorees are selected for their academic achievements, involvement in the BBMB department, undergraduate research and participation in the annual Stupka Undergraduate Research Symposium. Farringer is the speaker committee's co-chair for the 2021 event. She is also a member of the University Honors Program.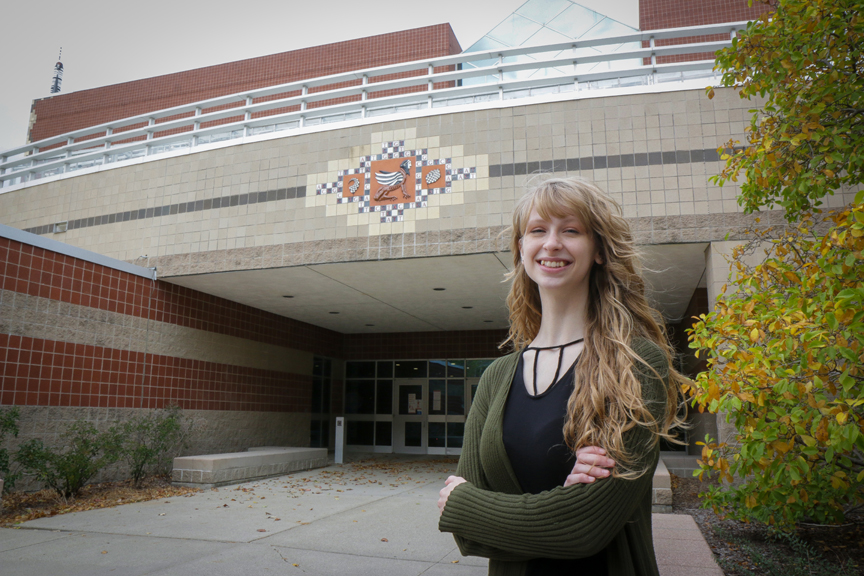 Despite these accolades, Farringer admits the recognition is sometimes difficult to comprehend.
"I am someone with a lot of self-doubt and impostor syndrome. I almost didn't apply for the Goldwater out of the belief that there was no point because there was no way that I would get it," she said.
Desiree Gunning, the BBMB department's undergraduate program specialist, learning community advisor and Stupka program mentor, has developed a close relationship with Farringer. Gunning is familiar with Farringer's humble nature, but she is quick to highlight not only her academic prowess, but also her pleasant personality.
"Maddie is a bright, shining star on every level and thinks beyond today and even tomorrow. She has somewhat of an 'old soul' within, but it is perfectly balanced with curiosity, drive, intelligence and heart," Gunning said. "The scientific community needs brilliant minds to help solve the problems of today and tomorrow. Maddie will rise to the occasion."
Bright future
The Goldwater Scholar selection convinced Farringer that she should shoot for the stars. As a result, she is applying to prestigious graduate schools to pursue a doctorate in biomedical sciences and to go on researching parasitology.
"I want to continue doing research that moves the medical field forward. If I continue to study malaria, I hope that there are great breakthroughs in the understanding of vulnerable stages of the lifecycle and the parasite's unique biology that can lead to the eradication of the disease," Farringer said. "It would be amazing if I made those discoveries, but I will not be upset if that is someone else's accomplishment because it would just be a win for humanity in general."
That's what she prefers.