It was clear that the small airplane would crash.
Seventy feet above the ground, the single-engine Cessna erratically descended against a clear, blue sky. The left wing pitched downward as the landing gear sheared off a treetop. Now flying sideways, the plane sliced through a second tree, tumbling to the parking lot below.
This wasn't a clip from a Hollywood feature film.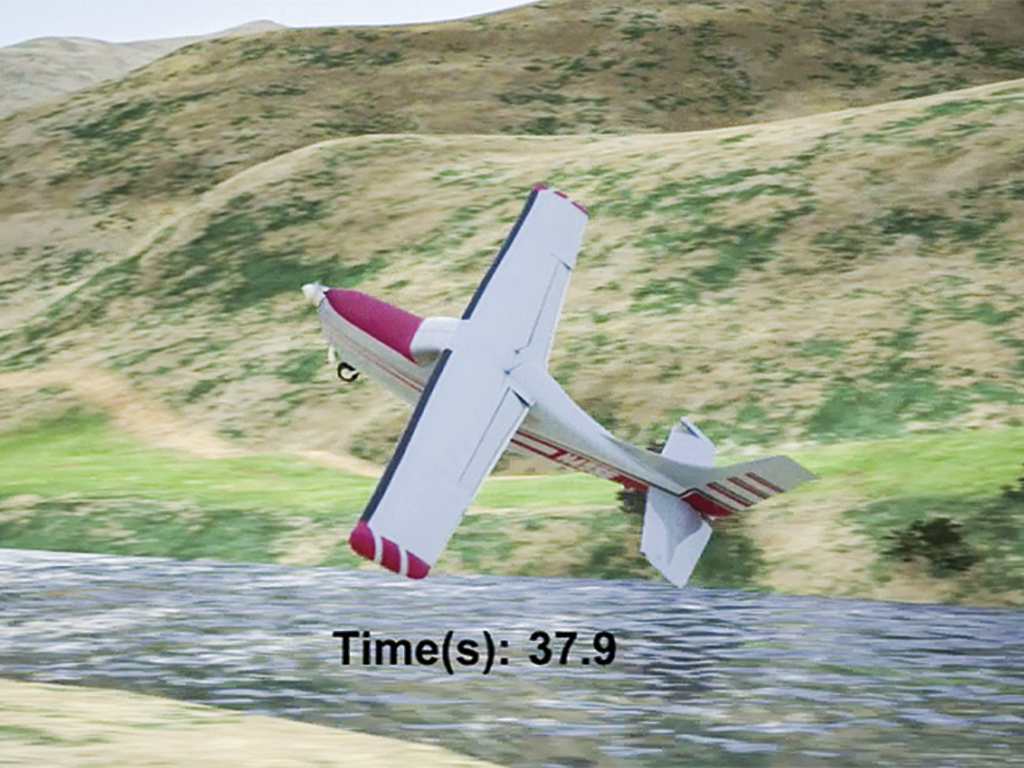 This scene is one of the thousands of scientifically accurate 3D visualizations produced by Engineering Services Inc. (ESi) which bring real-world events to life. These visuals have been shown to judges and juries in courtrooms across the United States.
Underneath these compelling images lies a solid scaffold of science, hard facts and data.
"How we create these visualizations often feels like black magic, but this is real science," said Chuck Fox, the director of technology services for ESi, an engineering, scientific investigation and analysis firm.
Fox ('87 zoology, Ph.D. '91 molecular, developmental and cellular biology) leads the company's visualization team that produces animations and virtual-reality applications, which help judges and juries understand complex and technical information.

"When an expert testifies using one of our animations, it's supercharged with enormous amounts of data. We visualize that data and use it to show the facts surrounding a fire, a plane crash or even the intricacies of an equipment failure," Fox said.
Now, anyone can witness a past event exactly as it unfolded.
Revealing truth
3D visualizations can offer clarity and reveal places and events that judges and juries otherwise could not view. The technology can foster a deeper and more comprehensive understanding of situations, and even incite change.
This year, ESi developed a virtual-reality (VR) application for plaintiff's attorneys representing a family whose young son was tragically killed after being accidentally trapped in the family's home elevator system.
Fox was part of an ESi team who oversaw the development of a VR application, which was used to visualize the unwitnessed accident. Although the accident happened in the elevator shaft, completely hidden from view, the 3D visuals revealed a design flaw, a gap between the elevator's exterior door and the interior accordion door. The case was settled for an undisclosed sum.
"Viewpoints were important in this case," Fox said. "We re-create the precise geometry of the home and the elevator using laser scans. The parties were able to understand how the boy interacted with the elevator system and exactly what happened."

Media attention surrounding the case caught the attention of two U.S. Senators who have demanded a full recall of these home elevators.
An investigation into the elevator's design is ongoing at the Consumer Products Safety Commission.
"We hope that the technology developed for this case will continue to increase awareness and bring about the change that is needed to make kids safer in the future," Fox said.
Pioneering a 3D Revolution
The technology that lies at the heart of producing scientifically accurate 3D visualizations was developed nearly 25 years ago at Engineering Animation, Inc. (EAI).
Fox was there on the front lines.
He played a pioneering role in introducing and expanding 3D visualization technology into untapped scientific, legal, education and pharmaceutical markets.
For nearly a quarter century, Fox has been regarded as a leading innovator in this highly specialized space—transforming how evidence is presented at trial and how jury members make sense of complex information.
"It was sort of like seeing Edison inventing the light bulb years before anything was out there," Fox said. "What the initial EAI team developed was amazingly groundbreaking."
"I've had the incredible opportunity to be a part of the group that started it all at Engineering Animation and to see it through to what we're doing today at ESi," Fox said. "I feel as if this is one of those 'born-at-the-right-time' careers."
Fox is quick to note how his education and experiences at Iowa State shaped his career path.
"Studying science at Iowa State taught me how to think critically, teaching biology to undergraduates sharpened my communication skills and conducting research allowed me to develop rigorous, evidence-based approaches to solving complex problems," he said.
Welcome to Iowa State University: This may change your life
Arriving on the Iowa State campus in 1982, Fox had a singular goal. He wanted to become a veterinarian and work alongside his father in his practice. Fox's father graduated from Iowa State's College of Veterinary Medicine in 1961.
With natural abilities in chemistry and biology, Fox had a whip-smart fascination with science that took root during his childhood.
His mother would tell you that he was always asking questions. Fox would tell you that his mother always had time to provide answers.
"I was that middle school kid who watched each episode of "Cosmos" 15 times," Fox said. "I couldn't get enough of model rockets, chemistry kits and everything that had to do with inventing and testing stuff. I was like a little evil scientist."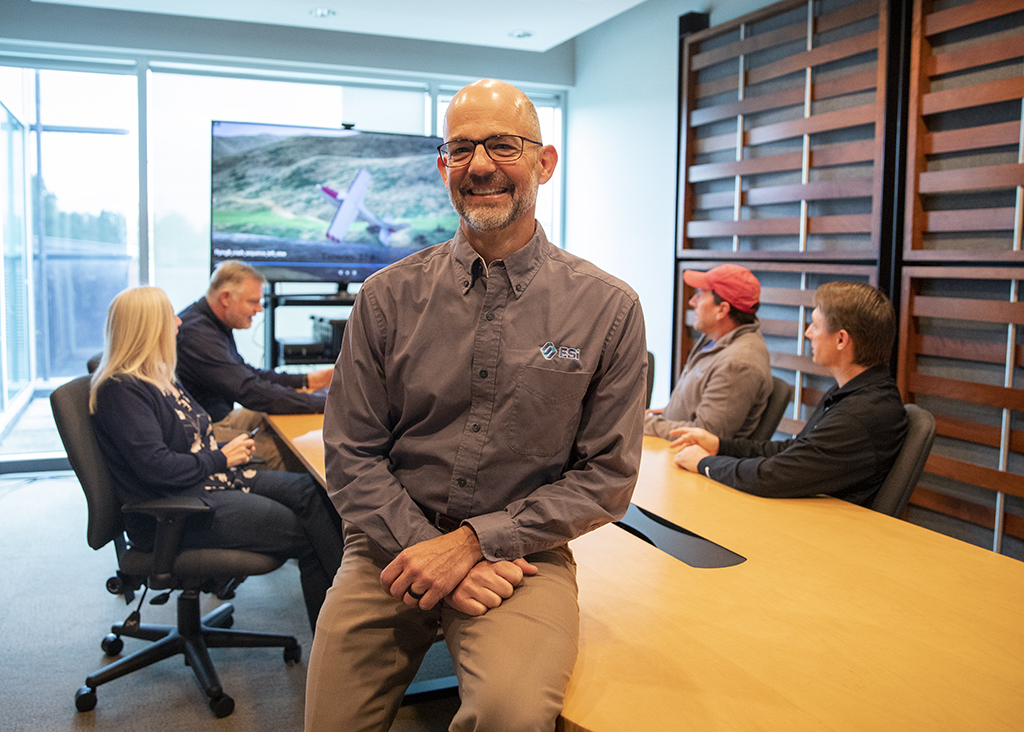 After three years as a zoology major, Fox completed a year of veterinary school. He began to veer from the academic road that he had carved out for himself after enrolling in a neuroscience course and discovering an intense interest in the field. Fox was also accepting a tough reality—his father's small-town practice, although busy and successful, wasn't big enough to support two veterinarians.
"I began reevaluating everything I'd ever known since I was a kid, during a time when Iowa State was throwing incredible opportunities at me," Fox said.
Fox let go of the water's edge of childhood dreams and dove headfirst into neuroscience. He was chasing new goals now, with plans to become a neuroscience professor who would someday manage his own research lab.
An innovative researcher
Carol Jacobson first met Fox when he was a student in her neuroscience class.
Jacobson, a former Iowa State professor of veterinary anatomy, was part of a multidisciplinary program, teaching science to students in the former Department of Molecular, Cellular and Developmental Biology and also to students studying veterinary medicine. Jacobson is currently a practice manager for commercial content business consulting at Veeva Systems.
"I hired Chuck to do research in my lab and I witnessed his talent for combining science, technology and innovative ideas," Jacobson said. "He's always operated on the cusp of the next great thing."
Fox was an inventive force in Jacobson's lab. He adopted novel research techniques, such as isolating, identifying and analyzing chemicals and receptors that were unique to specific areas of the brain. The lab studied brain development using a unique animal model, the Brazilian gray, short-tailed opossum. Standard neuroscience protocol today, these techniques were cutting-edge at the time.
"Chuck took the lead in embracing these new procedures, making them work and figuring out how he could best contribute to science and to the greater understanding of brain development," Jacobson said.
By the time Fox earned his Ph.D. in 1991, he had published four major papers in the field of neuroscience research. To date, he has authored 19 scientific papers in the field of molecular neurobiology.
"It's been amazing to witness Chuck's career journey, from when he was a student taking my classes."
Four years later, after wrapping up the remaining weeks of a prestigious postdoctoral fellowship at the University of Michigan's Mental Health Research Institute, Fox answered the phone in the lab.
It was Carol Jacobson.
"I've been working for a startup in the ISU Research Park and they're doing some really cool stuff with 3D visualization. You need to consider working here," she said.
Engineering Animation, Inc.
Years before computer animation brought to life the hissing velociraptors in "Jurassic Park" and the colorful characters from Disney-Pixar's "Toy Story," a revolution in 3D visualization technology had been percolating in the ISU Research Park at Engineering Animation, Inc (EAI).
"It was sort of like seeing Edison inventing the light bulb years before anything was out there," Fox said. "What the initial EAI team developed was amazingly groundbreaking."
Founded by Iowa State engineering professors Martin Vanderploeg and Jim Bernard and graduate students Jeff Trom and the late Jay Shannon, EAI developed software that enabled the production of scientifically accurate 3D animations.
As the company launched an interactive division, its roster of biomedical patent-litigation clients grew.
"We needed to hire a tech-savvy scientist with expertise in anatomy and physiology," Jacobson said. "A rare combination indeed, but Chuck perfectly fit the bill."
Fox's initial project was managing the development of "The Dynamic Human," the first interactive CD-ROM to supplement undergraduate anatomy textbooks. It changed the way college students learned anatomy.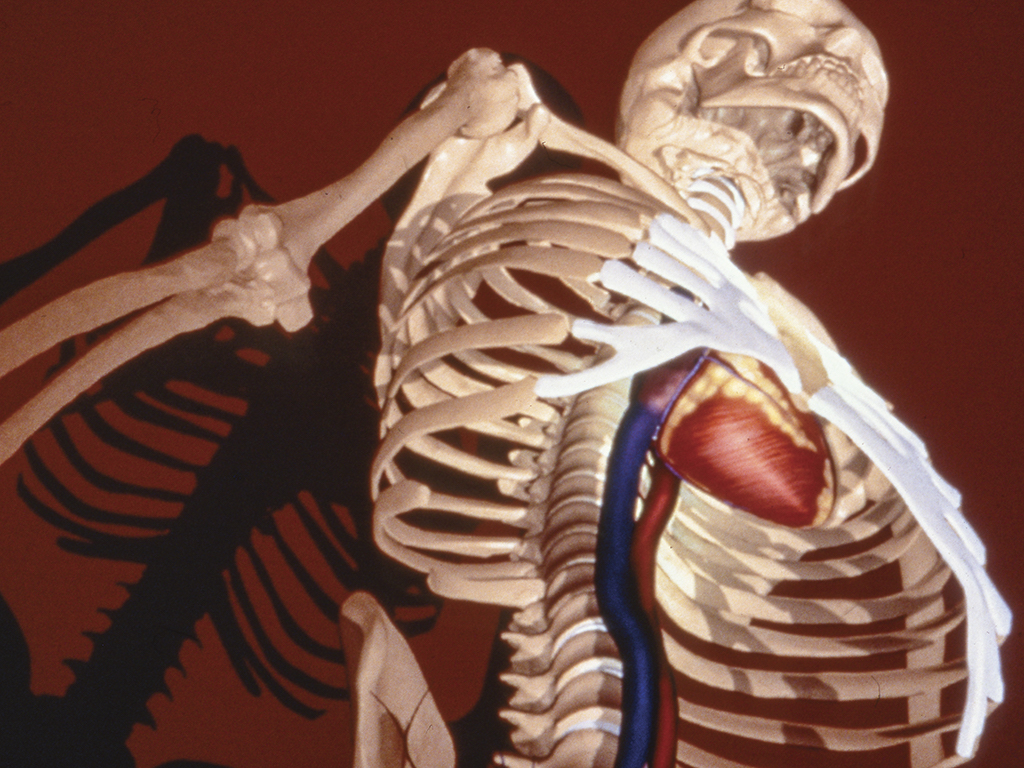 Fox also managed the production of animations that were shown during the first biomedical patent case that was tried in the United States, Promega v. Hoffman-La Roche.
"That case firmly established my career focus in the biomedical-visualization space," he said.
Through the years, Fox oversaw the production of thousands of litigation animations involving patent infringement, products liability, medical malpractice, toxic torts and insurance defense—solidifying his reputation as a 3D visualization expert.
Jacobson said, "In a few short years, EAI grew from a small startup to a global, publicly traded company with more than 2,000 employees. Chuck was part of the young, brilliant talent pool that drove those years of exciting growth."
However, change loomed on the horizon that eventually led to the end of Engineering Animation. In 2000, Unigraphics Solutions purchased EAI's software assets, leaving the litigation unit without a corporate home. Fox and several EAI employees formed a new litigation-animation company which was purchased by ESi in 2014.
Innovating forward at ESi
Fox continues to evolve and innovate at ESi. He's currently focused on optimizing the trove of "big data" which can unlock truths and solve mysteries.
"We had a case in which a pilot alleged that the de-icing system failed and caused his plane to crash," Fox said. "We took CT scans of the de-icing valve which revealed that the system was functioning properly. Combining black-box data, weather reports and crash-site evidence, we showed that the definitive cause of the crash was the pilot's unsafe landing that violated safety requirements."

"All of this data collection teases apart the causation," Fox said. "We help clients to find the right answer, and that integrity is so important to me and to everyone in our company."
To the people who know him best, Fox's integrity, ingenuity and success in this technical niche come as no surprise.
"It's been amazing to witness Chuck's career journey, from when he was a student taking my classes," Jacobson said. "Chuck started something and he's carrying it through as far as he can take it. He's really invested his life into 3D visualization technology and he's made a profound impact on the industry."