When Iowa State senior Sarah Zelle ('20 biochemistry, genetics) was first exposed to the science of ophthalmology and the intricacies of eye-related diseases, she wasn't studying for a biochemistry midterm or reading a college textbook.
She was just 6 years old.
An active and bright first grader, Zelle developed a medical condition that caused several eye-related diseases. One of these diseases can be caused when proteins, such as alpha-crystallin, accumulate in the eye lens.
Family appointments with her ophthalmologist became routine—as did a flurry of medications and kid-friendly conversations with her doctor. This kind caregiver was exceptionally skilled at explaining these diseases and outlining promising treatment plans which ignited Zelle's newfound curiosity for science.
"Learning about doctors and the medical profession—at such a young age—was incredibly impactful. This definitely set me on a path that led to my current point at Iowa State University," Zelle said. "I was amazed at what my doctor was able to do for me and I envisioned myself growing up and solving medical problems for people."
"I knew that my place was in a lab. I want to be on the front lines of making discoveries that could eventually lead to better treatments for patients."
Zelle maintained a keen interest in science through the years. In elementary school, she participated in First Lego League. Throughout junior high and high school, she was a disciplined student who enjoyed the rigors of her chemistry and biology classes.
Eventually, that initial spark for science illuminated a path to the doors of Iowa State University.
Inspired by a campus visit
Zelle was invited to visit Iowa State during her junior year of high school. A family friend who was a third-year biochemistry student organized a campus tour. The day began by viewing a research lab and was capped off with a memorable experience at the annual Stupka Symposium.
"When I walked into Stupka, I couldn't believe what I was seeing. The sheer quantity of research being performed by undergraduates was exciting and inspiring," Zelle said. "It was life-changing to realize that I could soon be a student at Iowa State conducting research."
Stupka is planned and managed entirely by students in the Roy J. Carver Department of Biochemistry, Biophysics and Molecular Biology. The symposium overflows with students showcasing their ongoing research and networking with attendees. Student researchers design and exhibit colorful posters that richly illustrate their studies, methods and findings.
"I decided right there, that I would attend Iowa State and major in biochemistry," she said. "The Stupka visit showed me so many incredible research opportunities that were available to undergraduates. I couldn't wait to get started."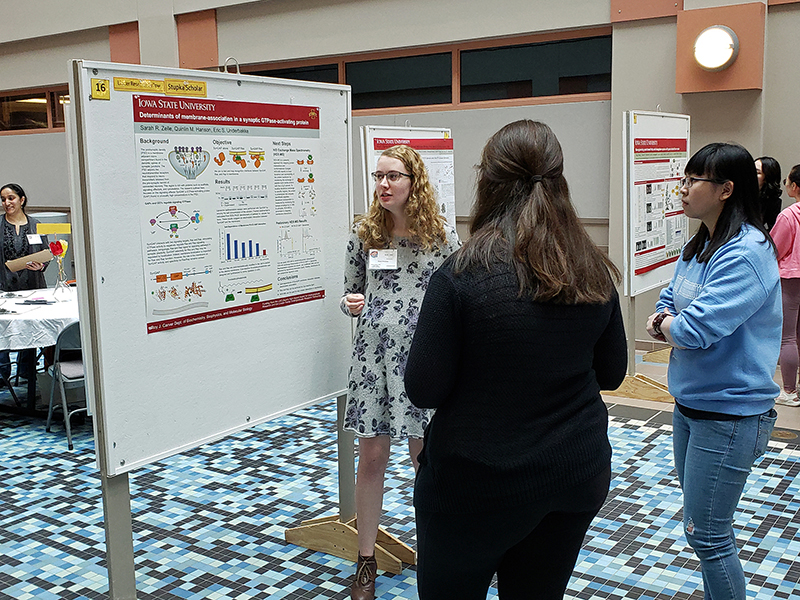 Since its 2005 inception, Stupka has steadily grown in size and scope, drawing researchers from across the country, as well as alumni, faculty and students from Iowa State. Nearly 200 preregistered in 2019, with hundreds more attending throughout the day.
The symposium bears the name of Robert Stupka, a biochemistry student who was killed in a pedestrian-automobile accident in 2005 on the Iowa State campus. Each year, undergraduates in the department honor his memory and passion for biochemistry research by organizing this successful and well-run event.
"Sarah has been an effective and detail-oriented leader on many Stupka committees. She's also been very involved in the planning and organizing," said Desiree Gunning, undergraduate program coordinator and Stupka faculty advisor. "Stupka remains sustainable because of the talent and dedication of students like Sarah."
Zelle currently chairs the media committee and manages the Stupka website. She also volunteers many hours in preparation for Stupka 2020, which will be held next April.
From visitor to accomplished award winner
Since her initial campus visit, Zelle has transitioned from prospective student to accomplished student researcher. She is also an award-winning scholar who is respected and admired by her friends and faculty.
"Every team needs a Sarah," Gunning said. "She's thoughtful, organized and her peers know that they can count on her. Everything she does is done with such care and incredible attention to detail. She's been an active member of our department who has made a difference."
Most recently, Zelle was named a 2019 Stupka Scholar, the most prestigious award available to undergraduates in the Roy J. Carver Department of Biochemistry, Biophysics and Molecular Biology. Stupka scholars are honored for their research, academic achievements and leadership.
"Every team needs a Sarah. She's thoughtful, organized and her peers know that they can count on her."
In addition, Zelle's "Determinants of membrane association in a synaptic GTPase-activating protein" won the 2019 Stupka poster competition.
"It's an honor to be among the many students who conduct research at Iowa State," she said. "Many of my friends also work in labs on campus. It's amazing to learn about the research happening in other departments."
Zelle earned the Stupka Scholar award after being nominated by Eric Underbakke, assistant professor of biochemistry, biophysics and molecular biology. He also serves as principal investigator for the Underbakke Lab, where Zelle currently researches proteins.
Experience through experiments in the Underbakke Lab
It was during her freshman year when Zelle discovered that her Biochemistry 101 instructor ran a research lab that specialized in studying scaffolding proteins.
Displaying some clever ingenuity and grit, Zelle approached Underbakke to learn more about his lab. Armed with an impressive understanding of his protein research, as well as several research ideas of her own, Zelle made an indelible first impression.
"Sarah immediately wanted to bite off some real research questions about proteins," Underbakke said. "She had very thoroughly and thoughtfully investigated our lab. I was impressed with her keen interest in proteins and her knowledge of the biochemistry that happens in our lab."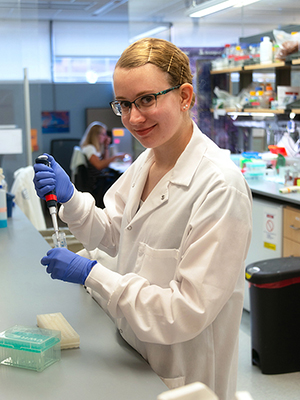 Moved by Zelle's ingenuity, resourcefulness and her stellar academic record, Underbakke asked Zelle to join his research team. She was immediately assigned to a challenging research project.
Zelle has remained earnest in her mission to study proteins and unlock their mysteries. In the Underbakke Lab she has researched proteins found in the post-synaptic density in the brain.
Recently, her focus has shifted to analyzing how membranes impact these proteins.
"Sarah is a bright and ambitious researcher who doesn't just follow a recipe. She thoroughly understands that the slightest perturbations may give you different results," Underbakke said. "She is able to adapt, adjust and gain a deep understanding of the research when something unexpected happens. Sarah is a very skilled and talented researcher."
"Just like the doctor who helped me when I was 6 years old, I want to dedicate my life to discovering biomedical solutions that will help many people."
Zelle's undergraduate research has garnered numerous scholarships and awards.
In March, Zelle was awarded a 2019 LAS Dean's High Impact Award for Undergraduate Research. This competitive honor supports outstanding applicants who engage in research with Iowa State faculty. She was also selected as a Linder Family Undergraduate Research Fellow, an award that funds independent research in the biochemistry, biophysics and molecular biology department.
Zelle is honored and humbled by the awards. However, she notes that her proudest Iowa State moments are connected to experiences that have shaped her research career.
A eureka moment in the lab
This fall, Zelle will begin a third year of studying proteins in the Underbakke Lab. She fondly recalls her first experiences in the lab and how they quickly transformed her career path.
"When I originally enrolled at Iowa State as a biochemistry major, I thought I wanted to be an ophthalmologist," Zelle said. "For years, I was certain about that."
A few days in the Underbakke Lab changed those long-held plans.
"Almost immediately I realized, wow, I can make discoveries here. I can make a real difference in science and eventually make real biomedical impacts that help people," Zelle said. "I knew that my place was in a lab. I want to be on the front lines of making discoveries that could eventually lead to better treatments for patients."
A role model and a mentor
Zelle was selected to be a peer mentor in the Biochemistry and Biophysics (B&B) Learning Community, a cohort of students who study biochemistry, biophysics or agricultural biochemistry.
"Sarah was one of the youngest peer mentors in the learning community and she was a very effective leader and an inspirational role model to many students," Underbakke said. "Sarah gives so much back to her major and to our department."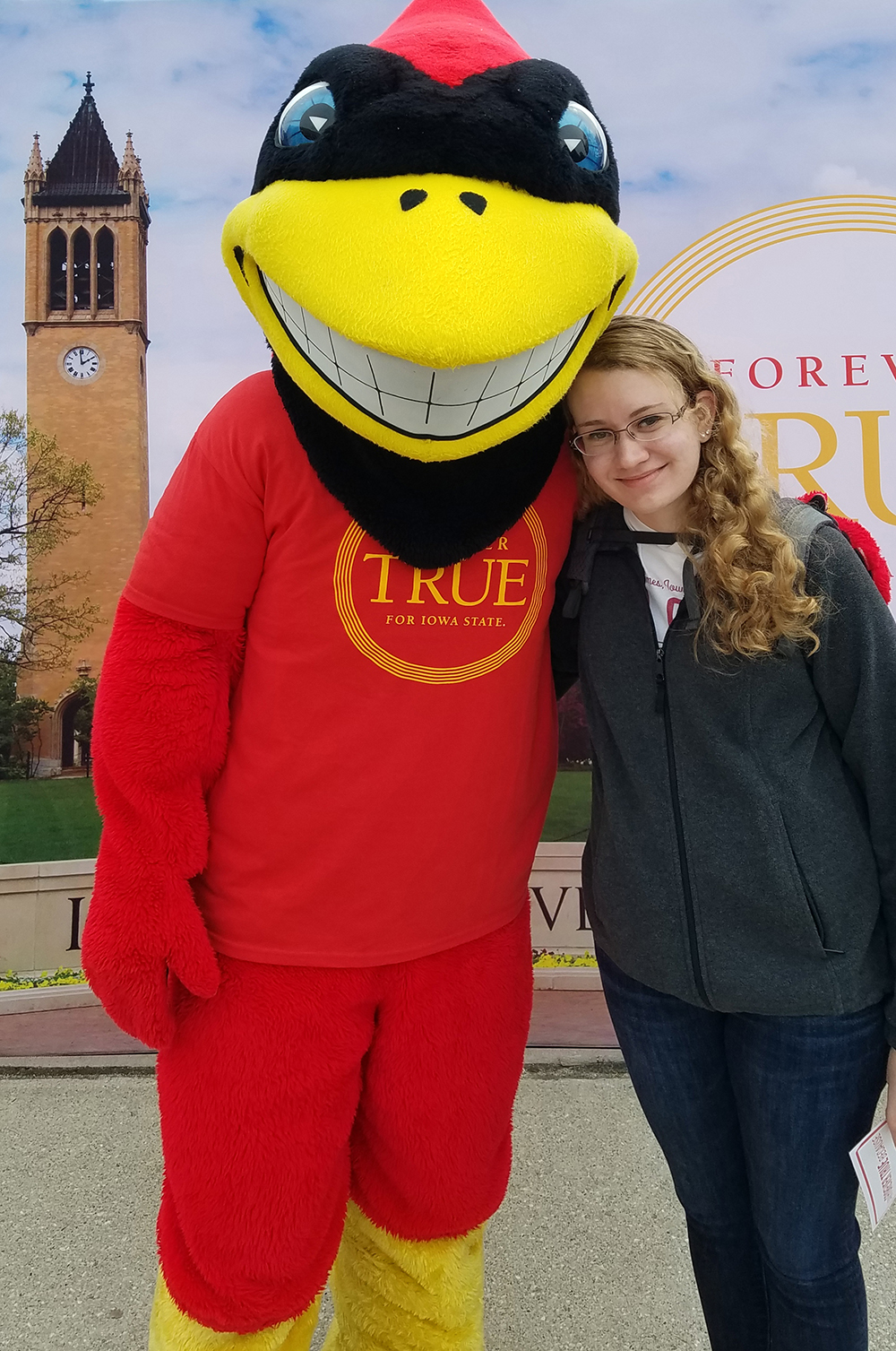 Iowa State learning communities nurture a sense of belonging and camaraderie, by uniting students who share common interests. Members often attend the same classes, form study groups and participate in activities and social events throughout the year.
Zelle is currently mentoring a group of six incoming students. "My goal is to be their first line of defense," she said. "I'm there answering their questions, making them feel welcome and helping them with their four-year academic plans."
"I tend to be shy, but I stepped out of my comfort zone when I became a peer mentor for the B&B Learning Community," Zelle said. "The experience has given me the opportunity to make connections, build friendships and improve my mentorship skills."
Zelle plans to be a principal investigator in her own lab someday. "Honing my leadership abilities and communication skills is so important," she said. "Being a peer mentor has enabled me to help others while I learn, grow and increase my confidence."
A promising future in research
Zelle recently wrapped up a summer research experience at the Vanderbilt University School of Medicine in Nashville. This prestigious position is part of the Molecular and Cellular Biology Summer Program that is offered by the Vanderbilt Summer Science Academy.
Working for the Ascano Laboratory, Zelle analyzed a specific protein, ELAVL1. This specialized protein binds to immune-relevant messenger RNA, a molecule that decodes critical information for protein synthesis.
"This was my first time living anywhere outside of Iowa, and it was terrific to travel and work beyond the Midwest," Zelle said. "However, I'm excited to return to Ames for my final year at Iowa State and apply to graduate schools."
The common thread of proteins
Zelle is currently eyeing graduate schools and applying for the National Science Foundation's (NSF) Graduate Research Fellowship Program, a highly competitive scholarship that funds outstanding graduate students who pursue research-based master's and doctoral degrees.
Applicants are required to explain their professional plans, detail their career goals and outline how their research could broadly benefit society.
"My NSF application will focus on a proposal related to alpha-crystallin proteins," she said. "Just like the doctor who helped me when I was 6 years old, I want to dedicate my life to discovering biomedical solutions that will help many people."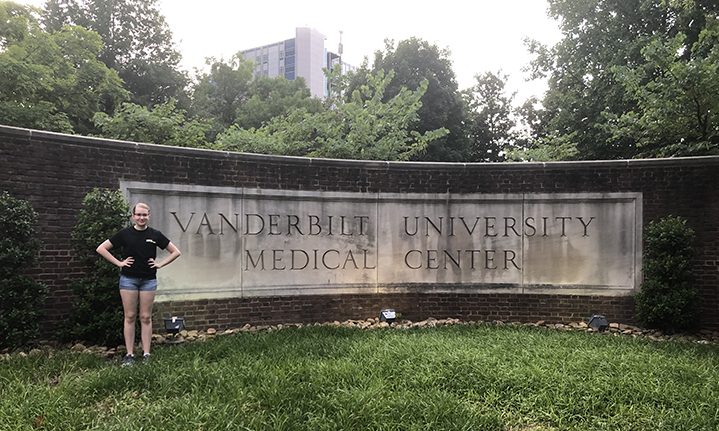 Underbakke notes that Zelle's fusion of skills, extensive research experience and interest in proteins will benefit the biomedical research community.
"Sarah has a very bright future as a researcher," Underbakke said. "I'm certain that she will make the Iowa State community very proud after she goes off to graduate school and continues to build a successful research career."