On a summer morning, Anna Steffensmeier addressed a room full of high school students with a question she thought would be simple. "What's the slope of two lines that are perpendicular to each other?"
"What does perpendicular mean?" asked many of the students.
Recognizing and adapting to the current skill level of students is just one of the challenges Steffensmeier ('19 mathematics, math education) is learning in preparation to become a math teacher.
She spent four weeks last summer teaching geometry to students in Science Bound, a pre-collegiate outreach program for students of color. The program engages Iowa middle and high school students from Des Moines, Denison and Marshalltown, Iowa. Students who successfully complete the program, meet admission requirements to Iowa State University and pursue a technical degree at Iowa State receive a full tuition scholarship.
While teaching Science Bound students, Steffensmeier practiced creating a learning environment that helps students thrive — including not assuming too much about what the students already know.
"I did assume too much on the very first day," she said. "Reaching them on their level was the most challenging part."
Evaluating the numbers
Steffensmeier grew up with a lot of support in STEM (science, technology, engineering and math) — her father is a welder, her mother a math teacher and two sisters involved in scientific research. Her high school math teacher's engaging teaching strategies sparked her interest in becoming a math teacher, and Alejandro Andreotti, adjunct assistant professor of mathematics, is a role model for the type of teacher she wants to become.
"He [Andreotti] was such a good teacher and included everyone in learning," she said. "He's mindful that everyone in the class is at a different level of learning. If someone has a question, he always reflects it back on the class as a whole and sees if a student can help answer the question versus him giving them the answer."
But her education classes at Iowa State showed her that not all students have this same level of support. She became aware of this inequity after seeing what is most convincing for a math-minded student – the numbers.
"No one looks at numbers," she said. "If you look at the stats, there are so many things showing that not enough girls go into STEM, not enough Latinos go into STEM, not enough African-Americans go into STEM. That bothers me because that means there's something structurally wrong in our society that doesn't encourage them to go into those majors."
Steffensmeier's parents taught her to be her best and help others do the same. Seeing the need for good math teachers, especially for women and other underrepresented students, she started working to address it.
"I want to provide students a good foundation so they can have that desire to pursue math in the future."
"I was blessed to have plenty of good math teachers in high school and in middle school," she said. "I am so grateful for them, but I think there are not enough people like those teachers. I want to provide students a good foundation so they can have that desire to pursue math in the future."
Becoming an advocate
Steffensmeier started getting involved in various learning communities and events to share her passion for STEM, and specifically math, with younger students. Dawn Walker Chalmers, academic advisor for mathematics and statistics, worked with her at Taking the Road Less Traveled, a one-day conference where middle and high school girls can learn about STEM fields, coordinated by Women in Science and Engineering (WiSE) at Iowa State.
"She was the only peer advisor who went table to table to speak with each of the girls there," Walker Chalmers said. "She made the girls want to be part of the event. I have always been impressed by Anna's ability to support and encourage students. This day I was blown away."
Steffensmeier also became a peer mentor for the Sky's the Limit Learning Community, designed to help open option freshmen build community with their peers and explore STEM majors and research opportunities.
"Anna did a great job helping students develop research projects," said Jenifer Saldanha, coordinator for Sky's the Limit. "She worked with our team of peer mentors to guide the students through the process of developing a hypothesis, creating experiment protocols, collecting and analyzing data, drawing conclusions, and creating research posters. Her contributions to the in-class and workshop discussions were invaluable."
But Steffensmeier did not just encourage freshmen to get involved in research. She also got involved herself. During a presentation to the learning community, Alicia Carriquiry, Distinguished Professor in the College of Liberal Arts and Sciences, professor of statistics and director of the Center for Statistics and Applications in Forensic Evidence (CSAFE), talked to the students about research opportunities. She encouraged all the students, including the peer mentors, to apply.
"The reason I wanted to do research was so I could give my future students an application for math."
Steffensmeier took her up on the offer and got a position with the CSAFE steganography group. The project involved how codes and messages are embedded into an image — a method that could be used by a criminal or terrorist group or for website security and password protection. The project also explored detecting messages in images and decoding the message.
Now she can relate first-hand to her students where mathematical study can take them.
"The reason I wanted to do research was so I could give my future students an application for math," she said. "This is where statistics can go and this is how you can apply it because I've experienced this myself."
Creating community
Steffensmeier also serves as a student leader facilitating sessions of Supplemental Instruction (SI), a voluntary program offering free, regularly scheduled study sessions for traditionally difficult courses. She works to combat negative attitudes toward math courses by creating an open community of learners where students are comfortable searching for knowledge together.
"If you don't have that sense of comfort or sense of belonging within the classroom you turn yourself inward," she said. "You go in your little turtle shell, you don't experience what's going on around you, you don't think critically and you neglect to connect with others in the classroom."
She experienced that sense of belonging at Iowa State through a study group of women she met in the Mathematics and Statistics Learning Community when she was a freshman.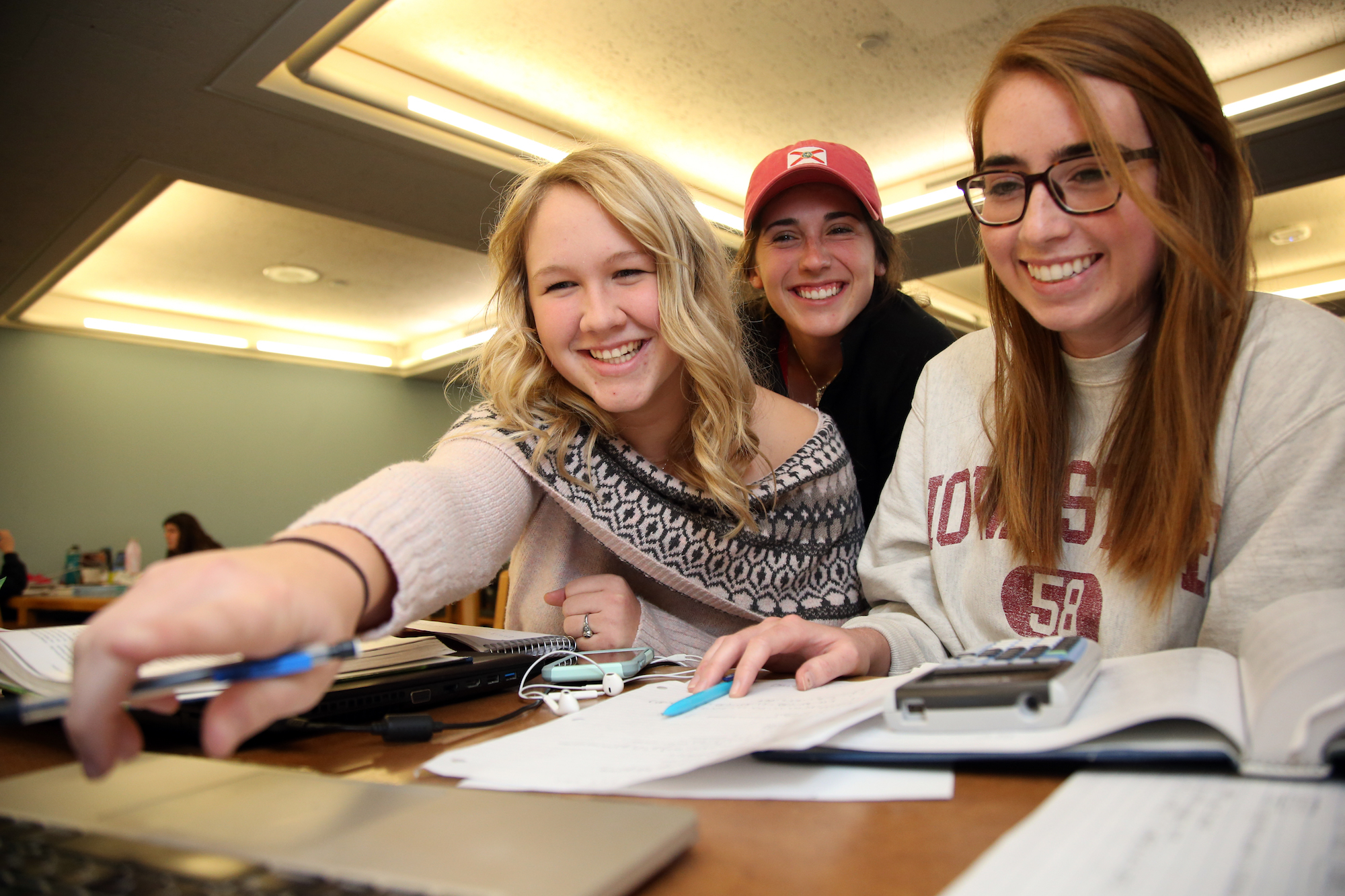 "We've had every class together since our freshman year of Calc I," she said. "Everyone is helpful, quirky and fun. These girls have carried me to be a successful student here at Iowa State. There is no way I would be where I am without them."
She uses some of the same techniques from her study group in her SI sessions — students working in groups together and asking questions that lead to the answer rather than giving it away. She has seen tremendous impact for the students, even doubling students' test scores.
"It creates this environment where students are comfortable in not knowing what's happening but learning together," Steffensmeier said.
Empowering students
The community of learning together that was built in the Science Bound classroom and the difference it made for those students inspires her to keep pursuing her goal of continuing to work after graduation with students who are underrepresented in STEM areas.
Iowa State has given her the foundation for success, which she wants to share with others. Steffensmeier plans to apply what she learned at a low-income school to give underserved students better opportunities and help them see themselves in future STEM careers.
"To be a teacher is not just a matter of being smart, it's a matter of conveying well-thought ideas that give a foundation for everything else," she said.