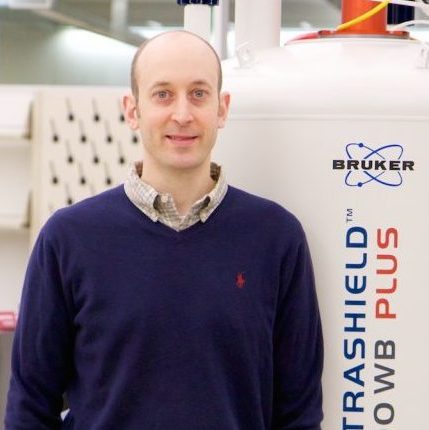 LAS researchers are helping pharmaceutical companies test their drug products using nuclear magnetic resonance (NMR) spectroscopy. Aaron Rossini, assistant professor in the Department of Chemistry, uses NMR to analyze a drug's solid state and how drug forms change during the manufacturing process. If the wrong solid form ends up in the final product, your dose may not be released properly into your digestive tract.
Beate Schmittmann, dean of the College of Liberal Arts and Sciences, was recently appointed to a new five-year term. Since her arrival in 2012, Schmittmann has been successful in managing the college's explosive enrollment growth; expanding online course offerings; improving retention, graduation and placement rates; strengthening the research infrastructure and external funding record; and enhancing the success of LAS fundraising efforts. Under her leadership, the college recently was awarded an equity gift of approximately $93 million, one of the largest gifts in Iowa State history.
Courtney Smith ('18 genetics) and Matthew Cook ('18 biochemistry and genetics) were among four Iowa State students chosen as Goldwater Scholars, the nation's premier undergraduate scholarship in the natural sciences, mathematics and engineering. The one- and two-year undergraduate scholarships will cover tuition, fees, books and room and board up to a maximum of $7,500 per year.
LAS researchers for the first time have mapped out the genetic interactions that show how stress can inhibit plant growth. Their research showed how stress sets off reactions that allow autophagy, a system by which plants and animals recycle energy and molecular components, to regulate growth. This discovery could help plant breeders create crop varieties that keep growing under stressful situations, as well as have implications for human health.
Doug Gentile, professor of psychology, and a team of French researchers have published a new study of more than 13,000 adolescents showing a small but significant link between video game exposure and sexism.
In her new book "Co-Sleeping: Parents, Children, and Musical Beds," Susan Stewart, professor of sociology, explores the reasons why parents allow children to sleep with them and the shame and stigma associated with co-sleeping. Most co-sleeping research comes from the medical field and is focused on sudden infant death syndrome. Stewart is one of the first researchers to take a broader approach, studying this phenomenon that can extend well beyond the infant and toddler years.
As an Iowa State student, Charles Sukup ('76, '82 M.S. agricultural engineering) played the carillon in the Campanile, the clarinet in the marching band, and discovered his love of organ music. Today's students can now do the same. Miriam Zach, adjunct assistant professor of music and theatre, is the inaugural recipient of the Charles and Mary Sukup Endowed Artist in Organ at Iowa State. Along with promoting the study of organ and teaching Iowa State students, Zach will coordinate organ music events at Iowa State.