Javier Vela is the kind of chemistry professor every college student wishes they had. An associate professor in the Department of Chemistry and an associate of the Department of Energy's (DOE) Ames Laboratory, Vela has a knack for helping students of all backgrounds fall in love with science.
From high schoolers to postdoctoral researchers, he engages everyone by keeping them involved in the research conversation.
"I came to the U.S. because I wanted to work among the best," Vela said, who was born in Mexico. "When I came I didn't know why the U.S. had the best scientific enterprise. Since I've arrived, it has become very, very clear to me why, and the reason is because people are not afraid to work outside of their comfort zone, to make mistakes or to ask stupid questions."
Vela teaches all his students to embrace this open discussion, no matter what prior level of training they have. Younger students, Vela said, have more questions about what they have not yet learned through coursework, but they can learn and discuss much of this as part of their research. As students progress, their questions eventually focus more and more on interpreting data and how to move the research forward. He teaches his students that being willing to ask questions is part of what constitutes great research.
Supporting diversity
In addition to his teaching ability, Vela is known for his commitment to diversity in his surrounding research environment. Two of his three postdoctoral students and half of his graduate students are women, and many of his students have been of Asian, Hispanic, or African-American heritage.
"Having a diverse environment mimics research because it trains you to deal with things that are different," he said. "I think that creates a good environment for people to work in. If you do research in our lab, people are really used to working with others who don't look like them, don't sound like them."
Vela also founded a chapter of the American Chemical Society's Project SEED, which provides opportunities for students who historically lack exposure to scientific careers to spend a summer conducting hands-on research with a scientist in academic, industry, and government research laboratories.
He recruits students for Project SEED through ISU's Science Bound program, which provides mentorship and scholarship in STEM fields to underrepresented middle and high school students living in Des Moines, Marshalltown, and Denison, Iowa.
"Science Bound is really a treasure of Iowa State," Vela said. "We've worked with amazing students that were a part of Science Bound. By supporting it, we strengthen this program and in turn, they allow us to work with their students."
Research that makes a difference
In Vela's lab, students look for new materials — or ways to address challenges in known materials — that can be used for energy conversion, such as converting solar energy into electric power.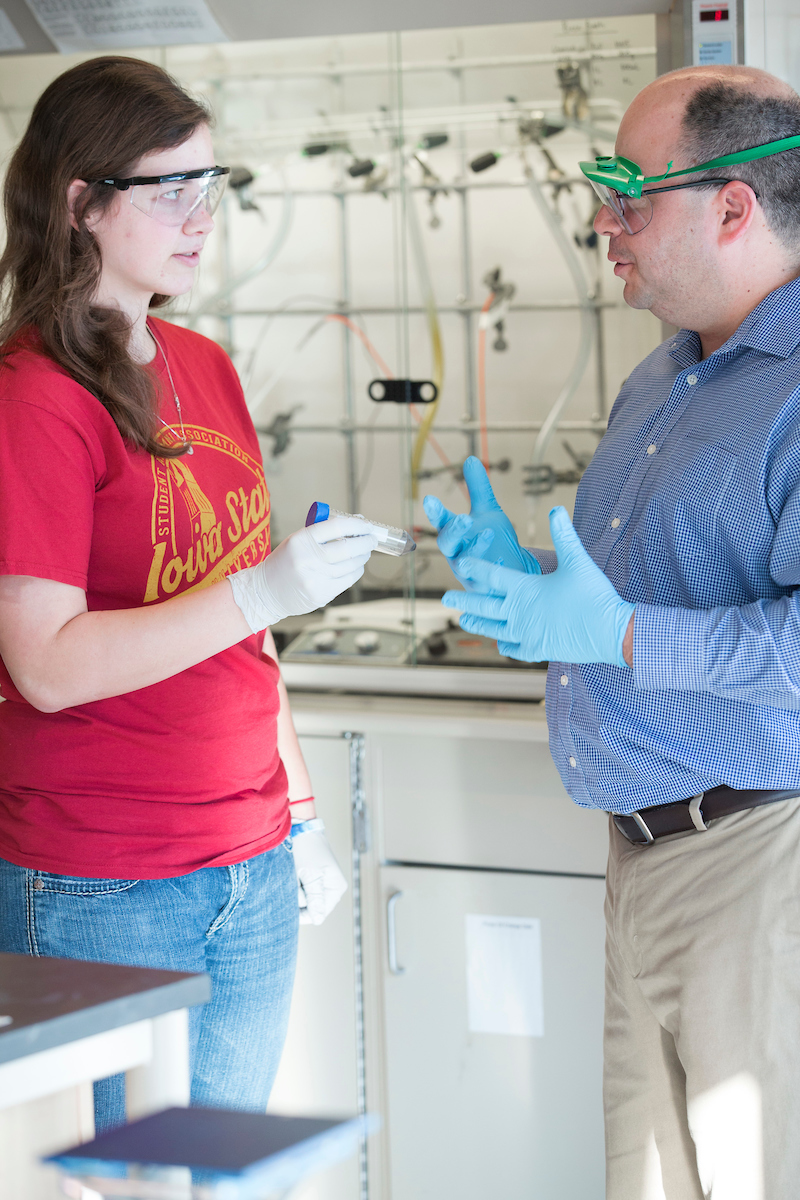 Vela helps students gain experience in research and teaches them to communicate their contributions and explain why they are important. Since joining Iowa State in 2009, Vela has involved more than 40 undergraduate students in his research. Fourteen of his students co-authored peer reviewed publications with his laboratory, many have gone on to graduate or professional school, and two of them received highly competitive National Science Foundation graduate research fellowships.
"He's been really awesome about getting me involved in exciting, cutting-edge research with big implications," said Noreen Gentry ('17 chemistry), who has worked with Vela the past two and a half years on how to optimize the properties of perovskites — nanomaterials that are used in solar cells.
For Gentry, working in Vela's lab shaped her career goals. She is currently working on finishing a paper with Vela before she graduates and has already been accepted into seven top-ranked graduate schools.
"I know for years to come I can see him being a really good resource and mentor, even when I'm not at Iowa State anymore," she said. "Working in his lab has made me really excited about research and promoting diversity — he really pushes to reach out to underprivileged people and underrepresented populates and encourages them to pursue STEM fields. That's something I would like to do, too: get involved with some sort of diversity program."
Jump-starting careers
Alec Falzone ('12 chemistry) was one of the first students to join Vela's lab when he was a new professor eight years ago.
"What drew me into Javier's lab initially was his broader-themed research of alternative energy applications," Falzone said. "Research in his lab opened my eyes not only to the broader theme of alternative energy, but the intricacies of inorganic chemistry as a whole."
Falzone is in his final year of doctoral work at North Carolina State University. After graduation he plans to work in industry researching the newest electronic materials, or polymers, or on catalyst development.
"Getting to work in his research lab gave me the jump-start to my scientific career that not many professors were willing to offer me at such a young stage in my chemistry career," Falzone said.
Creating confidence
Kate Baumler ('19 chemistry) currently works in Vela's lab.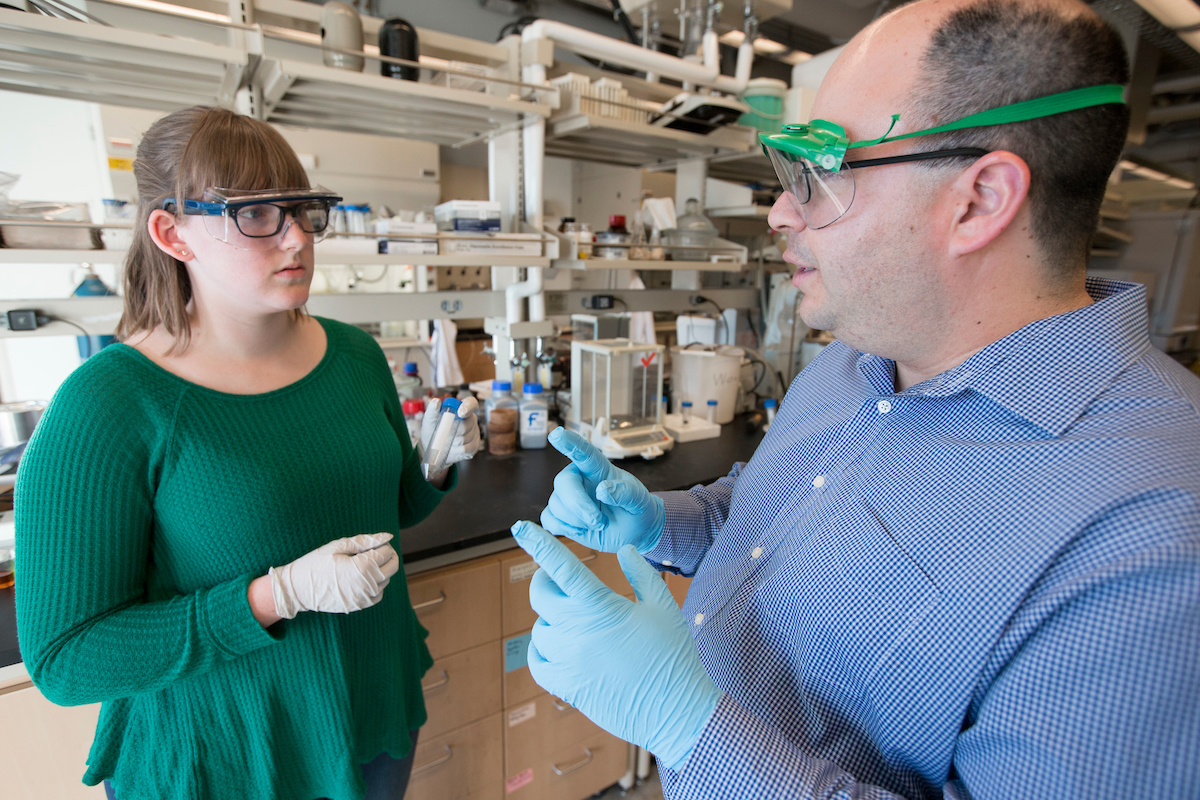 "Javier is very supportive and has high expectations which inspires me to achieve and be as successful as possible," Baumler said. "Working with him has been an amazing experience because it allows me to take what I am learning in my classes and find new applications for that knowledge."
Baumler said that working in Vela's lab gives her experience that will help her stand out when she begins applying for jobs. It has also given her confidence to work hard to achieve her goals.
"We make sure that everybody that stays with us goes on in their career and hopefully succeeds," Vela said of his students. "I'm very proud of all of them."