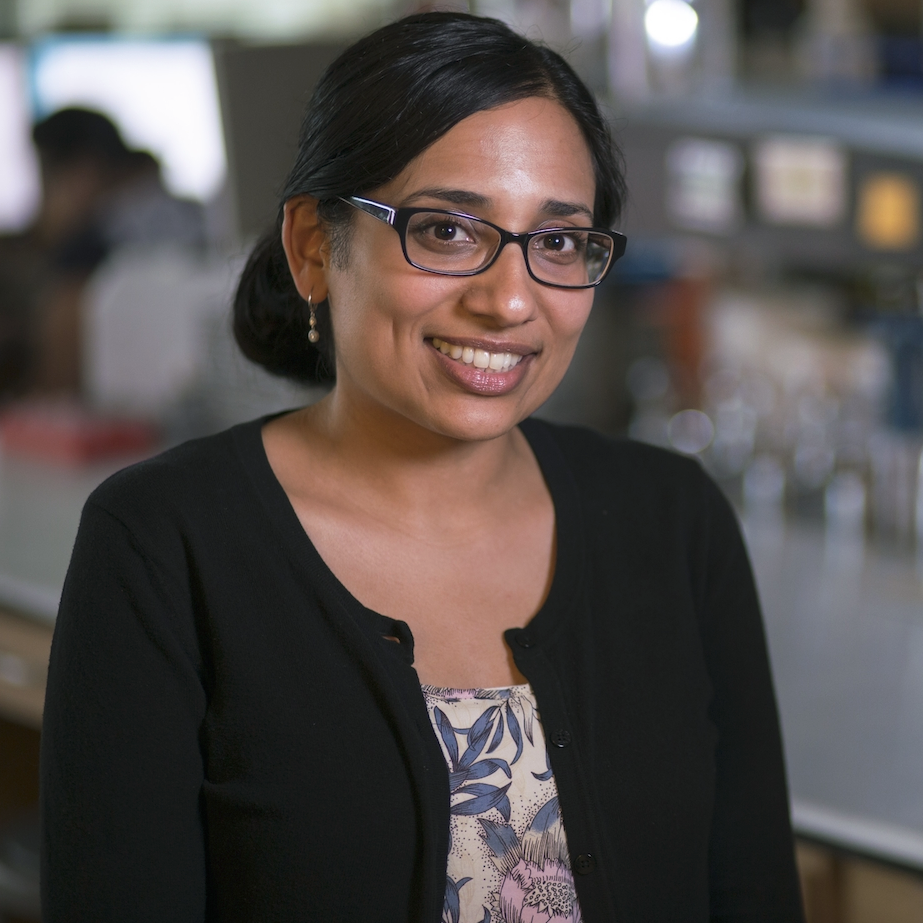 Eric Henderson, professor of genetics, development and cell biology, designed a nanomachine that can detect mockups of the Ebola virus. His nanotechnology could one day become a life-saving smartphone app for the developing world. 
Yes! Iowa State students in the STEM Neighborhood Project are using math and science to help the Capitol East neighborhood in Des Moines, Iowa, address energy inefficiency in residential and public buildings.
Amy Andreotti, world-renowned structural biologist and molecular immunologist, was named the Roy J. Carver Chair in Biochemistry, Biophysics and Molecular Biology, thanks to a $1 million gift from the Roy J. Carver Charitable Trust.
Researchers estimate between three and five percent of pregnant women develop preeclampsia in the United States each year. Geetu Tuteja, an assistant professor in the Department of Genetics, Development and Cell Biology and a Gregory L. and Kathleen C. Geoffroy Faculty Fellow, hopes that a better understanding of the genetic architecture underlying disorders in placenta development will help clinical researchers develop early detection and prevention methods.
Rebecca Flint, assistant professor of physics and astronomy, will study exotic materials with two early career awards from the U.S. Department of Energy and National Science Foundation.
History professor Jim Andrews' new research documents what iconic public spaces like the Moscow Metro reveal about the societies that build them.
World Languages and Cultures faculty ensure current students are prepared for the global workforce and ready to share knowledge that transforms the world.
Amber Manning-Ouellette, lecturer in leadership studies, has been named an Engaged Scholar Faculty Fellow through the Iowa Campus Compact. Students in her 2016-2017 service learning course will develop academic and leadership opportunities for local children and teens.
Donald Simonson, Morrill professor of music, was initiated into the American Academy of Teachers of Singing last year. Membership in the Academy is for life and is limited to 40 people at one time. At present there are 28 members, Simonson said, and nominations must be affirmed by unanimous vote.
The College of Liberal Arts and Sciences recently announced its 2016 Alumni Award recipients. The five honorees will be formally recognized at the LAS Honors and Awards banquet on October 27, 2016.
The Iowa State University Alumni Association recently named their 2016 STATEment Makers. Meet some of the LAS alumni making an impact:
Lopaka Baptiste (liberal studies, '06) shares how a chance meeting with a U.S. senator sparked his public policy career.
Adam Hoebelheinrich (journalism and mass communication, '09) takes us behind the scenes with the Green Bay Packers.
Jacob Wilson (political science and women's and gender studies, '11) turns a national news headline into a college scholarship for LGBT youth and allies.
Onalie Kavindi De Silva Ariyabandhu (economics, international studies, and environmental studies, '14) teaches the issues of health, education, gender equity, and religious tolerance and inspires young girls throughout Sri Lanka.
Tyler Kingkade (journalism and mass communication, '11) uncovered multiple federal violations on campuses (not ISU) as a reporter for Huffington Post, which have led to protest, action, and ultimately change.
David Morrison (genetics, political science, and international studies, '10) represents he U.S. government and American people overseas as is a consular officer at the U.S. embassy in Beijing, China.