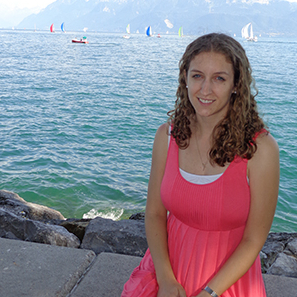 Christopher Cassling '11
Omaha, Neb.
After volunteering with the Student Conservation Association at the Chattahoochee River National Recreation Area, Chris ('11 biology) found his passion and his calling to serve as a Ranger for the U.S. National Park Service. Today he works seasonally as a Type 2 Commissioned Law Enforcement Ranger, a role in which he wears many types of hats: law enforcement, emergency medical service, search and rescue, fire service, and education. This April, he begins working in Lake Mead National Recreation Area after previous stints at Grand Canyon National Park and Sequoia National Park. He's been the first responder on multiple medical emergencies; he's educated visitors about preserving natural resources; and he's literally put out fires. Chris hopes to one day become a Permanent Ranger for the National Park Service, as he strives to carve out a fulfilling career of public service.
Chris on…
…his favorite college memory: "all the time I spent with my brothers in Phi Gamma Delta"
…his role model: "Theodore Roosevelt"
…his favorite app: "Stitcher Radio on Demand. It allows me to catch up and follow all my favorite podcasts while I'm driving cross-country."
…what's next for him: "I'm going to travel the United States and experience all the natural wonders this great nation has to offer."
Maggie Luttrell Roby '09 '11
Overland Park, Kan.
Life Member
Maggie ('09 history and women's studies, M.Ed. '11) has known from a young age what it means to serve others less fortunate. As a child of deaf adults, she grew up as a volunteer sign language interpreter and advocate for the deaf community – and continues these activities in the Kansas City area today. She was extremely active on campus and in the community while attending ISU, and now she is sharing her enthusiasm and dedication in her new community. While she was recently employed with Target Corp. as an executive team leader and the community captain for a store in Overland Park, Kan., her store more than doubled its volunteer service goals and ranked among the top 25 percent of Target stores nationally. Now employed by Sunflower, Maggie is up for election to her Homeowners Association board. She works to advance public service opportunities at her alma mater as well; the former Legacy of Heroines scholar contributes annually to the Carrie Chapman Catt Center for Women and Politics' scholarship fund.
Maggie on…
…her favorite spot on the ISU campus: "Memorial Union"
…her favorite college memory: "Campaigning for GSB vice president. I loved meeting and interacting with students on campus and learning more about what they wanted from their college adventure"
…her role model: "Dianne Bystrom [director of ISU's Carrie Chapman Catt Center] and my grandmother. Both women exude the social intelligence and compassion for others that I hope to learn and impart on others as they have done for me. They have both been supportive of me and encouraged me to succeed."
…what would make the world a better place: "if we loved strangers like we love those closest to us"
Katherine Wiegert '07
Denver, Colo.
Improving the lives of the disenfranchised and underserved has long been a motivation for Kate ('07 biology), who traveled to Le Ceiba, Honduras to assist in a medical clinic as an undergraduate and discovered her passion for public health. After graduating from ISU, she joined a medical team in Quito, Ecuador that was responsible for the health care of the indigenous tribes of the Amazon rainforest, the installation of public health water projects, and disaster response. While a student at the Duke University School of Medicine, she conducted research on child malnutrition and obstetrics in Haiti, studied HIV transmission in Zimbabwe for the CDC, and traveled to Geneva, Switzerland in service of the World Health Organization. A member of the Center for Global Health Initiatives national advisory board, she works today as a family medicine resident assisting refugees who have relocated to the Denver area.
Kate on…
…her favorite college memory: "walking through main campus late at night while the snow fell, listening to the Campanile play Silent Night"
…what would make the world a better place: "if people considered others before themselves"
…her guilty pleasure: "anything with Reese's!"
…what's next for her: "start a comprehensive health clinic for refugees and immigrants in Colorado, patterned after my current clinic"