The Department of Geological & Atmospheric Sciences is proud to announce that we are well along in our second phase of renovation of the Carl F. Vondra Geology Field Station. During Phase I, which was completed in 2010, we built a fabulous new main building with kitchen, dining room/classroom, and staff quarters. For Phase II, we are constructing two dormitory buildings, each with six bedrooms that can accommodate up to four people, as well as a third building with a classroom on one side and a laundry with two toilets and two showers on the other side. With this project we will have a world-class facility commensurate with the long-standing excellence of our field program and that is already being sought out for use by a host of outside academic and industry groups. The Phase II renovation was made possible through the generosity of Tom and Evonne Smith, with a major supplementary gift from Gary and Sandra Johnson.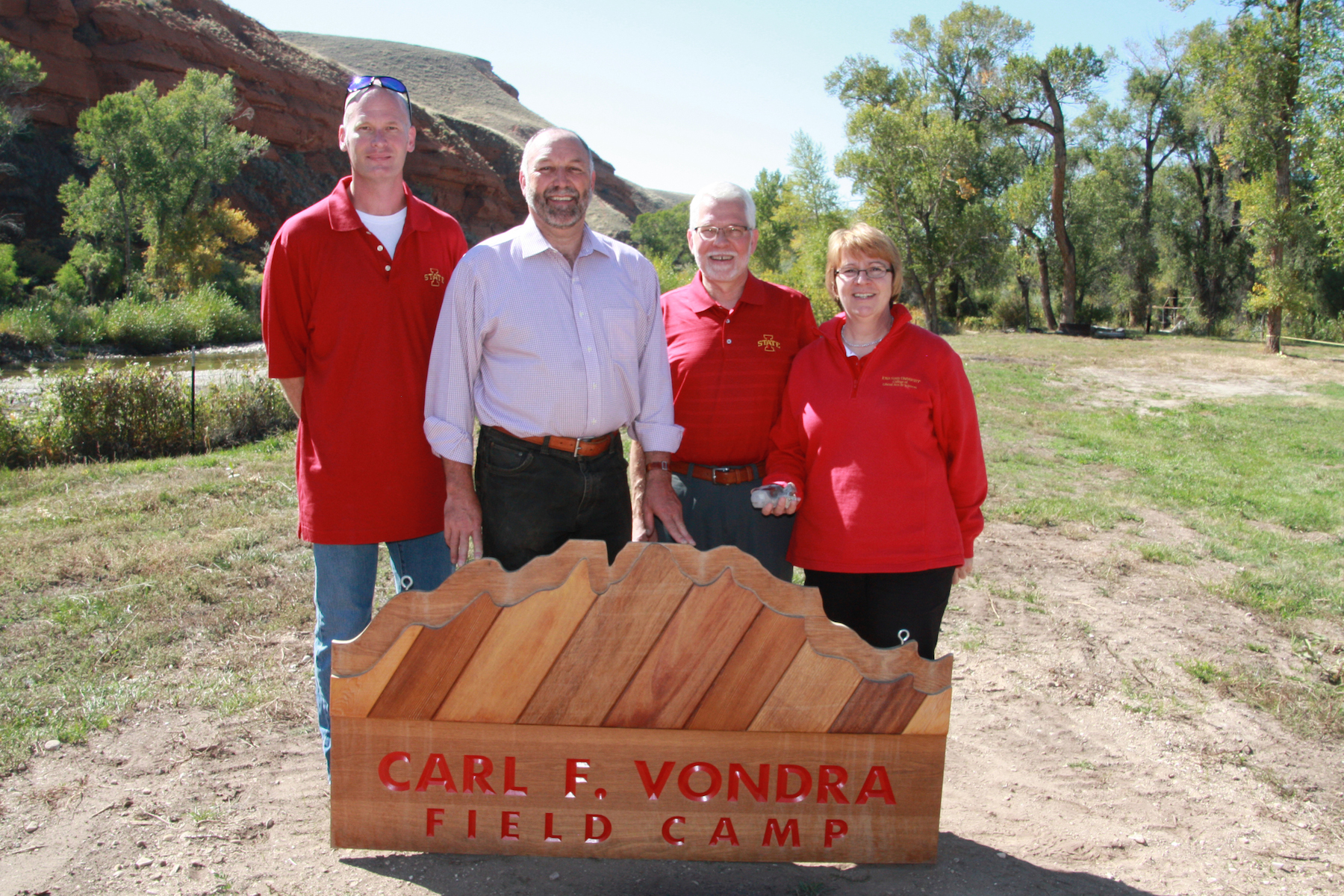 To celebrate this spectacular new field station, we invite you to join us at camp this summer for a weekend of fun-filled events. Special guests will include our Dean, Beate Schmittmann, and, tentatively, Iowa State University President Steven Leath. Our previous alumni gatherings at field camp have been absolutely wonderful. We expect this one to be the biggest and best ever.
Event Overview
See the event website for the latest registration, lodging, and schedule details.
Friday, July 3
The official events kickoff Saturday morning. However, you are welcome to arrive on Friday and stay at camp that night. Dinner will be provided.
Saturday, July 4
Continental breakfast at the field station, main welcoming and arrival, then either hike in scenic Coyote Basin with view nearby petroglyphs or fossil collecting in the Sundance Formation. Followed by dedication of new buildings at camp and dinner with program to follow at the Shell Community Center.

Sunday, July 5
Breakfast at the field station, then depart field camp for Cody, with choice of Heart Mountain Interpretative Center or the Buffalo Bill Historical Center, followed by lunch. Reservations with Wyoming River Trips have been made for an excursion through Red Rock Canyon. Dinner will be at the field station.
Monday, July 6
Breakfast at the field station and farewells