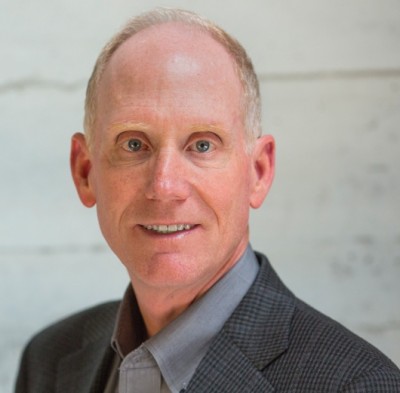 Meet Doug Spong, the President of Spong, a PR and creative marketing firm in Minneapolis and New York. He is an LAS graduate (journalism and mass communication, '81) and the chair of the LAS Dean's Advisory Council.
What he does: I am the founder and president of Spong, a public relations and creative communications firm with offices in Minneapolis and New York. We create ideas that bend pop culture and inspire a love affair between consumers, retailers, employees, communities, shareholders and other stakeholders and their favorite brands or companies.
Spong represents a highly select and envied portfolio of blue-chip clients. We represent many of the most popular household names such as American Standard, Arla Foods, Bath & Body Works, H&R Block, GNC, Jack Link's Jerky, Jennie-O Turkey, Lamps Plus, La-Z-Boy, Lutron, MasterBrand Cabinets, MOM Brands, Rapala, Sherwin-Williams, SUPERVALU, Thermos and Trane.
What's the best part of your job? The single best part of my job is changing the world around us for the better through the work we create and the results we achieve for our clients. For instance, we introduced America to soymilk with the Silk brand and offered a healthy option to dairy. We have nourished the hearts and minds of millions of newborn babies with Life'sDHA as a key ingredient in infant formula. We have repainted some of American's biggest icons, including the Hollywood sign for Sherwin-Williams. In the past 10 years, we have created one of the world's largest snack brands in Jack Link's Jerky through our popular 'Messin' With Sasquatch' campaign. And we reignited the passion for the 110-year-old Thermos brand through our #ThermosThursday social activation campaign.
What accomplishment are you most proud of? In addition to raising two children who have gone on to be successful adults, I have raised the tide for the public relations and creative industry both nationally and in Minnesota through the bully pulpit that founding Spong offers. Nationally, I was awarded the 2013 Gold Anvil from the Public Relations Society of America recognizing a lifetime of achievement. Since 1948, only one Gold Anvil is awarded annually. Locally, Minneapolis ranks among the #7 largest PR and creative communities in the U.S. despite the fact that we're the 14th largest metropolitan area. Our industry is disproportionately large for the population because of the quality of professional talent and creative work that originates in Minneapolis.
Who in las had a strong influence on you and your career? Ironically, my advisor in the English department was J.D. Beatty, with whom I currently serve on the LAS Dean's Advisory Council. Talk about a small world. The other influence in my academic life was Dale Boyd, a former small-town newspaper editor who taught Journalism 201 basic reporting. The first day of class he handed every student a quarter and asked us to come back to class and report on what we did with it. For 25 cents I got a kiss out of it. The last day of class Mr. Boyd invited all of us to his home for tuna melt sandwiches. He taught us that you could be a warm, caring professional while teaching the fine skills of reporting the news.
What activities were you involved in as a student? As a freshman at Iowa State, I was fortunate to be involved in two things that shaped my future. The first opportunity was joining the Delta Upsilon fraternity. As much as I enjoyed the social part of fraternity life, being part of a smaller group of men offered leadership and networking opportunities that still pay dividends today. I was vice president of my pledge class, served as pledge educator and alumni chair. I also volunteered for Greek Week as a member of the publicity committee, later chaired that committee and served as the advisor to Greek Week.
The second opportunity that shaped me professionally was writing for the Iowa State Daily. During my freshman year, one of my fraternity brothers was Tom Hansen, who was editor-in-chief. He opened the door for me as a staff writer at the Daily writing for both the features desk and the university desk. The chance to report and write for a major college student newspaper sharpened my writing skills and built an impressive portfolio. That portfolio was key to my first job as a writer and entry-level PR practitioner at Colle+McVoy in Minneapolis.
How have you been involved with Iowa State since graduation? Since graduating from ISU 33 years ago and moving to the Twin Cities, I get involved with Iowa State in three ways. The first is my membership on the LAS Dean's Advisory Council. I've been a member of the Council for several years, and I'm the incoming chair of the council for the 2014-2015 school year. Second, I guest lecture in PR and strategic communication classes at the Greenlee School of Journalism from time to time. Third, I employ interns and recent graduates from LAS at my firm. We've had countless Greenlee School PR and advertising students on our payroll at Spong over the years.
Favorite ISU tradition: Partnering with different sororities to design and build a Homecoming lawn display each fall at the Delta Upsilon fraternity on Ash Avenue.
Favorite place on campus:Walking across central campus on a warm spring day while the Campanile is being played.
Favorite memory of ISU: Driving with my parents to Birmingham, Alabama, for the 1978 Hall of Fame Bowl against Texas A&M. The Cyclones lost the game, but it was great fun.