Meet nine phenomenal LAS students who hope to make an impact in health, in areas as diverse as medicine, mental health, data science, and design. While their ambitions vary, their paths to health careers share the same anatomy: incredible Cyclone student experiences, from internships to undergraduate research to entrepreneurship.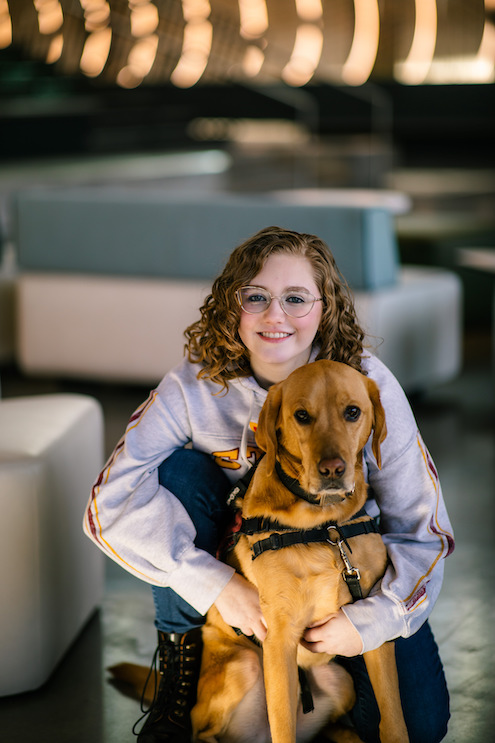 Paws prescription
Aliya Warth is dreaming big. They want to start Iowa's first Assistance Dogs International-accredited organization that trains psychiatric service dogs for civilians.
Warth's goal is deeply personal. Their brother tragically died by suicide after many years of psychiatric issues, and their mental health was greatly affected by his death.
A sociology major and animal science minor, Warth has a multipurpose service dog named Windsor, who is helpful with their heart condition, post-traumatic stress disorder, and panic attacks. Iowa's only accredited service dog organizations serve only veterans, so Warth traveled to North Carolina to get Windsor.
The LAS Innovation and Entrepreneurship (I+E) Academy, which provides students with support and mentors for their big ideas, is helping Warth plan their future steps. This year, Warth is educating local mental health professionals about the benefit of psychiatric service dogs in a patient's care plan. Academy director Rebecca Runyon is one of Warth's biggest supporters.
"Rebecca has allowed me to believe my biggest dreams are achievable," Warth said. "One of the questions on the I+E Academy application was 'What do you hope to do through this academy? And all I wrote is 'I want to change the world.'" Read more about Aliya.
---
Picturing a healthier world
When pharmacists need to understand the science behind life-saving anti-cancer drugs, they might look to educational resources illustrated by Ally Abel ('23 biological pre-medical illustration).
"These drugs often involve complex mechanisms and can include many different components that are important to showcase – the drug, the cells and proteins the drug interacts with, and the systems it may impact," Abel said.
Through her internship at iSO-FORM, an Ames-based company that brings medical, pharmaceutical, and biotechnology stories to life, Abel gained industry experience in using art and science to provide real-world tools for health professionals.
"I've always had a love for both science and art and couldn't imagine giving up either of them."
Abel also learned a new 3-D modeling program to design an interactive human skeleton that teaches human anatomy. Working in a team environment, interacting with clients, and learning new programs are all skills she will apply to her big-picture goal – sharing scientific stories through artistic observation.
"I've always had a love for both science and art and couldn't imagine giving up either of them," she said. "Curiosity and exploration are fundamental to both science and art, and this field allows me to explore the bounds of my artistic creativity, and challenges my biological knowledge without sacrificing my interest in either." Read more about Ally.
---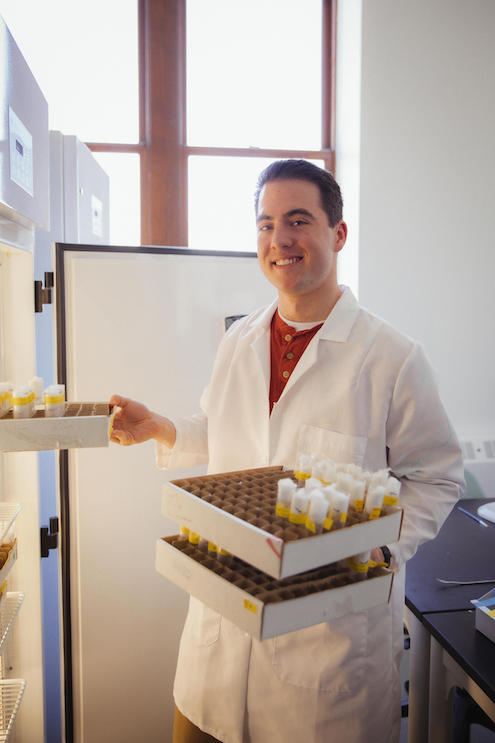 A dose of compassion
While job shadowing at a hospital emergency room, Jackson Komp's biggest takeaway was seeing the complex needs of both patients and providers.
"I realized there is a shortage of compassion in health care for certain marginalized groups, such as people who are facing addiction or have been previously incarcerated," he said. "But part of that reason is people are tired and overworked, and it's hard to nurture compassion when you're not feeling well yourself."
So, while preparing for medical school, Komp ('22 biochemistry, Spanish; '23 M.S. biochemistry) has pursued classroom and community experiences at Iowa State that broadened his understanding of people, systems, and policy. Diverse liberal arts classes such as Spanish and law, public policy, and debate; a semester in Spain; and life as a resident of the Ames Romero House – a Catholic Worker community – have offered him new perspectives.
This spring, Komp is also completing a master's degree in biochemistry based on his undergraduate research on microRNAs. From the laboratory to life lessons, he's eager to use all his experiences as a future physician.
"What excites me is medicine is changing," Komp said. "Data is an important focus of medicine now, and I want to use data to improve human health without losing sight of the person who is right in front of me. I see that this change is possible, and I want to contribute to it." Read more about Jackson.
---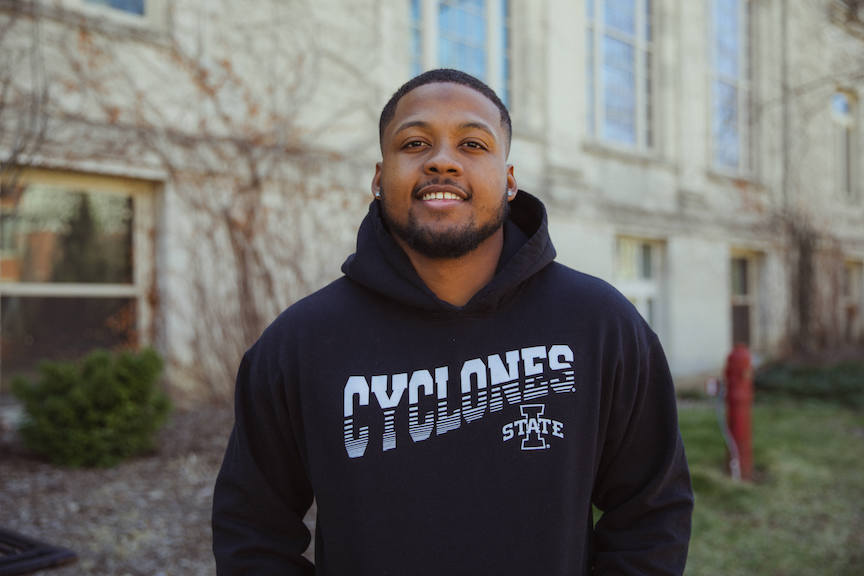 Making Black mental health top of mind
According to the American Psychological Association, only about 4% of U.S. psychologists identify as Black. Derrick Garth Jr. ('23 psychology) wants to fill the gap.
Garth plans to earn a Ph.D. in counseling psychology and make a difference as a community-based researcher and practitioner. His interest in research grew at Iowa State through opportunities such as the McNair Program and the LAS Dean's High Impact Awards for Undergraduate Research.
"I've always wanted to understand the unique experiences of Black people in the U.S. regarding mental health," Garth said. "I want to use my research to create interventions and prevention measures that can help to improve the mental health of Black people and to reduce the disparities in mental health care that exist in the U.S."
As a McNair Scholar, Garth helped conduct research in ISU's Network Community Counseling Lab, studying the role of adverse childhood experiences in the quality of later relationships among Black women. His LAS award helped fund his independent research examining whether factors like religious commitment and racial identity can help mitigate the psychological harm of anti-Black racism and discrimination.
"I've always wanted to understand the unique experiences of Black people in the U.S. regarding mental health."
Garth is inspired to continue with research and use his findings to help his community and inform policymakers.
"Before being in McNair, I initially envisioned myself becoming only a practicing psychologist," he said. "The program has assisted me in preparing for graduate school and fellowship applications, supported me through research opportunities, and provided a community like no other." Read more about Derrick.
---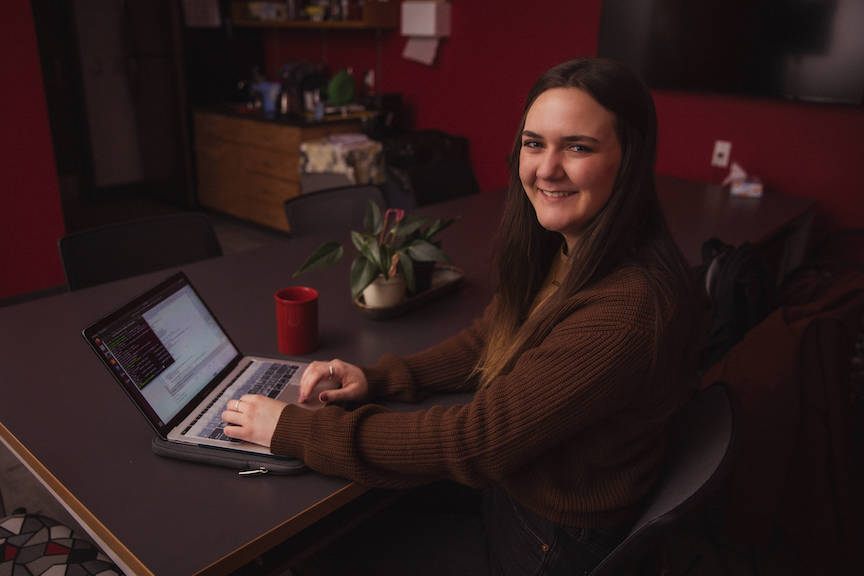 Strength in numbers
Dana Thacker ('23 data science, mathematics) wants to be in the room when big decisions could impact people's health and well-being.
"The example I keep giving is that someone had to be in all these different hospitals analyzing COVID data in 2020, asking, 'When does it look like the peak is going to come based on trends?'" she said.
Her dream job is to communicate data-driven recommendations that can make a positive difference in areas from staffing to medical equipment inventory.
"I want to be on the front lines of helping to make decisions that directly impact hospitals or clinics," she said. "I want to help run the business side of health care so that health care professionals can do their work well and help patients."
To prepare for the future, Thacker has studied the insurance industry during a summer internship with Nationwide, listened to patient perspectives as a part-time pharmacy technician, and conducted undergraduate research as a data analyst for a hearing-loss app.
"I want to be on the front lines of helping to make decisions that directly impact hospitals or clinics."
Thacker chose Iowa State because of its data science major that launched in fall 2019. Now she'll be one of the first Cyclones to graduate after four years in the program.
"It has been cool to have a role in impacting and advancing the program for the future, because data science is going to be around for a very long time," she said. Read more about Dana.
---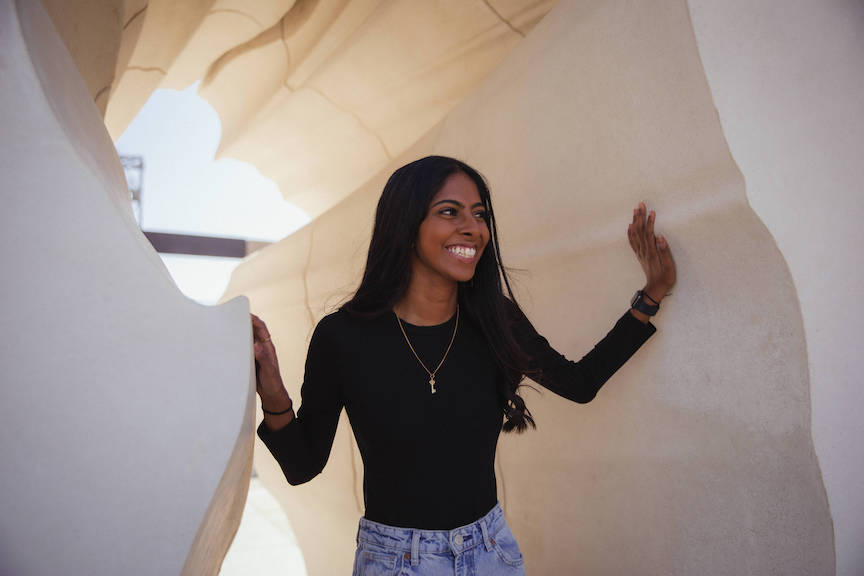 Listening, learning, leading
Durga Sritharan ('23 biology) grew up with a severe peanut allergy and has always appreciated her positive relationship with her allergist. She hopes one day to provide similar support to others. At Iowa State, she's pursuing her ambitions in health and medicine through research and leadership experiences focused on connection and community.
Sritharan joined the Alternative Medicine and Music for Parkinson's Disease Laboratory that studies topics such as the relationship between music and motor symptoms for people with Parkinson's disease. Each week, she welcomes participants to singing and dance outreach groups where she builds relationships and collects data before and after.
"Before taking song requests, we do vocal warmups to focus on articulation and breath control," she said. "Parkinson's disease can also affect swallowing, so our goal is to get the soft palate and other muscles moving."
Outside of her lab group, Sritharan has presented research for four consecutive years at the Thomas L. Hill Iowa State Conference on Race and Ethnicity (ISCORE) on topics ranging from health disparities to Jack Trice. She's become a true leader – serving on the conference planning committee, representing Iowa State nationally, and even starting a new club to involve current scholars and alumni. In 2023, she received the NCORE-ISCORE Brenda Jones Change Agent Award for her leadership.
Her experiences have shaped how she wants to lead in the future.
"Not only do I wish for my future patients and their families to learn from me, but I also want to learn from them," she said. "I want to be more than just a physician for them. I genuinely want to help both inside and out of the clinical setting, and I aspire to form interpersonal connections with individuals from all walks of life." Read more about Durga.
---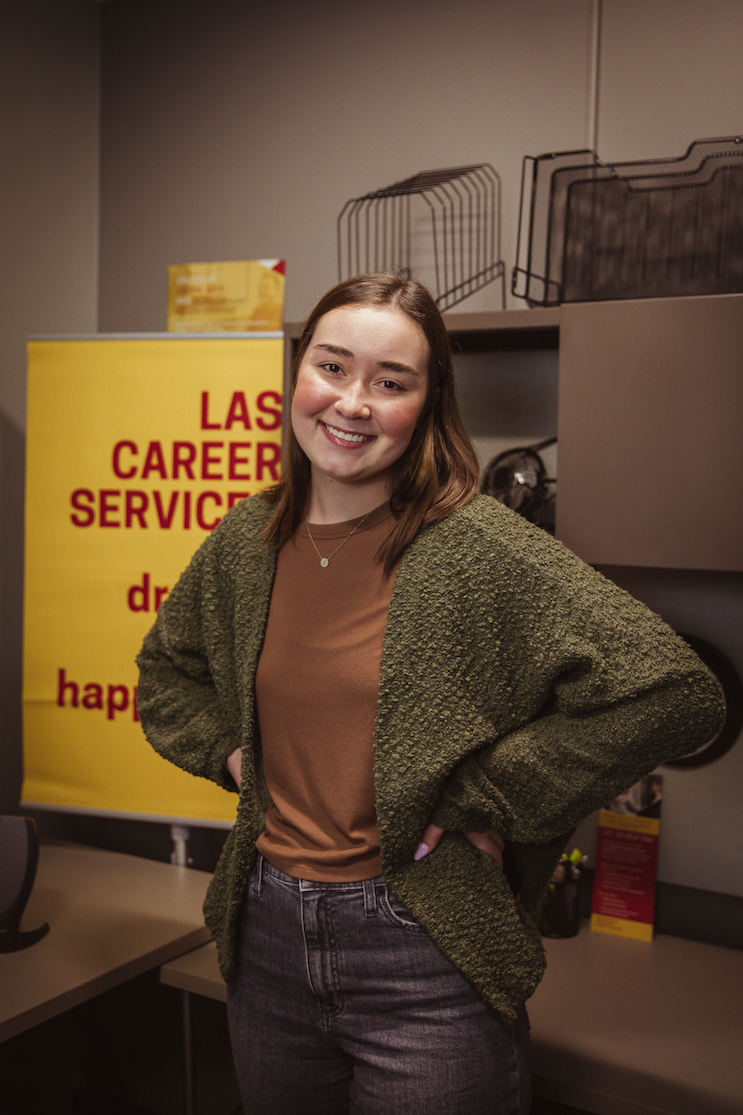 Career confidence
Taylor Mathis ('23 psychology) always wanted a career where she could help others – and she's getting plenty of hands-on experience at Iowa State.
Mathis fell in love with the field of psychology during a community college class, and she chose to continue her education by transferring to Iowa State. In just two years on campus, she's stepped up into numerous leadership roles that support others.
She has helped guide other students as a peer career advisor and intern with LAS Career Services, mentored new transfer psychology students, and cared for children and youth as a medical child care assistant at ChildServe in Des Moines. Those experiences, along with the LAS 203 career development class, made her more confident about becoming a mental health counselor.
"There is a huge need for mental health professionals worldwide, and I want to support and advocate for others, just as others have done for me."
Next, Mathis will attend graduate school for her master's degree in clinical mental health counseling. From transfer student to career services campus leader, Mathis said seeing her professional dreams take shape feels surreal.
"I am so excited as I am getting so much closer to where I want to be," Mathis said. "It is so important to me to help provide people with life-changing support. Mental health is a vital part of your life and impacts you daily. There is a huge need for mental health professionals worldwide, and I want to support and advocate for others, just as others have done for me." Read more about Taylor.
---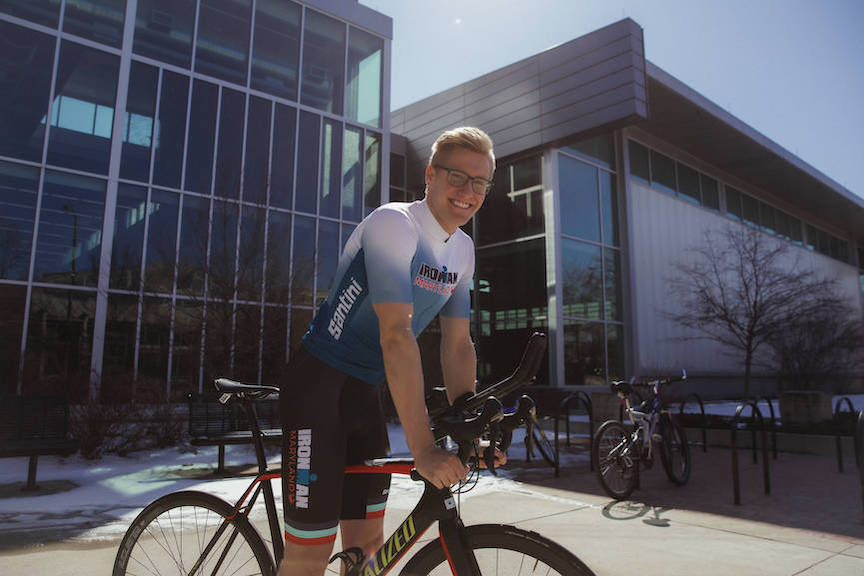 Meaningful career in motion
Reese Manternach ('23 statistics, economics) can't stop smiling. Whether it's his job as a physical therapy tech, his gross anatomy class in Iowa State's cadaver teaching lab, or his friends in ISU's Triathlon Club, he loves talking about every step of his Cyclone experience.
That's good, because it's been a marathon.
Well into his time at Iowa State, Manternach decided to reroute his career plans. Despite a great statistics internship, he wasn't sure a desk job was the right fit. Then, Ironman training with the ISU Triathlon Club affirmed his passion for health and inspired a new career path.
"I sat down with LAS Career Services to say, 'Hey, I like exercising, I like helping people. What career options are available for me?" he said.
"To help somebody get back on their feet and to know you made a difference in their life – it's a huge driving factor."
With support from advisors and faculty and lots of additional science credits, Manternach is now preparing for physical therapy school. One of his favorite experiences has been volunteering at physical therapy clinics, including a part-time job with McFarland Clinic in Ames where he can see classroom learning translated into real-world impact.
"I love working with other people and seeing them get better," he said. "Not everyone has a linear path to recovery, and it looks different for everyone. To help somebody get back on their feet and to know you made a difference in their life – it's a huge driving factor." Read more about Reese.
---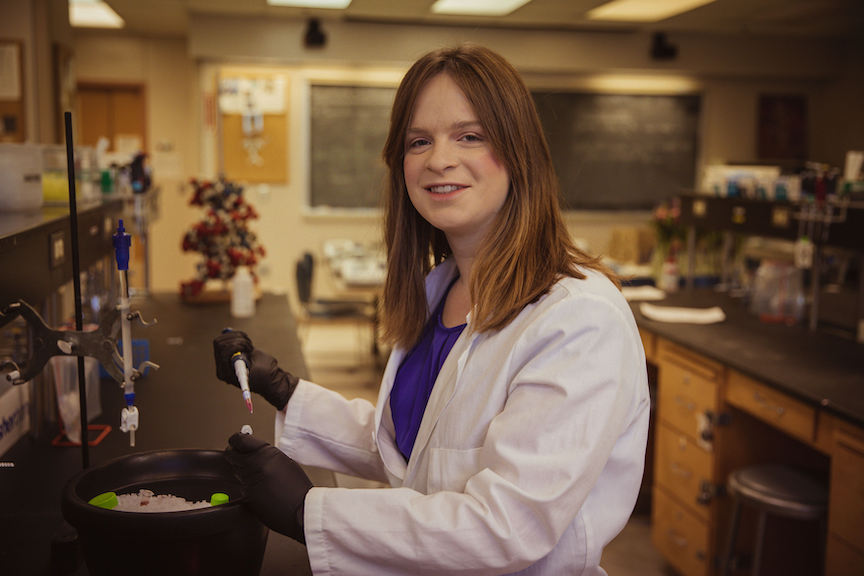 Practicing patient care
Kathryn Wittrock ('23 biochemistry) was so passionate about science in high school that she attended Iowa State's Stupka Symposium for Undergraduate Research twice.
"The biochemistry faculty and staff told me how close the students were and that drove me to be able to picture myself here," she said.
Now an Iowa State senior, she is one of the symposium's student leaders and has also presented her research there. Research has been great preparation for Wittrock's medical ambitions. She was inspired to become a physician as a teen when her younger brother was temporarily paralyzed by an autoimmune disease.
Research has given Wittrock unique opportunities on her path to medical school, from working hands-on to help produce a second-generation COVID-19 vaccine to receiving a co-first author credit on a published paper.
She's also gained insights into what it might be like to work with her own patients. Wittrock assisted with a double-blind, placebo-controlled trial as part of a hemodynamics lab group. Participants drank a daily protein shake for a week and then returned for a lengthy follow-up visit. Wittrock ran their tests and did preliminary blood draws to gather blood flow and nutrient absorption data.
"It's super hands-on," she said. "I enjoyed talking with participants, and it gave me better insight into patient care. A lot of medicine is keeping people calm during a procedure, and that was a cool experience." Read more about Kathryn.