A few hours after the first cases of COVID-19 were confirmed in Alaska, Lisa Bulkow ('80 statistics) received an early morning phone call. Her former boss at the Centers for Disease Control and Prevention (CDC) was building an emergency response team to advise state policymakers as they navigated the local impacts of a global pandemic.
"If you know anything about Lisa, you know why I reached out to her," said Dr. Tom Hennessy, an epidemiologist and former director of the CDC's Arctic Investigations Program (AIP). "The City of Anchorage asked us to evaluate mathematical models and provide scientific guidance. I called Lisa because she's an expert in public health data, tracking diseases and evaluating trends. There is no better biostatistician who understands the modeling of infectious diseases."
Alaskan roots run deep
Bulkow retired three years ago, after 33 years of researching infectious diseases for the CDC's Arctic Investigations Program in Anchorage—the state's most populous city where moose and black bear routinely ramble through the downtown district. She was born and raised in the area, surrounded by alpine mountains, glaciers and dense wilderness. To Bulkow, Alaska has always been home.
She left the state just long enough to attend college, earning her bachelor's degree at Iowa State and her master's degree at the University of Wisconsin, Madison.
Bulkow returned to the area to make positive contributions in her hometown. She ended up building an impressive career, rising to branch chief for the AIP. She's now the lead biostatistician for Anchorage's COVID-19 emergency response team.
"COVID-19 is like nothing we've ever seen," Bulkow said. "This is a once-in-a-lifetime situation for an infectious-disease expert, and I'm grateful for the opportunity to help Alaska officials understand and control the spread of this virus."
Making an impact
The 25 experts on this COVID-19 emergency response team had to move quickly. As they pored over statistics, data and existing mathematical models, COVID-19 threatened to overwhelm Alaska's healthcare system and deplete its reserves of personal protective equipment.
The day after hearing their recommendations, Alaska Gov. Mike Dunleavy issued a declaration of public health disaster emergency. Two days later, public schools were closed.
"Our team was one of the pieces that shaped Alaska's shelter-in-place order, and I'm very proud of that," Bulkow said. "Those measures saved lives and flattened the curve."
Bringing a wealth of knowledge to the table
Bulkow's expertise in biostatistics and infectious diseases—including respiratory diseases—has been vital to the COVID-19 response team. This judicious statistician and disease detective spent decades investigating the human immune system and puzzling through several vaccine studies. She's analyzed the effects of cancer, diabetes and a host of infectious diseases. Her peer-reviewed research has been published in hundreds of scientific articles.
"I strongly encourage people to listen to what the scientists are saying. We do know that this virus is airborne, that it is everywhere and that asymptomatic transmission is possible. It's important to wash hands, socially distance and wear a mask."
"Hepatitis B was a scourge in western Alaska villages and Lisa was part of the team which ensured that a whole generation of kids will grow up without any risk of the disease," Hennessy said. "The rates of this disease were some of the highest in the Western hemisphere, and Lisa's statistical evidence confirmed that our vaccines, screening and testing eliminated hepatitis B from Alaska."
Bulkow's work has taken her to a variety of Alaskan locations. In addition to leading formal research projects in urban hospitals and labs, she's conducted longitudinal studies in remote villages that were only accessible by small aircraft.
"The Arctic Investigations Program is part of the CDC's mission to study infectious diseases that impact populations in the Arctic and the sub-Arctic," Bulkow said. "Often, these diseases disproportionately affect Alaska Natives. I've had the opportunity to help many tribes who have experienced health disparities. It's been incredibly rewarding work."
Bulkow has been at the epicenter of several landmark studies.
"Lisa was an integral part of four big disease-elimination projects," Hennessy said. "We've prevented hundreds of deaths, especially in populations of vulnerable children. Her tailored statistical methods, expertise and innovative approaches provided major contributions to these historical public-health successes."
A new mission: Improving Alaska's COVID-19 numbers
As COVID-19 continues to impact the world, Bulkow believes that a global pandemic is an opportunity to learn and expand our scientific knowledge as history unfolds.
"I strongly encourage people to listen to what the scientists are saying," Bulkow said. "We do know that this virus is airborne, that it is everywhere and that asymptomatic transmission is possible. It's important to wash hands, socially distance and wear a mask."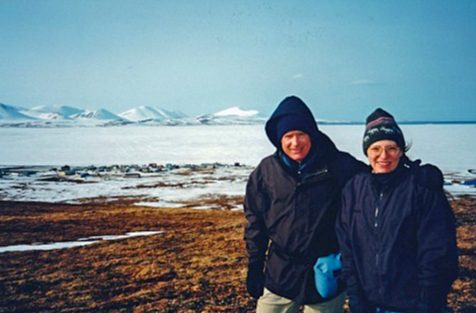 Bulkow notes that a global pandemic calls us to adapt and evolve in a rapidly changing environment.
"A vital lesson I've learned after spending years applying statistical analysis to infectious diseases is that at times we're not in charge," Bulkow said. "However, we can use science to work together to regain control. This is an important time to rely on facts, data and science and to come together as communities."
Hennessy notes that Bulkow's civic-minded generosity and concern for people have driven her success and years of accomplishments.
"Lisa truly cares about the people behind the numbers and statistics," Hennessy said. "You can see why when the Anchorage Health Department reached out to me and said 'we need help' I picked up the phone and called Lisa."