Not many people can say that their goal is to work themselves out of a job. Nora Tobin (political science and international studies '10), however, would love nothing more. As executive director of Self-Help International since 2014, Tobin works to help end world hunger by teaching people ways to help themselves. The organization does not focus solely on providing relief, but instead provides sustainable solutions to improve the quality of life of those they serve.
Home-grown philanthropy
Tobin chose to lead Self-Help International based on its mission to alleviate hunger and because of the organization's Iowa roots.
Self-Help International got its start in 1959 in Waverly, Iowa, by providing small tractors to 48 countries all over the world. But in the 1980s manufacturers began producing tractors in Africa and other parts of the world, making it less cost effective to ship them from the United States.
That's when Norman Borlaug called upon Iowa farmers to promote quality protein maize to families who could not afford other protein sources such as meat, dairy or eggs.
"You don't say no to Dr. Norman Borlaug, Nobel Peace Prize Laureate," Tobin said. "So, the board really shifted the direction from manufacturing and selling tractors to focusing on capacity-building and long-term sustainable development."
A childhood dream
Tobin always wanted to travel and change the world.
"I remember reading about the AIDS crisis in Africa as a child and how many children were being born with HIV. Children in Africa were dying from a disease that was preventable," Tobin said. "I won the birth lottery — if I didn't eat it was because I complained about food in front of me, not because there wasn't food on the table. So many children didn't have that opportunity, and neither one of us chose what family we were born into. And I wanted to be able to do something for those children because I would want somebody to do something for me if the roles were reversed."
Tobin was destined to make international change. Both of her parents studied abroad in college, and she was raised with a philanthropic mindset. Her grandfather traveled to more than 80 countries in his lifetime.
"He always brought back stories and he'd buy items that were impractical. But he was supporting the local economy," Tobin said. "He'd made a friend and wanted to help them out."
First Ames, and then the world
During her undergraduate days at Iowa State, Tobin took advantage of study abroad, classroom and volunteer opportunities and honed important skills for her future.
"Iowa State's curriculum was so well-developed to prepare me for my future," Tobin said. "The university's flexibility let me carve a path to graduate school."
She said staff members at Iowa State believed in her so fiercely that they made sure she had vital opportunities to help propel her into her future – like her internship at the World Food Prize in Des Moines, Iowa.
"Liz Beck, who was the interim director of the Honors Program heard about what I wanted to do, and told me she got me an interview for an internship at the World Food Prize. She drove me to Des Moines when I didn't have a car and said I had to figure out how to get a car so I could intern there. And then I did."
She learned about alleviating hunger from experts at the World Food Prize, including Ambassador Kenneth Quinn, president of the World Food Prize and former U.S. Ambassador to the Kingdom of Cambodia.
"Ambassador Quinn has been a phenomenal mentor to me. They've all been amazing allies. I work really closely with the whole team over at the World Food Prize. Not just during the prize in October, but throughout the year."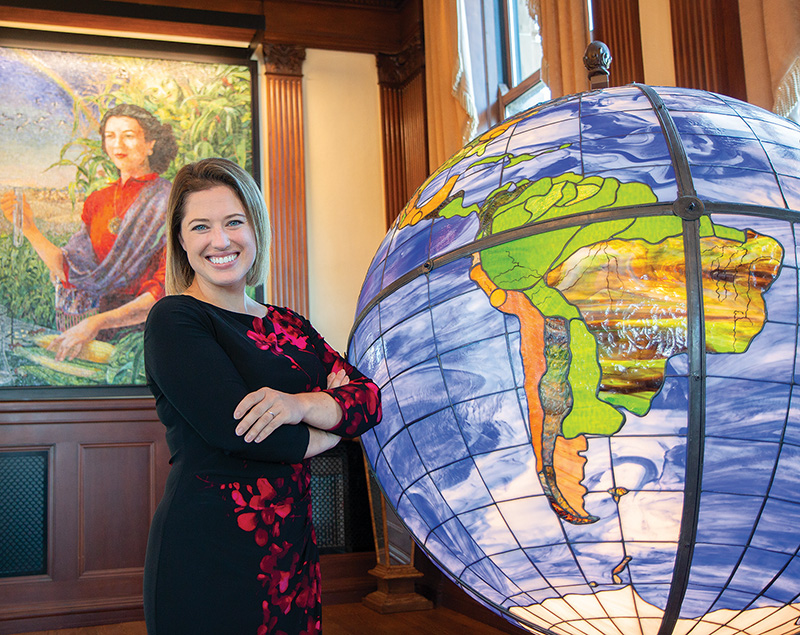 As a junior, Tobin ventured abroad to study international law and community development in the Netherlands and South Africa.
"The program had been discontinued. But [the Study Abroad office] figured out a way that I could still go to both countries," Tobin said.
"I'm continually amazed at what a global education you can get in Ames, Iowa."
Putting it all together
After earning her graduate degree in international peace studies from Trinity College in Dublin, Ireland, Tobin landed at Self-Help International. She leads 20 employees stationed in the United States, Nicaragua and Ghana. They work on projects that help empower young women, facilitate clean water initiatives, train and support local farmers to improve agricultural practices and other sustainability issues.
Much of the work is executed by local teams, which Tobin said makes the organization's work more effective.
"You have to trust your local team, because they're the ones that are there doing the work every day. Our role is to help them do it in the best way possible," Tobin said. "We work really collaboratively on what the budget is and what the priorities are for the coming years but it always comes from our teams on the ground first."
Mobile technology enables local teams to help the communities they serve more quickly.
"Our country director, Jorge Campos, texts 500 farmers throughout Nicaragua about planting. He is educating this network of 500 farmers, even when he can't be there in person to help train the co-ops," Tobin said.
Looking ahead
In the future, Tobin intends to grow Self-Help International programs to serve more communities and scale up efforts.
Her efforts have not gone unnoticed. In 2017, Tobin was honored with the ISU Outstanding Young Alumni Award, that recognizes Iowa State alumni under 40 who have excelled in their professions and served their communities.
Tobin said her time at Iowa State helped make everything possible.
"I'm continually amazed at what a global education you can get in Ames, Iowa," she said.