He was just 12 when they came for him.
They didn't wear uniforms or have badges. They were armed, though, with weapons, as well as strong suspicions that this Yugoslavian boy was an enemy. His parents had spent time in the United States and he was born there. In Yugoslavia during the brutal regime of Slobodan Milosevic, being born on American soil was enough to label you a threat.
So they came for him, and they took him from his parents. They detained him and interrogated him for weeks.
Goran Micevic made it through this terrifying experience. Surviving the physical and psychological burdens of war, he said, felt like being given a second life where nothing is impossible. For Micevic, that may very well be true. This young man not only survived a war, but a fateful encounter with a biochemistry textbook led to a wealth of opportunities at Iowa State University's College of Liberal Arts and Sciences. His success at Iowa State then took him to Yale University, where he is piling up grants as a young pioneer in the field of cancer research.
From Yugoslavia to Macedonia and back
Micevic's parents are both doctors. In the late 1980s, concerned about the growing instability of Yugoslavia, they came to America on a research fellowship at Northwestern University in Chicago. Micevic was born in Chicago. When the fellowship was over, the family returned home.
America provided a brief respite from Yugoslavia's problems. The country was falling apart. The late 1990s was a time of turmoil and bombs. Young Micevic split his days between school and the bomb shelter - until he was taken from his parents.
"They kept close tabs on people leaving and entering the country. My parents were on a list somewhere and I was listed as a U.S. citizen on it," he said. "The regime feared that information was being provided to foreign governments, so they tracked people down and deported or jailed them. Because of my age, I think they were as surprised as I was when they came for me. I never completely knew who they were."
After weeks of captivity, Micevic was dumped at the Macedonian border. He remembers border agents laughing when they were told that this boy was an enemy of the state. After several weeks of staying with relatives, he was able to sneak back into Yugoslavia and reunite with his parents.
"I think we probably cried for a full day," he remembers. "It was wonderful to be back and be able to put everything behind us. Things started changing for the better after the war was over and I was able to get back to school."
A textbook leads to Ames
Micevic was always a curious boy, with an insatiable interest in science.
"My favorite pastime would be to take something apart to see how it works," he said. "It would drive some parents crazy to see that their child was studying a remote he had just disassembled, but my parents encouraged it."
"My favorite pastime would be to take something apart to see how it works," Micevic said.
During the war, he would help his parents in a makeshift clinic they had set up in a community bomb shelter. He would take vitals and administer insulin shots. This instilled in him the value of medicine.
As a high school student, he knew he wanted to pursue a career as a physician researcher and would likely need to go to America to do it. His high school library had few English language textbooks, but one would change Micevic's life.
That book was "Biochemistry: The Chemical Reactions of Living Cells," by David Metzler, a now deceased Iowa State University professor of biochemistry. The book is highly respected in the field, but how it ended up in a high school library in Belgrade, Serbia, is anyone's guess. Micevic devoured the nearly 2,000-page tome. For Micevic, Metzler's book came to symbolize the laboratories and collaborative research that could await him at Iowa State.
"I couldn't take the SAT in Serbia, so I went to Macedonia to take it. I did well enough to get admission, and soon received a letter from Iowa State welcoming me to the class of 2010," he said.
The book is highly respected in the field, but how it ended up in a high school library in Belgrade, Serbia, is anyone's guess.
He arrived in Ames with $500 and that insatiable curiosity and ambition. Iowa State, he said, more than lived up to the vision inspired by Metzler's book.
"I really enjoyed my time in the biochemistry department," he said. "It was so welcoming. Most of my years in college were spent doing research in biochemistry. Dr. Kristen Johansen was very welcoming. I never dreamed she'd think this sophomore who barely spoke English would amount to anything. She believed in me and let me tinker in her lab. Because of these people believing in me, I was happy to continue studying and working hard."
Welcome to the lab
Johansen uses Drosophila, a fruit fly, as a model to study the role of protein modifications in regulating gene expression. Micevic was a work study student in her lab, helping with stocking and cleanup. His interest in research was obvious, and Johansen suggested he apply for an internship that would allow him to assist in the lab. He jumped at the chance and was soon working alongside Johansen and her graduate students. This experience, he said, was instrumental in learning experimental design and basic molecular biology techniques.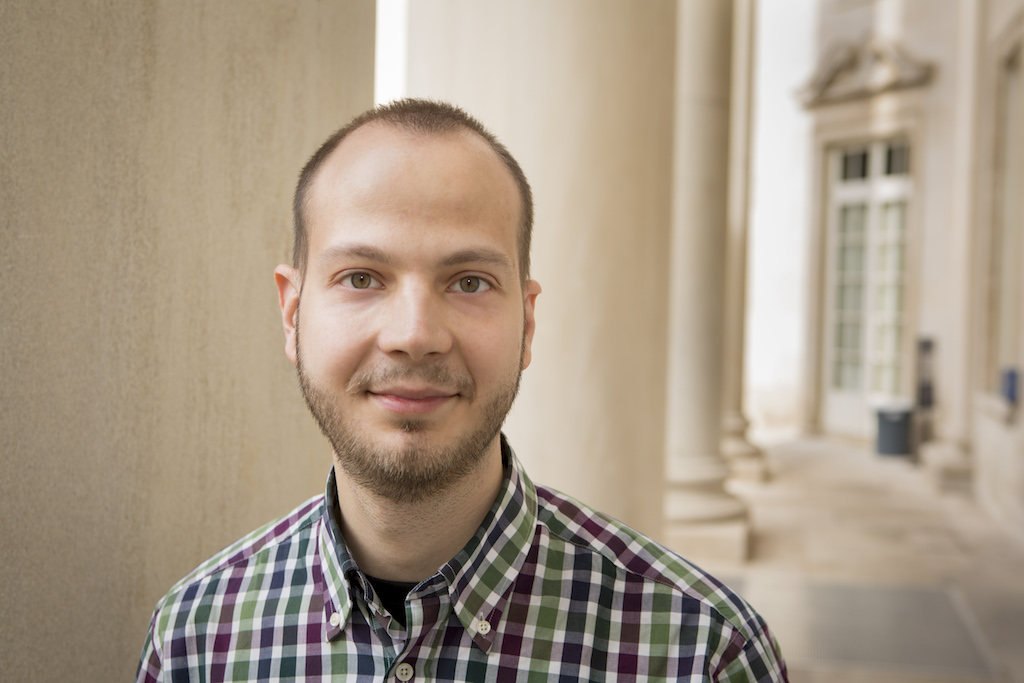 The undergraduate earned one recognition after another. In 2008, he was awarded an academic exchange scholarship to study at the German Cancer Research Center in the laboratory of a scientist considered a pioneer in the use of mass spectrometry.
"I never dreamed she'd think this sophomore who barely spoke English would amount to anything," Micevic said. "She believed in me and let me tinker in her lab. Because of these people believing in me, I was happy to continue studying and working hard."
Johansen and Micevic developed an independent project involving the use of highly specialized techniques to identify sites of chromosomal binding in the Drosophila genome. This work provided the basis of his honors thesis and helped him land a prestigious Goldwater Scholarship in 2009. That same year he was a Mayo Clinic Summer Research Fellow.
"He just really stood out," says Johansen of Micevic. "He has an air about him that gives you great confidence. He loves what he does and is always looking for opportunities to move his projects forward, to get the training and experience he needs. Goran is going to do work that pushes the field into whole new areas."
Micevic graduated summa cum laude from Iowa State with a B.S. in biochemistry. He is now enrolled in the combined M.D.-Ph.D. program at Yale University School of Medicine and is a doctoral candidate in the school's Department of Experimental Pathology. He's interested in tumor biology and studies mechanisms of melanoma formation and progression using genetically engineered mouse models of melanoma.
Melanoma is a highly dangerous form of skin cancer that begins in cells that create melanin, the pigment that gives skin its color. It is the most dangerous form of skin cancer; it grows quickly and can spread to other organs. While only about 4 percent of skin cancers are melanoma, the disease accounts for more than 80 percent of skin cancer-related deaths, and 1 to 2 percent of all cancer deaths in the U.S. It is the most common form of cancer in women ages 30 to 34 and men ages 30 to 49.
Micevic is immersed in epigenetics, which are external modifications that can layer on top of DNA, controlling how genes express, or turn off and on. Specifically, he is using mouse models and human melanoma cell lines to examine DNA methylation in melanoma. Methyl groups are tiny molecules that can tag onto DNA, modifying its function. His hypothesis is that DNA methylation might be a required step in melanomagenesis, or the production of melanin. A greater understanding of DNA methylation could contribute to new techniques for treating melanoma with epigenetic therapies and immunotherapies, which use medicines to help a patient's immune system to identify and destroy cancer cells.
"We finally have a more refined process to turn our own organism against cancer cells," he said. "We're still figuring out how it works, and my small part is to contribute to our understanding of melanoma, to see what mechanisms of immune therapy in melanoma are. Hopefully some of this work will translate to other cancers."
In 2014 his research earned him a Research Scholar Award from the Joanna M. Nicolay Melanoma Foundation and a grant from the American Skin Association. In 2015 he was awarded a National Cancer Institute training grant to study epigenetic changes in melanoma.
"To a 12-year-old boy sitting in a bomb shelter in Belgrade, this all would have been science fiction," he said, looking back on his incredible journey. "I'm very proud what I've overcome to be where I am now."