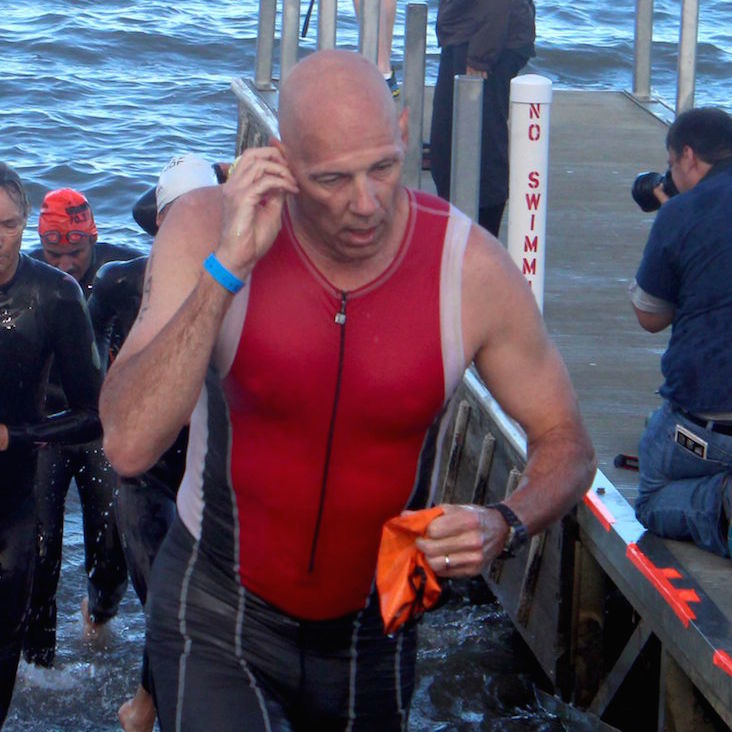 When Captain Ricks Polk is not commanding Navy ROTC students, you probably won't find him behind his desk.
Instead, he's biking around Ames, running on campus, working out at Lied Rec or State Gym, or swimming at Beyer Hall. Each activity gets him closer to his goal: competing in his first full Ironman next summer.
Polk strives to better his students and the future of the military, so he has to be the best version of himself, mentally and physically.
In June 2016 Polk will swim, bike, and run in Coeur d'Alene, Idaho in his first full Ironman. Before then, he'll compete in two half Ironmans this year. The first this month in Richmond, Ind., the second this August in Benton Harbor, Mich.
"If I can finish both of these I'll know that I can do a full Ironman," Polk said.
Polk's interest in races began when he was a commanding officer; he thought it was important to challenge the young folks in his crew. He would race them – winners were rewarded with a day off.
"Plus, they would get a chance to say they beat the Captain," Polk said.
The first marathon Captain Polk competed in was the Honolulu Marathon in 2009. He was stationed in Hawaii at the time and thought, "if there is any time to start doing something bigger than 5ks and 10ks, this is it."
"After I completed that first marathon, I wanted to do more than just run," he said. While in Hawaii, he took advantage of the opportunity to train for the Sprint Triathlon, an 800-meter swim, 12.5-mile bike ride, and 5k run. He competed in Olympic Triathlons in 2011 and then, Ironmans.
"After I completed that first marathon, I wanted to do more than just run," Polk said.
Polk enlisted in the Navy in 1977 and his first nine years were spent in submarines. In 1986 he became an officer through the Limited Duty Officer program and about five years later was given the opportunity to earn a college degree, graduating Summa Cum Laude from the University of West Florida in industrial technology.
Soon after, Polk became a Surface Warfare Officer and has spent his time touring at sea and on land, travelling from the Mediterranean to the Bahamas to Hawaii and all over the United States.
"It's kept me going because it is never the same job day in and day out," Polk said.
He has experienced everything from working on submarines to being an instructor at the U.S. Naval Academy, to working at a university with professors from many different backgrounds.
Polk's time in the Navy has made a huge impact on his desire to compete in triathlons.
"You need to be fit to fight," he said.
If the Navy calls him back overseas, he wants to be physically capable of doing anything they ask of him. "I don't want them to think, 'well he's broken,'" Polk said. "It keeps me young, too."
After his retirement in August 2016, Polk plans to spend his time restoring old cars. He is currently working on a 1968 Volkswagen Bug. He was an electrician when he joined the Navy, and he still likes to to fix things. Polk would like to eventually share his car knowledge with teenagers, a skill both exciting and valuable.